Appearances Can Be Misleading
North Dakota is a team of seeming paradoxes. With more freshmen than any other team in the Frozen Four, the Sioux are the only team making a return appearance to try for the national title. And while there are 13 rookies on the Sioux squad, North Dakota faces the youngest team in Division I Thursday, Boston College.
One fact that stands as it appears is the genuine youth of Jonathan Toews, who will be 22 days shy of his 18th birthday when the Sioux and the Eagles play their semifinal. Toews is the youngest player in this year's Frozen Four, on a team with freshmen as "old" as 21 and one junior, goaltender Jordan Parise, who will be 24 in September.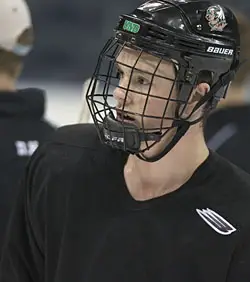 Given the Sioux's turnover from last year and disparate ages and levels of experience — even among a single class — this year's North Dakota squad is a very different beast from the team that lost 4-1 to Denver in the championship game a year ago.
"Considering all these guys have been here — especially last year [when] they went all the way to the final — as the young guy I can say that we're all pretty excited to be here," said Toews, the Most Outstanding Player at the West Regional in Grand Forks.
"For the guys that are more experienced, they've been telling us, 'Enjoy your time here, but most of all we've got a job to do tomorrow.' That's what we're focused on. There are a lot of things going on, but we're just trying to concentrate on hockey. That's what we're talking about in the [locker] room is to settle down and relax a little bit and let things happen."
Second-year head coach Dave Hakstol said that North Dakota's upperclassmen have kept the Sioux grounded during a season that included a losing record at home (5-6-0) for the first half of the year.
"With us being a younger teams … there are different challenges. You go through the season [and] every experience is new, and certainly for our young guys this is another new experience. But they have a tremendous group of leaders, a great group of core leaders to lean on, and they've done a very good job of taking direction from our older leaders throughout the year and we hope they'll do that again this weekend."
Said Parise, the old man of the team, "We have a bunch of younger guys who have experienced pretty much nothing but success through the last couple of years here, so I don't think this is anything too overwhelming for them."
Mirror, Mirror
Junior defenseman Matt Smaby has definite ideas about the Boston College Eagles.
"We got to watch a little bit of tape here during the week," he said. "They're a little smaller up front but they're not afraid to play physical. They're a team that can skate really well, move the puck, and they've got some skill, so it will be a good challenge for us."
And he has definite ideas about this year's North Dakota Fighting Sioux.
"I think the biggest thing I've noticed from last year [is] our size. We're not quite as big. That doesn't mean that we don't play as physical as we did last year; I just think we were maybe a little bigger. I think we're a really skilled team this year, good at moving the puck, a good skating team, and the kind of team that can go up and down the ice with a defense that can jump into the play a little bit more."
Looking Back … And Ahead
In bringing his team to the NCAA tournament in both of his first two years as head coach, Hakstol finds himself in the company of former Sioux head coach John "Gino" Gasparini (1978-94), the only other North Dakota head coach to have earned an NCAA berth his first two seasons at the helm.
The Sioux were NCAA champions three times during Gasparini's reign.