Although the Hobey Baker Memorial Award voting is already a done deal, Boston College's Chris Collins staked himself to the "Hat Trick" with a semifinal hat trick of his own.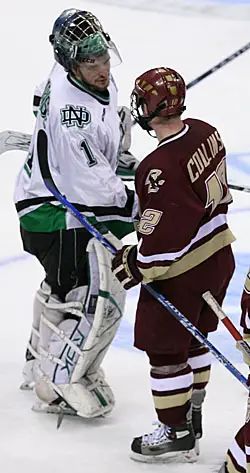 The announcement of the three final contestants for the Hobey raised eyebrows among some followers of college hockey. After all, some questioned, how could you pick Chris Collins and leave out Minnesota's Ryan Potulny?
With a breakout season far surpassing his first three at BC, no one could be faulted even for wondering "Who is Chris Collins?"
After all, USCHO's Most Improved Player labored in the shadows of other stars and averaged fewer than 20 points a season in his first three years under coach Jerry York; his 64-point performance through the semifinal game tops his first three seasons combined.
Collins' huge contribution on the scoresheet and as one of his team's best penalty-killers has led to what even his coach admits is an unexpectedly successful season.
"This year has been an unbelievable surprise for all us," said York.
"We thought we would be a good club, but last year's team featured all the veteran players. … We thought that was our chance to win a national championship."
The first goal by Collins — putting the Eagles up 2-0 — was shorthanded.
"It's been like that all year — our penalty kill takes a lot of chances offensively, and that really boosts our team," said Collins, who notched his sixth shorty of the season. "Any time a team can score shorthanded, it's a huge boost."
His second goal put North Dakota down by three after one. By the time he scored his third, after a huge breakout pass from goalie Cory Schneider and a feed from Ben Ferriero, Collins had the BC crowd chanting "Hobey Baker."
Whether or not Collins wins the award on Friday, his qualifications for the Hobey "Hat Trick" received their validation.