All year long, the refrain about Boston College has been its ability to survive its four freshman defensemen. Conventional hockey wisdom says that blueliners have the toughest time making the transition to the next level; an abundance of rookies at the position is a recipe for disaster.
For Boston College, its youth on the blue line was exacerbated by having only one upperclassman, senior Peter Harrold, to lead a group otherwise made up exclusively of sophomores and freshmen. Over the course of the season, Harrold certainly rose to the challenge, earning second-team All-USCHO honors. Goaltender Cory Schneider, also an All-USCHO second-teamer, would eventually be showered with praise for covering up the deficiencies of the young blueliners. And deservedly so.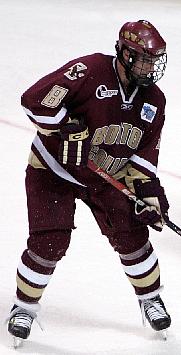 However, it couldn't have been easy on the egos of the freshmen involved — Brett Motherwell, Anthony Aiello, Tim Filangieri and Tim Kunes — to be on the end of such unflattering analysis. Everyone wants to be the locomotive; no one wants to be the caboose. After all, freshmen don't get to be in the lineup of nationally-ranked Division I teams without a background of having always been one of their team's top players.
"All four of us heard that all season long," Aiello said. "We took it and stepped up. We learned a lot and grew from the experience."
Motherwell thrived, earning a selection to the All-USCHO Rookie Team. His play prompted Schneider to say, "It would be hard to find a better freshman defenseman in the country."
For the others, however, there were a few more growing pains. Kunes lost his spot in the lineup in February to sophomore Brian O'Hanley. All but Filangieri trailed Harrold's plus-25 by a good margin, and Filangieri's plus-17 came with the caveat of having been paired with Harrold on a consistent basis.
As a matchup with North Dakota beckoned in the Frozen Four semifinal, the youth on the blue line remained a concern. After all, the Eagles were facing a Fighting Sioux team that one year earlier had sliced and diced a highly-regarded veteran corps of BC defenders.
Would the Sioux expose BC's Achilles' heel?
Not exactly.
Motherwell got the Eagles on the scoreboard eight minutes into the game, ripping a shot past Jordan Parise's glove to spark a 3-0 first-period lead. And after North Dakota scored twice in the second to seize the momentum, Aiello buried his first collegiate goal to restore the two-goal margin.
"The guys have been joking that I'd get it when it counts," Aiello said. "It counted today."
When the final buzzer sounded, BC had a 6-5 win and a berth in the NCAA title game. The margin of victory had come from a surprising source, the freshman defensemen.
They'd even had to shoulder more minutes than usual after Harrold suffered a first-period ankle injury and was able to play only sporadically thereafter. If the young blueliners had been the team's Achilles' heel earlier in the season, they'd become sparkplugs on the big stage.
"We came out and proved ourselves," Motherwell said. "I really don't feel that we've been the Achilles' heel, if there has been one. We all play hard and with Peter Harrold to lead us, it's not a very arduous task."
Boston College now stands just one win away from a national championship. The Eagles are no longer getting contributions just from their stars. Youngsters like the freshman defensemen have paid their dues and are now key factors in whether BC can finish off its title run.
"Brett Motherwell has been a very impressive freshman for us right from the get go," BC coach Jerry York said. "Timmy Filangieri and Anthony Aiello have progressed and improved as the year has gone on. Right now, Brett, Timmy and Anthony are key guys for us.
"As we've played deeper into the season we've gotten a lot more difference-makers. We have a chance now to win a national championship and [if you do that] no one asks you how young you are."