Princeton senior goaltender Eric Leroux was named Friday as the recipient of the 2006 Hockey Humanitarian award, given annually to "college hockey's finest citizen."
Leroux, who was chosen for his community service efforts both in the Princeton and Baltimore areas as well as the countries of Kenya and Ecuador, is the 11th recipient of the award, and the first from Princeton.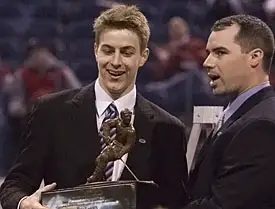 "I have done nothing extraordinary other than to be surrounded by a groups of great people," said Leroux, who thanked his parents and coaches, especially Princeton head coach Guy Gadowsky.
"When I told Guy Gadowsky that I was going to spend the summer in Kenya instead of working out at the bench press, he was very encouraging," said Leroux. "He shook my hand and said, 'Good luck, and come back for a great senior year.'"
The London, Ont., native spent 10 weeks last summer in Kenya working with the Foundation for Sustainable Development as an HIV counselor. The previous summer, he was in Ecuador working at a community malaria clinic.
While at Princeton, Leroux founded PUCK (Providing Underprivileged Communities and Kids) that involves other members of the team, who solicited donations of old equipment to the Baltimore Area Youth Hockey Organization.
Leroux is a Big Brother to a Princeton, N.J., teen and also tutors adults at the Hutton House Center for Disabled Adults.
He excelled on the ice, breaking the Princeton record for save percentage and being named the All-Ivy first-team goaltender for 2005-06. The senior appeared in 23 games this season for the Tigers, posting a .914 save percentage and a 2.80 GAA.
"Eric is an exceptional human being and each and every day around him is amazing," said Gadowsky. "He is a leader on our team both on and off of the ice and he truly epitomizes what the Hockey Humanitarian Award symbolizes."
Said Leroux, "Each of us asks ourselves in different situations, 'Who will be the difference?' You can make a difference. You probably already have. A lot can be done in this world and a little can go a long way."
This season's award was presented to Leroux by Erik Raygor, the former Wisconsin captain who received the award in 1998.