St. Cloud State head coach Bob Motzko is not shy about admitting that the success of his team lies mainly on the shoulders of senior goalie Bobby Goepfert.
After all, with a 2.20 GAA and a .924 save percentage — which earned him first-team All-WCHA honors — he was already carrying the team on his back a year ago.
"It all starts right there," said Motzko, the league's co-Coach of the Year last year. "(Goepfert) had a great season and gave us an opportunity to get better in a lot of areas. We became a pretty good hockey team and this year is going to be no different.
"Goepfert's going to lead the way, and it's how we can find a way to pick up where we only scored 79 (league) goals last year. We're going to have to try to do some things to solve our offense."
The goaltender helped lead his team through the second half of last year, all the way into the Final Five championship game. With a little help this year, the Huskies will not have to rely on a win in that game to get them into the NCAA tournament.
In finding some scoring, it should be a combination of veterans and newcomers. Junior Andrew Gordon had a 20-20 year last year and senior Dan Kronick will certainly be putting heat on himself to score.
But many eyes are on Andreas Nodl. Coming off a 59-point season in the USHL, he has drawn comparison to former Gopher Thomas Vanek, though the comparisons might be unfair.
"They're different type players," Motzko said. "He'll make a mark for himself, but I couldn't put the comparison on the two."
A year ago, this team might have been a slight surprise, especially with Goepfert's breakout season. The Huskies will not be surprising anyone this year, but they probably will not need to. They should be a top-five, and perhaps a top-three team, regardless.
Up Front
Andrew Gordon became one of the WCHA's prominent scorers over the second half of last season and he will continue that this year. Motzko only sees him on the up and up.
"He trains as hard as any kid I've been around," Motzko said. "If we can get him the puck, he's going to score."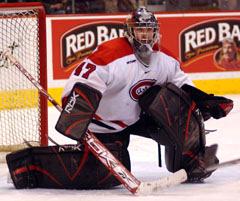 Kronick and Matt Hartmann are the only two other players who bring back 10 or more goals from a year ago, and the Huskies will count on them to at least equal those efforts.
Nodl is getting plenty of hype heading into the season and should make an instant impact, along with fellow rookie Ryan Lasch, who put up 146 points in 56 games for Pembroke of the CJHL last season.
On the Blue Line
St. Cloud is another team that lost very little — in fact, absolutely nobody — from its defensive corps.
Justin Fletcher is the leading returning scorer with 27 points and Motzko is counting on senior Casey Borer to bring his game up a notch this year. Aaron Brocklehurst also brings back 23 points.
In the Crease
Outside of Wisconsin and Brian Elliott, there is no team in the WCHA which was more consistent last year at the goaltending position.
In fact, according to the league's coaches, St. Cloud State was the best, at least down the stretch, as Goepfert received the first-team all-league honor.
Goepfert alone should take this team back to the top five in the league standings. It is up to his teammates to decide just how high they will go.