One of the most consistently good programs in the nation — UNH has not had a losing season or even won fewer than 20 games in one campaign since 1995-96 — the Wildcats had what was, for them, a good-but-not-great season last year.
Sporting one of the most dangerous lines in college hockey with Jacob Micflikier, Colin Hemingway, and Daniel Winnik, along with a very good goaltending tandem in Kevin Regan and Jeff Pietrasiak, UNH sometimes beat excellent teams decisively. At their worst, though, the Wildcats could be maddeningly inconsistent and appeared to be a one-line team, getting shut out by Merrimack, Harvard, and finally Michigan State in the first round of the NCAAs.
The good news for UNH is that, as always, the Wildcats always seem to have good players returning. The bad news is that they need to replace a great offensive defenseman in Brian Yandle, a strong goalie in Pietrasiak, and the team's third leading scorer in Daniel Winnik, as the power forward went pro early to sign with the Phoenix Coyotes.
"I never think a guy should go, but that's just a personal opinion of mine," Wildcat coach Richard Umile said. "I might be old school. You know what, he had an opportunity to go, and it was a decision that he made along with his family, and I support any decision. He's going to get his degree; he took classes this summer. So as long as he goes on and gets his degree, I'll be very happy."
Umile still has good reason for optimism. "I think our strength is that we're going to be very balanced. I think defensively we're going to be as strong as we've been. Offensively we lost one of our top players in Daniel Winnik, but I think our younger players are going to pick that pace up. I feel confident that Kevin Regan is going to be our starting goalie, our number-one goaltender. We're excited about it. I think we've got great leadership; our senior class is a good class, and they're going to give us the strength that we need."
One obvious key for UNH will be the degree to which this year's key sophomores — Trevor Smith, Jamie Fritsch, Jerry Pollastrone, Greg Collins, Thomas Fortney, and Joe Charlebois — are able to improve or even break out.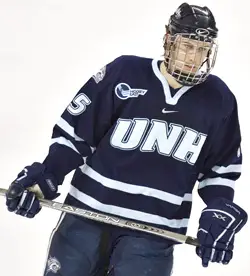 "The freshmen last year — the jump that they make — they're the ones who can bring the most to the program after their freshman year as they become comfortable and allow their skills to come out," Umile said. "We feel we have a very good sophomore class, and they're going to be a key along with our upperclassmen."
As always, there should be some freshmen who have an immediate impact at the Whitt as well.
"Brian Foster, our freshman goaltender, is coming in to take over Jeff Pietrasiak. I think he's a very talented goaltender; he's going to push Kevin for playing time. We're excited about him. Peter LeBlanc is a forward out of Toronto that's a very skilled player who can maybe come in and pick up some of Daniel's production.
"We've got another boy, Bobby Butler, who's a local boy, very aggressive and will add to our tenaciousness like a Ciocco. Nick Krates is a freshman defenseman who's going to be competing for playing time. So if we give our freshmen a couple of weeks to get relaxed and comfortable, we'll look for them to give us whatever they're good at."
Given the logjam of six strong programs at the top of the league, the range of possibility is great for UNH. The Wildcats could contend for a regular-season championship or fail to secure home ice in the playoffs. Surprisingly strong production from an unexpected source — or the lack thereof — might make all the difference.