Eighteen Division II/III schools placed players on the 2006-2007 USCHO Pre-Season Division II/III All-USCHO Teams. National champion Middlebury leads with three players named to the team.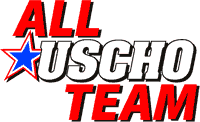 Four schools placed two players each: national runner-up St. Norbert, ECAC East champion Norwich, Augsburg and Wisconsin-Stevens Point.
The All-USCHO teams are selected by the USCHO staff. Complete All-USCHO teams appear below.
East First Team:
Forward — Rick Cleaver, Jr., Norwich
Forward — Mickey Gilchrist, Jr., Middlebury
Forward — Ryan Woodward, Sr., Oswego
Defense — Arthur Fritch, Jr., Colby
Defense — Brett Smith, Sr., St. Anselm
Goal — Ross Cherry, Jr., Middlebury
East Second Team:
Forward — Nikita Kashirsky, So., Norwich
Forward — Kyle McCullough, Sr., Mass-Dartmouth
Forward — Jason Murfitt, Jr., Manhattanville
Defense — Nic Dumoulin, So., Elmira
Defense — Tom Mandonado, Jr., Middlebury
Goal — Karl Helgesson, Jr., Plattsburgh
Honorable Mention: Dallas Bossort (Wesleyan), Mike Carmody (New England), Ryan Ellis (Oswego), TJ Kelly (Colby), Keith Longo (Hobart), Tim McVaugh (Bowdoin), Doug Raeder (Middlebury), Mitch Stephens (Geneseo), Neil Trimm (Neumann)
West First Team:
Forward — Aaron Johnson, Sr., Augsburg
Forward — Critter Nagurski, Sr., Augsburg
Forward — Mike Kneeland, So., Lake Forest
Defense — Andrew Derton, Sr., St. Norbert
Defense — Jon Keseley, Sr., Gustavus Adolphus
Goal — Kyle Jones, Jr., St. Norbert
West Second Team:
Forward — Sean Fish, So., Wisconsin-Stevens Point
Forward — Nate Rein, So, Wisconsin-Superior
Forward — Brian Soik, Sr. MSOE
Defense — Neal Carson, Sr., Bethel
Defense — Nate Sorenson, Jr., Wisconsin-Stevens Point
Goal — AJ Bucchino, So., Wisconsin-River Falls
Honorable Mention: Tyler Dahl (Wisconsin-River Falls), Tyler Gow (St. Norbert), Mike Hosfield (Gustavus Adolphus), Lee Swallow (MSOE), Sheldon Wing (St. Norbert)