Team Overview: The key thing about taking over a new program is the constant drive to improve the roster and quality of play on the ice. Second-year head coach Alex Todd has been working on both and fit in a pre-season conversation while on the road for a recruiting trip prior to starting practices on November 1st.
"I am always trying to get a little head start on the recruiting for next year and since we start late I get a little bit of a jump on it in the early part of the fall semester," explained Todd. "We really have kids here who are working very hard to be better hockey players and improve the program. I think we have brought in some nice players to help us continue that progression and we'll find out how far forward when we get out on the ice in November."
Last season the Spartans won their first ever game and played very competitive hockey against all opponents, becoming known for their aggressive and physical style of play. All three leading scorers from last year's team are back including sophomore Brandon Heck (7-18-25), senior defenseman Joe Huchko (11-8-19) and sophomore forward Ross Carmichael (7-7-14). In fact the three represent just under 50% of the total offensive production for the Spartans — an area in which Todd would like to see some improvement.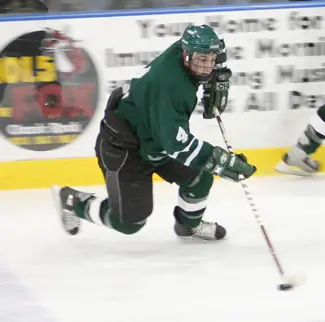 Returning in goal are a pair of sophomores in whom Coach Todd has a lot of growing confidence based on their play last season. Jeff Swanson (18 GP) and Jay Seals (12 GP) will look to improve on their statistics from last year.
Special Teams: When you score 30 power play goals of a total of 55 for the season you know that either your power play is really good or you need to improve your offensive capabilities in 5-on-5 situational hockey. In this case, it's both. Likewise on the goals against side: teams scored 36 power-play goals against the Spartans, who despite their physical play will need to improve their penalty kill as well as reduce their overall number of penalties.
Schedule: Following the opening weekend at St. Anselm's and New England College, the Spartans have a rematch with the team they beat for their first program win last season with Plymouth State. Four home games account for the schedule following Thanksgiving into the first week in December, including a match-up with independent newcomer Becker College.
Summary: For sure the Spartans will continue to improve and earn the respect of their opponents as they move through the season. Added scoring and balance in the line-up will help them to compete every game and with some improved team defense, they might move into the top eight.