The senior class at Robert Morris is a unique class in that all four members are transfers from other Division I schools.
Three of those players — forwards Aaron Clarke and Doug Conley and defenseman Bryan Mills — came to the Colonials from fellow CHA institution Niagara. The other is goalie Joe Tuset, who came from Northern Michigan.
The trio of ex-Purple Eagles has all played significant roles for RMU since their arrival in suburban Pittsburgh. All three also came in on the heels of winning a championship. Mills and Clarke were on the Niagara team that won the CHA Tournament in 2004 and Conley tasted junior success after he won the Clark Cup with the Tri-City Storm of the United States Hockey League.
"For one reason or another, each of them decided to leave Niagara," RMU head coach Derek Schooley said. "But once they came here, it was an easy transition for them and that's also in part to one of our former assistant coaches here, Nate Handrahan, who was an assistant at Niagara (and now the head women's coach at Robert Morris). They all have championship experience and to be able to add that to our program was very valuable."
Each player has his own story. And in a roundabout way, all three start differently, but end with the same situation with the Colonials.
"All three of these guys have been great fits for our program and for what we're trying to establish at Robert Morris," added Schooley. "We have that leadership and as upperclassmen, they've done a great job in that respect."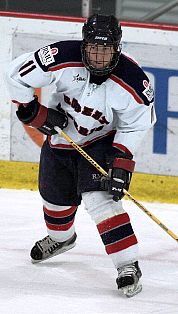 Aaron Clarke
A native of Peterborough, Ontario, Clarke knew at a young age he wanted to play college hockey.
"My coach in major bantam told me that college hockey would be more my style," said Clarke. "He said it would suit me better than major junior, where I was asked to play for the (Ontario Hockey League's) Barrie Colts and Peterborough Petes, but that was never a big interest for me."
Clarke inked with the Purple Eagles in 2002 after being pursued by Handrahan.
"Because of Nate, it was a very easy fit to come play at Niagara," added Clarke, 24.
Midway through the 2003-2004 season, just months after NU won the CHA Tournament, Clarke left Niagara and ended up with an old friend.
"Some things don't work out," Clarke said. "Nate had left Niagara and I gave him a call to see what the story was at Robert Morris and here we are. It's worked out nicely."
Clarke was a member of the 2004 CHA All-Tournament Team and also played well in the 2006 tournament.
"I guess I play better when there's more pressure," Clarke said. "I wish I could play like that all the time and really, I should."
The bond Clarke shares with his ex-Purps teammates Conley and Mills is informal, but special at the same time. Due to transfer rules, Clarke sat-out the second semester of the 2004-2005 year and the first semester of 2005-2006.
"Like anyone, we can talk about the old days and stuff like that and we know a lot of the same people from Niagara," said Clarke. "Especially this year, we're realizing pretty quick that it's our last year together and I think that's making us a little bit closer."
When Clarke came to the RMU campus, he lived with Mills, Conley and then-captain Kurt Wright in the only off-campus living arrangement. Clarke said he saw that situation as a prime example of how things were at Robert Morris and how they continue to be with a team-first, all-for-one approach.
"We're all part of such a tight-knit group," Clarke noted. "It's really a lot of fun here and hopefully, we get back to the (NCAA) Tournament. We're older now and we have all the potential in the world, but we need to learn how to play with a lead and close out those games."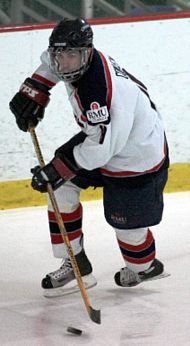 Doug Conley
Conley was NU's first recruit for the 2002-2003 school year and said he used to watch Niagara games when he was in high school in the Buffalo suburb of East Amherst. So, coming to Monteagle Ridge was a bit of a dream come true.
"I remember seeing them go to the NCAA Tournament in 2000 and seeing Nate (Handrahan) playing," the 23-year-old Conley said. "Then I got the chance to come play there, but I wasn't happy. Now, I'm happy and I think that's a very important thing not only with school and hockey, but for life in general."
Just prior to his sophomore year, Conley left school and got on the phone. He still had a year of junior eligibility left and wanted to use it and hopefully get noticed by another Division I college. Conley went to Tri-City on a mission.
"I called one of my buddies who was on the team and asked him for (Tri-City coach and general manager) Bliss Littler's number," remembered Conley. "Bliss had recruited me to come play for the Topeka Scarecrows (in the USHL) when he was there, but I went elsewhere. Bliss called me five minutes later, actually, and asked me if I seriously wanted to come out there and play. We talked on a Sunday and by Wednesday I was out in Kearney (Neb.) for practice."
That season, Schooley came to a couple Storm practices and kept in touch with Conley, who previously played juniors with the now-defunct Pittsburgh Forge of the North American Hockey League.
"Eventually, Coach Schooley called and made an offer and I'm very close to my family, so playing somewhat close to home was huge for me," Conley said. "It was just perfect timing. Jace Buzek had just committed there and we were able to get David Boguslawski to come, too.
"I'm enjoying everything a lot more here and I think being more mature helps also. When I got to Niagara, I was 18, 19 years old and didn't know how to deal with a lot of things. Now I'm 23 and I feel I've hit that maturing curve. When I went to Niagara, I knew one or two kids. When I got to Robert Morris, I knew like 10 or 11. That definitely makes the adjustment period go smoother, too."
Bryan Mills
Mills was a sophomore defenseman when the Purple Eagles were crowned CHA champs. But one off-ice incident later and Mills was bidding adieu to Niagara.
"(NU head coach Dave) Burkholder asked me to leave and I respected that," said Mills. "Nate (Handrahan) had also left and he had called me saying that the door at Robert Morris would always be open if I wanted the opportunity."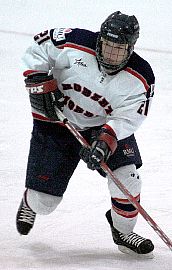 An Oakville, Ontario, native, Mills came from a Junior B program in Elmira, Ontario, that also produced Niagara forward Barret Ehgoetz, defenseman Andrew Lackner and goalie Jeff Van Nynatten. Lackner and Van Nynatten were recruited by NU and when Mikko Miettinen decided not to return for the 2002-2003 year, Mills was given a scholarship a week before classes started.
After bolting Niagara, Mills sat out the inaugural RMU campaign, but practiced and learned the team's systems and enjoyed the camaraderie.
"I wouldn't say it was an easier adjustment coming here. It was more of a different kind of adjustment," Mills, 23, said. "Going into a program where you have juniors and seniors, more of the guidelines are already established. Coming to Robert Morris, I was excited to be part of a new program."
Like Clarke, Mills had a chance to forego his collegiate eligibility and play in the OHL. The London Knights had a spot for Mills for the 2000-2001 season, where current NHL stud Rick Nash was a 16-year-old rookie, but Mills and his family decided to keep the NCAA option open.
"To be honest, it always a big goal to get drafted and make the decision on my own to play college or OHL," Mills said. "But that didn't happen. You always play the 'what if' game, but I don't have any regrets about deciding to play college hockey."
Mills also noted that, like Clarke, the friendship he has with the ex-Niagara guys is unique, but one only a certain handful of people would understand.
"We might get a few more laughs between us," said Mills. "Coach leans on us a bit more now, so maybe that makes us closer, but really, all we really share out of the ordinary is an odd joke here and there. When you've been with the same guys for three or four years, I think there's a bond that you'll always have. And that's how this whole team is."
Career In Jeopardy For BSU's Sedevie?
Bemidji State may be without one half of their goaltending combo.
There is some concern that the playing career of senior goaltender Layne Sedevie may be in jeopardy after he re-aggravated his injured neck.
Sedevie was scheduled to see a neurologist last weekend in Bismarck, N.D. Whether he will play this season or ever again will be decided at a later date.
Sedevie was originally committed to North Dakota back in 2003, but a severe neck injury at the end of his junior career in the USHL derailed those hopes. He was also ranked for the 2002 NHL Entry Draft, but that, too, went by the wayside.
Niagara and RMU Do The Splits
Niagara lost their first CHA game last weekend and at the same time, Robert Morris won their first league contest.
The Colonials took Friday's game at home, 4-2, but fell the next night, 7-5, after being up 4-1 early in the second period.
"This was a gutsy performance and a thrilling comeback for our young team," Niagara head coach Dave Burkholder said after Saturday's win. "We never felt (trailing 4-1) that the score indicated how we felt and how we were playing. The guys persevered and kept out-chancing them and finally started hitting the back of the net. Then we started gaining momentum. This was a thrilling comeback for us on the road."
Ted Cook and Les Reaney each tallied two goals and an assist in NU's win. Both have 19 points to lead all CHA scorers. Senior captain Sean Bentivoglio is third with 16 points after his six assists last weekend.
On the Robert Morris side, their win snapped a seven-game losing skid against Niagara.
Their fourth goal Friday had a scoring line of all transfers: Ryan Cruthers (Army) assisted by Clarke and Conley.
Wayne State Now Blanked For Eight Periods
The Warriors haven't scored a goal in eight periods. Not good.
"We've had our opportunities to score, especially on the power play, but we just can't seem to be able to connect," WSU head coach Bill Wilkinson told USCHO last Saturday. "It doesn't seem to be a lack of effort by the players. We are trying. We just need to maybe score a garbage goal, not the pretty ones, to help build our confidence."
Freshman Jeff Caister scored the last goal for the Warriors in WSU's 2-1 loss at home to Sacred Heart on Oct. 27.
With the loss to WMU and their previous blanking against St. Lawrence, Wayne State has been shutout in consecutive games for the first time in their eight-year history.
UAH Recruit Among Canada's Best
Goaltender Cameron Talbot, an Alabama-Huntsville recruit, is currently playing for the Canada East team that is competing at the inaugural World Junior A Championships in Yorkton, Sask.
So far this season, the 19-year-old Talbot is 7-0-2 with a 2.02 goals-against average and a .923 save percentage for the Hamilton Red Wings of the Ontario Provincial Junior Hockey League.
The World Junior A Championships began Monday and run through Sunday.
Walters Gives Nod to Bemidji State
Green Bay Gamblers' center Shea Walters has committed to Bemidji State starting next fall.
Walters, 19, was the Gamblers' first-round pick of the 2005 USHL Entry Draft. In his rookie campaign, the Hibbing, Minn., native tallied 16 points in 59 games. This season, Walters has almost matched his output from last year in only nine games as he leads the USHL in assists (14) and also leads the Gamblers in scoring with a goal and 15 points.
With his commitment, Walters becomes the sixth Green Bay player from the 2006-2007 squad to commit to a Division I institution.
Future Colonial Earns NAHL Honor
Mahoning Valley Phantoms' forward and future Robert Morris skater Nathan Longpre, 18, struck for three goals and two assists as the Phantoms took two wins over the Traverse City North Stars last weekend. On Friday, the Peterborough, Ontario, native recorded a hat trick, including the game-winning goal, and an assist in the Phantoms' 7-2 win over the North Stars. The next night, Longpre assisted on Dustin Cloutier's game-winning goal in Mahoning Valley's 3-2 triumph.
For his efforts, Longpre was named the North Division Player of the Week.
Longpre committed to RMU last season.
Beavers To Get New Rink
There looks to be a new rink in Bemidji in the not-so-distant future after city voters decided by the narrowest of margins Tuesday to build a new events center with the hockey team being the primary tenant.
"It's a big day for Beaver hockey," Serratore told the Bemidji Pioneer. "It's great for the program, community and alumni. There's still a lot of stairs to climb, but the first step is out of the way."
The events center, with construction costs reportedly ranging from $35 million to around $60 million, would be located in the south downtown area in the old railroad corridor.
Speculation over the new arena also centers on BSU's always-mentioned admittance into the WCHA.