The horses are at the post, and they're off! Down the straight into the first turn and …
The race called the 2006-2007 season is off and running and there are some teams who are off to a flying start coming into their second or third week of the season — if they were fortunate enough to play in a tournament over the Thanksgiving holiday weekend. Let's take a look at some that are a pleasant surprise and some that really have been expected to be winning early and often.
Skidmore Showing More Not Less
You can't talk about a horse race without discussing the Thoroughbreds. While a coincidence in the name of the mascot, Skidmore is off to a 4-0 start this seaso,n having defeated New England College and St. Anselm's on the road to open the season. Last weekend the young Thoroughbreds won their own invitational tournament by defeating Salve Regina and Cortland by convincing scores to claim the title and build the confidence needed to compete against the league's best.
"We have created some of our own luck," explained second-year head coach Neil Sinclair. "We really have a significant amount of confidence right now and we stay continually focused on the fact that everyday is a new day, every shift is different and at the end of the day, we want to be better than we were yesterday."

Senior Rob Hutchison has truly led by example by scoring five goals in the first four games along with three assists for eight points to top the table for the Skidmore team. But when you look right behind Hutchison on the scoring table, the youth of Sinclair's team is already contributing to the offense that has helped produce the 4-0 start to the season.
Freshman forwards Matt Czerkowicz (2-5-7), Anthony Ferri (3-1-4) and Tim Daley (1-2-3) are just three of the up to sixteen freshmen and sophomores that regularly dress for Skidmore. They have fit right in to the up-tempo style that Sinclair has brought to the Thoroughbreds and apparently the young guys like the style a lot. "Our seniors have really done a good job adapting to the new style of play," said Sinclair. "The new recruits have really fit right into it and Coach Dion really did a good job with bringing in the current sophomores as they are fitting right in to the way we want to play."
Two sophomores of note, Teddy Gowan (0-1-1) and Mike Gibbons (1-2-3) took a while to get going last year on the score sheet so the timing has not been lost on Sinclair: "I don't think either Teddy or Mike really had any points before we played Colby and Bowdoin last season. They just took off after that set of games and I am sure they will get on track."
While the team is clearly young in terms of college game experience there arte some stabilizing factors that have helped the team come together quickly and showing off some good early chemistry. Sophomore defenseman Phil McDavitt, a transfer from Union, has brought his D-I experience to Skidmore to help stabilize and support the team on and off the ice. "I don't think they really are allowed to be freshmen," commented Sinclair. "They have been together now for awhile so the newness really isn't part of what we focus on now."
Another area of depth and quality performance early in the season has been seen in the goaltending where freshmen again are showing early promise. DJ Delbuono and Jimmy Santacroce are both 2-0-0 with goals against averages under 2.00 and a knack for making the big save when needed. Throw in junior Ted Levine who has also played without giving up a goal and Skidmore appears to have some options in keeping opponents off the scoreboard.
This weekend the Thoroughbreds take on Bowdoin and Colby before closing out the first semester on the road at Geneseo". "This weekend should provide a good test for our hockey team," said Sinclair. Both of those teams can skate well and are always competitive so it will be a challenge for our team playing at home to continue our early success."
Right now the Thoroughbreds are entering the first turn and looking back at the field. Continued good results and growing confidence in a young squad could help create a winning attitude to carry into the second half.
Cadets Carry On
For Norwich, the fast start to the season has been a mixed bag. The on-ice results that find the Cadets at 4-0 and winners of the Primelink tournament on their home ice have been somewhat overshadowed by the tragic death of former captain Mike Serba this past weekend in Canada. Wearing black bands on their uniforms this past weekend against Plattsburgh in the championship game, the Norwich hockey community has lost one of their best in brightest at a very young age.
On the ice, the Cadets have been backstopped by freshman goalie David Thompson who has played all four games so far this season while posting a stingy 1.25 goals against average and an impressive .935 save percentage. Thompson has seen a lot of ice time as sophomore Chance Gieni has been injured but the results are hard to argue with.
"We are playing pretty well," said head coach Mike McShane. "We have gotten some really solid goaltending and the guys are coming together as a group. We have had some pretty good balance offensively from the first three lines and we are skating eight guys on defense. Not everyone has dressed or played every night but we have some depth back there which will help us over the course of a long season. We are really taking one game at a time and this weekend will be challenging in facing two teams that look like their playing pretty well."
This weekend is the first on the road for Norwich who faces Amherst (3-0-1) and Hamilton (1-0-1) two unbeaten NESCAC foes that have shown some grit early this season might provide some idea as to how good this year's edition of the team from Northfield is. "Amherst looks like they got their power play going good early and Hamilton is always a tough place to play in that rink, stated McShane.
The Cadets will look to get continued production from three juniors who are not surprisingly among the early team leaders in scoring. Rick Cleaver (4-6-10), Eric Lauriault (3-6-9) and ECAC East Player of the Week Raphael Robitaille (4-3-7) will need to continue their hot start and take the pressure off the return of Gieni in goal who is likely to see his first action this weekend.
Continental Divide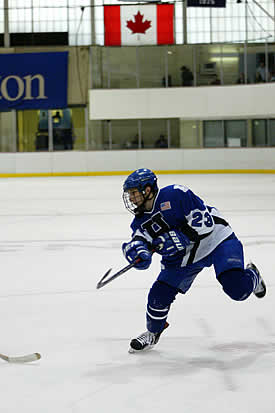 Hamilton is yet another of the teams that has a lot of youth on the roster but has taken advantage of veterans to take 3 of 4 points on the road during the opening weekend at Trinity and Wesleyan.
Senior captain Casey Deak showcased his offensive skills by scoring four points in the first two games with three goals and an assist. "Casey really showed the leadership we need with this team in the first couple of games by scoring some big and timely goals," commented Hamilton coach Phil Grady. "Casey, John (Gordon) and Kyle (Roulston) have been key for our team in big situations. We are not where we need to be yet as a team, that's for sure, but it was great for our confidence to take points in our first games on the road and now we are focused on playing against St. Mike's and Norwich at home this weekend."
Another key to the early success seen at Hamilton can be found in sophomore goalie Matt Crowson. Last year Crowson saw action in just ten games during the season so this year the goaltending was at least a question mark in terms of consistency. During the opening weekend Crowson was huge in goal stopping 73 of 78 shots including 44 of 46 in the season opener against Trinity.
"Matt's a great story," Grady explained. "He's been a real pleasant surprise and he really only has four or five years as a goalie seriously playing the position. We found him at Berkshire which was the first place that he really played and he has been great. We have a team goal to produce 40 or more shots on the other team's goal and limit the opposing team to 23 or less on our goal. We obviously have some work to do to get on track in meeting those objectives. We don't want to have that much pressure on our goalie every night so we will need to tighten up a few things."
Another area of concern for Hamilton is the early number of penalties including major penalties that have had an impact on the first games. "We addressed those situations directly with the kids this week," stated Grady firmly. "I don't think you'll see anymore of those trips to the box this season."
The Continentals go to the break playing in a home-and-home series with Utica. The second game is a charity event being played at the historic Clinton Arena in Clinton, N.Y., where proceeds from the ticket sales will go to support local Clinton youth hockey programs and the collection of canned and non-perishable food goods will benefit the local Utica food bank.
"This has been a building rivalry over the past couple of years," noted Grady. "It's great hockey and a chance for our kids to give back to the community. You recruit kids with character who have the opportunity to leverage their position as an athlete and be role models and support needed charities and activities to benefit youth programs, seniors, and other programs in the local community. It's a great experience that goes hand-in-hand with our program here at Hamilton. The games with Utica will be a lot of fun and pretty intense — it's a great way to go into the break."
Spartans Building Tradition
The last team off to a great start can be found in Vermont too. No not Middlebury, although at 3-1 they qualify. No it's Castleton State who after four games this season is 2-1-1 including going 1-1-1 on the road in their first three games. While 2-1-1 may not seem to be exceptional consider that the team didn't win a single game two years ago and last year finished just 4-19-3 in their first year under head coach Alex Todd.
"We want to build a championship team here and it will take some time," said Todd. "We were focused on coming out of the first three games on the road at .500 (1-1-1) and now we want to build some consistency and reputation by playing well at home. This weekend against Colby and Bowdoin will be a good challenge for our young team and we expect to play hard and really be well supported by our growing fan base."
Leading the Spartans is newcomer Steve Culbertson who has three goals in his first four games including one power play goal, one shorthanded goal and one game winning goal. Right behind Culbertson is senior Joe Huchko (1-2-3) who led the team in scoring last season from the blue line. "Joe has been a champion at the junior college level with Morrisville," said Todd. "That's the kind of player and expectation we want to build here with this program. We want kids who have been champions and bring that attitude and intensity to the ice with our program. We are off to a good start but need to keep looking to improve and get better."
This weekend along with three more games against Cortland, Wentworth and SNHU before the break should provide the Spartans with a look at where to benchmark themselves early in the season.