Orlando Alamano didn't think he'd see much more than practice ice between the pipes during his time at Bemidji State.
That all changed this year.
When senior Layne Sedevie went down with a neck injury, junior Matt Climie assumed the bulk of the workload, but Alamano, who had bided his time the past two years, was ready when needed.
He got the call on Nov. 4 at Minnesota State and turned in a 25-save outing in beating the Mavericks, 3-2, for his first collegiate win in his first-ever non-exhibition start. Alamano had seen just 14 minutes total and that came in relief in 2004-05 against Bentley for his only other playing time.
"I was psyched up for that game, but at the same time I think I was very nerve-prone," said Alamano, a 23-year-old native of Fresno, Calif. "You look at the scouting report and to see NHL draft picks might be intimidating, but when the third period ended, I could finally breathe. That game was what I had prepared for the past two years and when I started the game, everything from the past all came back. I felt so comfortable, so at ease."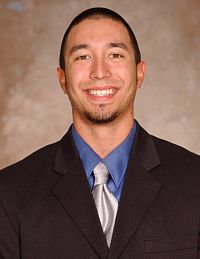 "We've said all along that we have three great goalies," Beavers' head coach Tom Serratore said. "Orlando shut out (Canadian school) Regina (in the aforementioned exhibition start) two weeks earlier, and Regina's a good team, but when he beat Minnesota State, he validated himself. Then, in relief against Minnesota-Duluth (a 6-5 overtime win), he validated himself again."
The 5-foot-10, 165-pound Alamano was recruited by Bemidji State in the late spring of 2004 and Serratore told him straight-up that his role would be as the No. 3 goalie behind Climie and Sedevie.
"Orlando was fine with that," said Serratore. "If he wasn't such a world class person, I'm not sure he would have stuck around."
Army was also recruiting Alamano, but he decided military life wasn't his future. He came to Minnesota after his sophomore year of high school and played two years at Eastview High School for BSU alum Mike Gibbons. It was there that he rotated in net with two other players, thereby making his situation at Bemidji State easier to handle.
"The Tarkir brothers and I came to Minnesota on spring break and I fell in love with the state," said Alamano. Zach Tarkir, now with Northern Michigan, and Chris Tarkir of Alaska-Anchorage are Fresno natives like Alamano.
"I've been here so long that I tell people I should have been born here. People in Minnesota are more my type of people. Don't get me wrong, I love California, but Minnesota is just a better all-around situation."
After high school, Alamano tried out for the Chicago Steel and Danville Wings of the United States Hockey League and the Wichita Falls Rustlers of the now-defunct America West Hockey League.
He was cut from all three and decided to head back home to California.
"I was driving home and I got a call from a pro shop manager back in Fresno," Alamano remembered. "He knew the GM up in Swan Valley (of the Manitoba Junior Hockey League) and said they needed a goalie. So I went up there and gave it a shot."
In two years in Swan Valley, roughly five hours north of Winnipeg, Alamano became the Stampeders' career goals-against average leader (3.11), finished second all-time in victories (38) and third all-time in games played for a goaltender (75).
After aging out of juniors, the Bemidji situation came about after Alamano turned down a guaranteed scholarship from West Point.
"During my freshman year, I actually looked into transferring to a Division III school," recalled Alamano. "I told the coaches and they said they'd support me, but they said they'd prefer I stay. I didn't send out any applications or anything, but I did look into it.
"Then Dave Deterding's dad bought him a house in town here and Dave asked me to live with him and a few other players. That made me stay because I realized if I left, I'd be turning my back on a lot of people that I'd become good friends with."
Last season, Alamano never saw the ice, but didn't complain once.
This season, that trend looked to continue until Sedevie's neck injury suffered in juniors flared up on him.
"You never want to wish injury or anything bad on anyone, but when Sedevie got hurt, I knew I had an opportunity and I knew I had to take advantage of it," Alamano said. "I don't know what the prognosis is for Sedevie, but Tom has told me I'm No. 2 behind Climie."
"He's worked so hard and battled and battled," added Serratore. "From his freshman year to now, it's really a great story. But he's a very humble kid and in the classroom, he's almost a 4.0 student. He's just a great individual."
Winning his first two starts this year gave Alamano confidence he didn't think he'd ever have at the NCAA level. Even losing his first game helped in that regard. When the Beavers lost to Colorado College on Dec. 30 with Alamano in net, it brought Alamano back out of the clouds.
"Winning is great, but I wondered what it would feel like to lose," said Alamano. "Not that I wanted to lose, but when I did, it brought me back to Earth. It was a humbling experience for sure."
Alamano beat Wayne State on Jan. 6, but then lost last Saturday at Michigan Tech. He said he knows Climie is the starter for the Beavers, but hopes he's proven himself to this point.
"I'd like to maybe get a game in this weekend against UND," Alamano said. "Climie's been playing great, but as his backup, I know I need to be ready to go in case he falters. I just need to be behind him and take it day by day."
"I have no problem playing Orlando against any team in the country," Serratore boasted. "That's how much he's improved since day one here."
RMU and UAH Duke It Out In Huntsville
Elton John was right on when he penned his tune "Saturday Night's Alright For Fighting."
Just a night after Michigan State and Alaska shed the mitts in East Lansing, Robert Morris and Alabama-Huntsville engaged in some fisticuffs of their own down in Huntsville.
At the tail end of the Chargers' 3-1 win, after David Nimmo's empty-net goal had sealed the game, UAH defenseman Troy Maney and RMU defender Dave Cowan tied up, dropped the gloves and starting throwing haymakers.
(A YouTube video is here.)
"We've been going at it all year and they sent out some of their tougher guys after it was 3-1," Maney, after just his fourth game of the season, said in the Huntsville Times. "We just made sure that we stood up for ourselves. We put our bigger guys out there to match them in case they wanted to do something. Obviously, our coaches made the right choice."
"We played a solid game for the most part, but it was great to see guys like Troy and Matt Montes step up to the plate even though they haven't had a lot of playing time," UAH head coach Doug Ross said in the same news story.
Montes and RMU forward Brett Hopfe also engaged in an altercation, but each only received misconducts. Hopfe and Brennan Barker nearly scrapped in a game back in November.
Friday night, the Colonials scored twice in the third period on goals by Doug Conley and Chris Kaufman to steal a 3-2 win.
"We knew that (Robert Morris) was going to come out hard and for us to get down early hurt us, and our slow start in the third also hurt us," said Ross in the Times. "We had some good chances on the power play that we didn't convert and those kinds of things will kill you. We are going to keep working hard until we get where we need to be. We are not there, but we are going to be persistent and make it happen."
"We competed, got some good, timely goals and had good goaltending," said Robert Morris coach Derek Schooley, also to the Times. "We got everything we needed to come out on the road and get a win."
WSU Shocks Ferris State In Detroit
Wayne State only has five wins this season, but two of them have come at the expense of CCHA teams.
The first was back on Dec. 16 against Western Michigan and the second was last Friday versus Ferris State.
Matt Krug scored at 19:31 of the third period and then Jared Katz won it 1:42 into the extra session.
"It was a lot of hard work — the guys didn't quit at all and just kept digging," said Krug, who also credited forward Jason Bloomingburg for keying the game-tying play with a coast-to-coast rush, shot, and setup off the ensuing rebound, to USCHO.
"I was joking that any time a team lets me skate from our end to their end, get a shot, and then pass it, it's probably bad news," Bloomingburg added.
But Saturday saw the Bulldogs regroup and take a 7-3 win from the Warriors.
"I thought Ferris had a lot more jump, especially in the third," WSU head coach Bill Wilkinson told USCHO. "I thought that was their difference: they had a little more intensity that we did."
So far this season, Wayne State is 2-4-0 against CCHA squads.
Niagara Falters In Denver, But Plays Admirably
Even though Air Force left the CHA for Atlantic Hockey, Niagara still worked in a road trip to Colorado this season and ventured to Denver last weekend for a pair.
Maybe playing Air Force would have been a kinder trip for the Purple Eagles.
The then-No. 7 Pioneers swept Niagara, who fell from No. 17 to No. 20, but the Purple Eagles didn't hang their heads.
Friday, NU was on its way to a tie when DU scored with seven seconds left in overtime for a 2-1 win.
"We're a young team and I think we had too many guys playing not to hurt us instead of going out there to help us, but when we got the score we started to play well and had some chances to win," said Purple Eagles' head coach Dave Burkholder to USCHO. "We get one and we start playing with confidence, but we were on our heels all night. Thank God for our goalie (Juliano Pagliero) or we wouldn't have got to overtime. He played great."
Saturday, Denver came back with a 5-2 win.
"We started taking some chances," Burkholder said again to USCHO. "We let our defense be a little more aggressive and pinch, and that cost us on transitions."
Niagara remains in second place in the CHA, just two points behind Bemidji State, which was also swept last weekend in nonconference action at Michigan Tech.
First-Place BSU Swept Away In Houghton, Sioux Next
Bemidji State journeyed to uncharted territory at Michigan Tech and came away with two losses last weekend.
The losses were just BSU's third and fourth since Oct. 21.
MTU was ranked earlier this season and its wins over BSU knocked the Beavers out of the national polls.
The Beavers play North Dakota this week in a home-and-home set.
"This is just the same old weekend for us," said Serratore. "It doesn't matter if we're playing a nationally-ranked team or a team in our league, we'll prepare like we always prepare. It'll be a test for us, but we need to go out with our 'A' game."
Wayne State Recruits List Growing
After getting a commitment from Surrey Eagles' goalie Kyle Funkenhauser a couple weeks ago, Wayne State reportedly got two more this week from Bridgewater Bandits' forward Jeremy Tejchma and Alberni Valley Bulldogs' forward Tyler Ruel.
All three recruits are 20 years old and join 19-year-old forward Christian Hmura, currently with the Springfield Jr. Blues, as future Warriors.
Ruel leads the Bulldogs in scoring with 24 goals and 69 points and is also tied for fifth in British Columbia Hockey League scoring.
Tejchma is a Michigan native, calling Muskegon home. He played the past two years in the United States Hockey League with Indiana and Waterloo before going out east to play in the Eastern Junior Hockey League. He is the younger brother of Massachusetts-Lowell senior forward Jason Tejchma.