Dave Hakstol is a pretty interesting guy.
Unlike a Red Berenson, Mike Eaves, or Ted Donato, he doesn't stand behind the bench coming from an extensive NHL playing background. Unlike Rick Comley, Jack Parker, or Jerry York, he hasn't won 700-plus games. Unlike Don Lucia or George Gwozdecky, he hasn't won an NCAA title as a coach. Yet.
However, he has led North Dakota to the Frozen Four (and one title-game appearance) in the past two seasons, both years where the Fighting Sioux were not clear favorites to be there.
This season is following the same pattern as the last two. NoDak looked average early, and hit bumps in the road. Now, entering February, a case could be made the Fighting Sioux are on the right road to what Wisconsin assistant coach Kevin Patrick has described as "The March to the Arch," meaning the Frozen Four in St. Louis.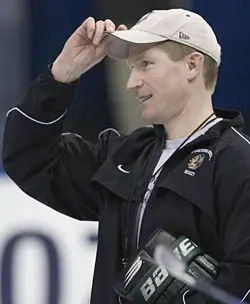 Hakstol's crew has depth, mobility, and skill. Other than New Hampshire and maybe St. Cloud State, a case could be made that no team is playing better right now in as many areas. Philippe Lamoureux, their embattled goalie, has rebounded from a high ankle sprain to contribute big saves at key times.
The Sioux defense plays with a nasty edge, and when it wants to, won't give you a look from the slot. Up front, the line of Jonathan Toews, TJ Oshie, and Ryan Duncan has speed, skill, creativity, and can score from anywhere in the offensive zone. If you believe the Warren Commission, a case could be made that Duncan's accuracy rivals that of Lee Harvey Oswald.
Hakstol's charges, like many teams in the WCHA, are a young group that lost a lot of veteran leadership to graduation and underclassmen leaving early. However, despite putting letters on players who seemed ready for the challenge, Hakstol has had to wait patiently for that to pay off.
"We are seeing leaders emerge now," said Hakstol, the morning after his crew erased an early 2-0 deficit at Minnesota for 5-3 win.
Talking about his team's bench demeanor after its second consecutive win after trailing 2-0 early, Hakstol smiled easily when thinking about what is starting to happen during critical times in games. "The toughest thing for me and our staff is to develop that leadership from your players. You can't rush that, can't force that. You have to cultivate it, allow it to grow. It was great to see the players not panic."
In a rowdy building like Mariucci, many visiting teams have been unable to withstand the onslaught of the talented Gophers. Hak's crew was down 2-0 early one night, and after a 2-0 lead early in game two of the weekend series, they found themselves down 3-2 late in period one.
Then Robbie Bina launched a 190-foot shot towards Gopher goalie Jeff Frazee, who looked very much like a certain Red Sox first baseman in the 1986 World Series in his approach to corralling the puck. It played him, and went in. Shorthanded goal, last two minutes, tie game.
"What the guys were saying when we were down 2-0 to Bemidji, and what they were saying down 2-0 to Minnesota was, 'Come on guys, we're okay here, but lets get our rear ends going.'"
Their composure was a key to their winning those games, and that comes from leaders like Chris Porter and Eric Fabian.
"Momentum swings and how you handle [them] are very key," said Fabian prior to the opening game. "Let's say we go down 2-0, we have to keep focused. We lost that part of the game, but there is a lot of game left. It's a matter of staying focused."
Amazingly, that script played out exactly as Fabian hypothesized. However, he credited a seemingly-irate Hakstol for that calm.
Hakstol spent five minutes prior to leaving the bench after the period ended in a heated discussion with referee Jon Campion over a penalty Campion called on Rylan Kaip, which was a shaky call at best. However, as angry as Hakstol looked, he was calm with his team.
"Coach walked in, looked at the team, and said, "'We're okay here guys; we're only down a goal,' said Fabian. "Literally, that was about it. He put the game in our hands."
"You have to pick your spots on being vocal. As a player I knew my job — I didn't need it being harped on me every day," said Hakstol, who played for the emotional Frank Serratore (now at Air Force) with the IHL's Minnesota Moose. "You need to pick your spots to be emotional when you think it can make a difference, a positive impact."
One of the positive impacts he has made is on youngster Brian Lee. Lee, a first-round draft choice, has come along slowly in the eyes of some scouts and fans. While showing improvement in many areas over last season, including getting shots through to the net, quick outlet passes, and defending the rush one on one, Lee still shows signs of a player who could still be in juniors. He made the jump from Minnesota high school play to the WCHA without the benefit of a season in junior hockey.
"With any first-round pick, the expectations change as soon as you get selected, and that's not really fair," said Hakstol, who has had a bevy of top selections. "Just because you are a top pick, it does not change where you are in your development as a player. Did Brian Lee improve as a player on his way to the podium?
"Being selected in the first round means that someone thinks you can be a pretty special player in the future. It doesn't mean you are a finished product yet."
That type of vision, that type of patience, that type of leadership from the head coach of the Fighting Sioux has made them once again into a formidable opponent. It also makes them a team that should it continue on the path it is traversing now, could show up in St. Louis.
"We're just focused on the little picture now," said Hakstol. "Get points and improve. The next game is the biggest from here on out."