Before a series against then-17th ranked Niagara, Denver Pioneers goalie Peter Mannino felt a twinge in his groin.
Mannino, a junior, was concerned, but felt he would be all right to play. However, as the day of the game dawned, Mannino realized that he had tweaked more than he thought and would be unable to go.
For most teams facing a critical game with league and PairWise implications, losing your number-one goalie would be cause for outright panic. The Pioneers, however, split their goaltending duties between Mannino and senior Glenn Fisher, who rank third and 10th nationally in goals against average, and second and ninth in save percentage. No other team in the country boasts a netminding duo with quite those numbers.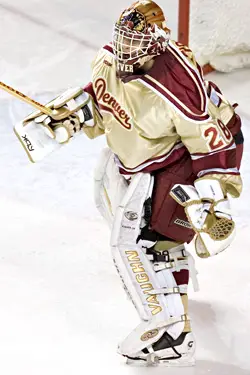 As DU head coach George Gwozdecky said after the Niagara series, "What a luxury, when you have your number-one goaltender go down to injury and you can put your number-one goaltender in."
Fisher and Mannino have split goaltending duties since Mannino joined the Pioneers in 2004. During that first campaign together, Fisher posted a 14-5-1 record with a 2.84 goals against and .889 save percentage. Mannino recorded an 18-4-1 record with a 2.19 goals against and a .927 save percentage.
That first season, Fisher and Mannino found a way to work together.
"We're happy, we both get along and we push each other as much as possible," says Mannino. "Adam Berkhoel and Wade (Dubielewicz) were kind of known to split time in Denver. I kind of did that right before I came to Denver and Glenn had done that in juniors too, so I don't really know how to explain it, but somehow we just kind of connect at a certain level."
As well as that season started for Fisher, it ended with a bit of disappointment. When it came time for the Frozen Four, Gwozdecky went with Mannino in both games, and Mannino earned Most Outstanding Player honors as the Pioneers won the national title.
While Fisher knows Mannino deserved the nod, he still uses that as motivation in his play.
"It was really frustrating, one of the most frustrating times for me, but I didn't earn that game and he did. I was there to support the team as much as possible, and that was the way I played that year."
Last season the Pioneers failed to qualify for the playoffs, and decided to change their usual approach to goaltending this season.
"Last spring we sat down individually with Peter and Glenn and talked with them about what our approach was going to be with the goaltending situation this year," said Gwozdecky. "I felt that our entire team, forwards, defenseman and goaltending, became a little bit complacent last year. I think that's natural; it's tough not to become complacent when you've won two national titles.
"I think we weren't playing with the edge we had played with previous years. I think the challenge to these guys was not going automatically to the rotation we had always used in the past; it was going to be the hot hand. Coming into the season, I think both were very prepared."
Fisher agrees enthusiastically with Gwozdecky's assessment, and says it is one of the reasons he has been able to raise his game this year.
"It's just the challenge this year, that we weren't going to be given our ice time like we have in the past; it was something you had to earn. I kind of got into that mindset this summer and it's turned over into the season. The work ethic's really paid off."
Stylistically, Fisher and Mannino have similar approaches. Both are big goalies; the Pioneer player guide lists Fisher at 6-foot-1 and Mannino at 6-foot even. Both like to use a hybrid butterfly style.
"I think the similarities and differences are very subtle," says Gwozdecky. "Even I have a difficult time at times at practice realizing that's Glenn and that's Peter, and not vice-versa."
Mannino feels that he plays slightly more aggressively than his counterpart. "We're similar in several ways, but the way we go out there and portray our positions, our styles, is a lot different. We make up for what we lack in different ways. The way we get out there and play, I look at myself as pretty aggressive, a get-there-first type of person."
The two maintain a friendly competitive rivalry, something Gwozdecky feels improves their play. "They love to compete in practice against each other, they love to compete against our shooters, and obviously they love Friday and Saturdays when they get a chance to compete against a different opponent. They're at their best when they're competing and leading our team."
Going into this season, the Pioneers lost three of their top four scorers to graduation or the NHL. That, combined with the early-season injury to senior J.D. Corbin, made this season even more daunting. Gwozdecky was up-front in assessing the play of Fisher and Mannino as critical to the Pioneers' chances to get back to the NCAA tournament.
Fisher feels that pressure of leading the team has improved his play. "Goaltender is always a high-pressure job, but a lot of goalies I know, myself especially, use that to their advantage. I like to feel the pressure; I find I'm more alert and ready to go."
Concurs Mannino, "You're that last line of defense, especially in big games. It's important to step up for your team because a lot of times playoff games are defensive battles. That's where we want to be. We want to help our team by being that backbone."
If it's true that defense wins championships, the Pioneers have to like their chances of making it back; hosting the West Regional this year gives them an additional advantage if they make it.
Mannino returned to the lineup in the series against St. Cloud State, earning his third shutout of the year Saturday to claim a weekend split. Gwozdecky is proud of both goalies' play, and praises the way they handle the rotating schedule.
"They knew going in what was going to happen and I think they've responded to the challenge in a big way. I think both Glenn and Peter have been the model of consistency over the year, and have been sensational at times and have stolen us games where we haven't played very well in front of them.
"As I analyze our positional play, there's no question our best play this year has come from our goaltenders up to this point."