This year, things were supposed to be different.
This year, they said, it was anybody's game. This year, the Beanpot had no heir apparent.
It was more than just the run-of-the-mill pressroom coach-speak; it was an impression cast on all corners of the Hub. From Mass Ave and Huntington to Mass Ave and Mt. Auburn, from Comm Ave and Beacon to Comm Ave and Chestnut Hill, the traditional standard just felt askew.
Would the 2007 Beanpot come to rest in its primary residence at Boston University? The 27-time winner and defending champion Terriers had the second-fewest wins of anyone in the USCHO.com/CSTV top 20 (13; Cornell has 11) and have been painfully short on offense all season, but what they lack in tangibles they make up for in tenacious tournament territoriality.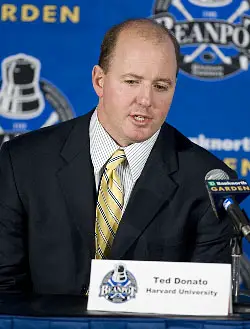 Perhaps "BC" would once again signify "Beanpot Champions," like it last did in February 2004. It would certainly seem possible … if they could play up to their one-time number-one ranking, rather than performing a rendition of "Bad Grossman on Ice."
Northeastern was a popular favorite for the first time in years, having won four of its last five and playing a fierce 1-0-2 against BU and BC since late October. The Huntington Hounds only allowed six goals in their previous five contests, while scoring 16. Could this finally be the year that dismissed the abrasive "1988" chant?
Or Harvard. The lone representative of the ECACHL, the Ivy institutions, the non-scholarship programs, and all territory north of the frozen Charles. The Crimson hadn't won on the first Monday of February in eight years, and were 1-11 on such occasions since early 1995. Their lone win, a 5-4 victory over Boston College, required overtime to achieve.
Harvard? As far as sentimental favorites go, it's always NU. Harvard doesn't even register, with a smaller student population, a different league affiliation, and an entirely different athletic culture from the other three Beanpot participants.
The Trio boasts raucous student sections with names like "Superfans," the "Dog Pound" or the "Dog House." Harvard's most vocal fans are in the pep band. But while they don't generate much press — and by translation much interest — the Crimson icers were probably the hottest team among the Beanpot Four this time around.
They'd lost a pair of heartbreaking road games in the final seconds. They'd dominated Quinnipiac but only managed a tie, also away from home. Back in the familiarity of the Bright Hockey Center, Harvard came to life in dispatching Union and Rensselaer. In claiming four points from five games, the Crimson were mercilessly shortchanged in performances that should have resulted in seven or eight points. They came up just short, in some otherwise superb efforts.
Just short, just barely not enough. It was a theme that the Crimson and head coach Ted Donato thought they might have banished.
Alas, in a 3-1 defeat at the hands of an unimpressive Eagles squad, Harvard was once again left wondering why it wasn't "this year."
"We felt we were capable of winning the game," said Donato, "without having to catch any breaks."
It was an optimism bred of strong play and consistent effort. It was based on a decisive 4-0 victory over the same Eagles side in the fall. It was an optimism based, indirectly, on what was destined to be the Crimson's undoing: too much game time. Just barely not enough rest.
Neither Crimson captain Dylan Reese nor Donato would point the finger, of course, but it was there. It was clear, just beneath the surface of the flushed and despondent players as the game wore on.
"We were flat," said Reese, the Ivy's lone goal-scorer on the evening. "We're still trying to develop as a team," even though the season is winding down, he said.
Reese said all the right things … that his teammates remained positive as the clock clicked down, that he felt good all night long.
"I felt fine. I didn't feel like I'd played two games [last weekend]," he said. "I felt fine, I felt fresh."
He said the things that a proud, honorable, and defeated man is supposed to say, the responsible and stoic things that endear him to his coaches and his teammates. But it was there, in his protestations.
"[Boston College] certainly changed up some things," said Donato of seeing the opposition for the second time, "but we weren't able to execute simple plays, put pucks on the net, generate chances," he said.
He knew his team was tired, and he knew they'd be fatigued as early as Saturday night. Harvard is in the thick of a 12-game, 30-day marathon to wrap up the regular season, including six games in 11 days that concluded on Monday the fifth.
This year marked the first time since 2001-02 that the ECACHL had dictated its representatives play two games the weekend prior to the Beanpot; the exemption enjoyed by the Hockey East schools was now no longer afforded the Crimson. Since '92-'93, the Crimson were 0-6 facing such a loaded schedule. It was the cliche recipe for disaster.
As a team catching fire, Harvard had gone three for six on the power play each of its last two games, but the man-advantage had conspicuously little influence on the flow and tempo of Harvard's game Monday.
"We wanted to be aggressive," Donato said of his strategy on Monday, "but we were never able to execute enough passes on the power play."
In what encapsulated the team's performance on Monday night, Donato said only, "I don't think we were mentally or physically as sharp as we wanted to be."
For the ninth consecutive year, the Cambridge crew will skate in front of a nonexistent five o'clock audience to close out its Beanpot. As small consolation for the consolation game, the team only has one game before then, at Princeton on Friday. Would the team have preferred the existing schedule had they won? Who's to say?
Maybe we'll find out in the pressroom next year.