One more week to go in the NCHA and two in the MCHA, and despite the NCHA big dogs beating up on each other a bit not much has changed in terms of the national scene.
UW-Stout's loss to UW-Superior dropped them out of the top spot in the PWR, but only down to No. 3. St. Norbert remains at No. 4 with a two-win weekend but UW-River Falls drops a spot to No. 7 following a loss to St. Scholastica. Meanwhile, despite a loss UW-Superior holds at No. 8.
In the MCHA, MSOE's sweep of Northland moves them up three spots to No. 17. Although Finlandia and Lawrence split last weekend, one moves up while the other falls in the PWR. Finlandia jumps two spots to No. 19 but Lawrence drops two to No. 34.
NCAA Possibilities — A Brief Sneak Preview
Now that I have been prattling on for three weeks about the PWR, it's time to further elaborate on things. As not all variables are yet included in the PWR we need to be careful about throwing the cart in front of the horse, but the picture is still beginning to focus.
As far as the MCHA is concerned, they are unfortunately out of luck as far as the NCAA Tournament goes. The lack of an automatic bid for the conference means MCHA teams must rely on the Pool B bid for conferences not possessing an autobid, or the Pool C bids which are general at-large berths.
In the current PWR there are four Pool B eligible teams ahead of the MCHA's highest-ranked team, MSOE, which means it just won't be an option. Likewise, there are 16 Pool C eligible teams ahead of the Raiders so once again, the league is just plain out of luck. Even if MSOE or Finlandia were to win out their remaining games, it would not be enough.
The NCHA presents a much more complex situation, however. UW-Stout, UW-River Falls, St. Norbert and UW-Superior are all in position to make the NCAA Tournament, but it's not likely all four will go. While it's possible that one of the other four teams could win the conference tournament and snag the autobid, that's just too far out to deal with right now. What can be dealt with is the past, and the picture it paints in the PWR.
This weekend, all NCHA fans should become temporary observers of the ECAC-W. Not only that, but they should all become fans of top-ranked Manhattanville. Why, you ask? Because Neumann sits one spot ahead of UW-River Falls and UW-Superior in the PWR, and just happens to be hosting the Valiants for a two-game set this weekend. For now, any loss by Neumann helps the NCHA teams who are trying to sneak past them in the PWR, and the NCHA would be best suited by getting ahead of as many teams as possible. For now, that's about as in-depth as we can get. Go Valiants.
This Week in the MCHA
With only four games remaining in league play, two clear races have emerged. MSOE has led the conference the entire season, but in somewhat surprising fashion Finlandia has remained within striking difference.
The battle for third place is also shaping up to be a fine one, with Marian currently holding a one point lead over red-hot Lawrence.
Some major credit should be given to the MCHA schedule makers as in the final weekend of the season, MSOE heads to Finlandia for two games while Lawrence and Marian will square off in a home-and-home series. Both series will likely determine the final positions of all four teams, but we won't know for sure until this weekend's games are complete.
Last week I broke down the NCHA conference race with two weeks to go, which means it's now time to do the same for the MCHA. Thankfully, it is a little less convoluted than the NCHA.
MSOE (1st place, 28 points)
Remaining games: Lawrence, @ Lawrence, @ Finlandia, @ Finlandia
Outlook: The Raiders have not been as dominant as many predicted they might be this season, but they have been dominant enough that a third straight MCHA crown is within their grasp. While the Raiders are in control, they have arguably the most difficult schedule remaining in the league. None of their remaining games are gimmes, and the trip to Finlandia to close out the season will be especially difficult as the Lions gave MSOE fits earlier this season. So how good of shape are the Raiders in? If they obtain more points than Finlandia this weekend the conference title is theirs. A sweep of Lawrence, regardless of what Finlandia does, will guarantee at least a tie for the conference. Finally, if the Raiders stumble and Finlandia sweeps, MSOE will be traveling to Hancock, Mich. next weekend for a showdown that will determine the conference champion.
Finlandia (2nd place, 24 points)
Remaining games: UM-Crookston, UM-Crookston, MSOE, MSOE
Outlook: Despite a tough loss at Lawrence last Friday the Lions are still within striking distance, which is where they wanted to be heading into the final weekend of the season. Finlandia thinks they could have taken all four points from MSOE earlier in the season, but they only picked up two and are dying to get them at home next weekend — preferably with something on the line. If Finlandia can sweep UM-Crookston this weekend they will be guaranteed, at worst, a shot at a tie for the MCHA title. If the Lions are able to sweep and MSOE fails to take four points this weekend, they will have a shot at the outright title. Simply speaking, if Finlandia is able to win two home games this weekend they will at least have a shot at the title.
Marian (3rd place, 18 points)
Remaining games: Northland, Northland, @ Lawrence, Lawrence
Outlook: The Sabres have been somewhat overshadowed all season. Between a slow start in non-conference play and the tear Lawrence has been on recently, no one is talking much about them. The fact remains though that they are in third place in the league, and look to be in fairly good position to hold it. The Sabres get two home games this weekend against last place Northland, and four points is a distinct possibility. If they are able to sweep the Lumberjacks, third place would be theirs if MSOE sweeps Lawrence. Even if Lawrence were to split with MSOE, a Marian sweep this weekend would set it up so they only would need a split with Lawrence next weekend in order to hold third position. Bottom line for the Sabres is that the schedule works in their favor, and if they get four points as expected against Northland they will be in very good position to finish in third.
Lawrence (4th place, 17 points)
Remaining games: @ MSOE, MSOE, Marian, @ Marian
Outlook: By now everyone knows that the Vikings are a legitimate threat. Looking back, however, a one-point weekend earlier this season against UM-Crookston may have been just enough to prevent them from moving into the top three. While a sweep of MSOE is possible, it isn't likely as the Raiders have not been swept all season. The best case scenario for Lawrence would probably them earning a split with MSOE while hoping Northland finds a way to steal one from Marian. As mentioned, however, it's fair to expect a Marian sweep of Northland, which means the Vikings need at least one point this weekend to have any shot at third.
UM-Crookston (5th place, 8 points)
Remaining games: @ Finlandia, @ Finlandia, Northland, Northland
Outlook: The Golden Eagles have the chance to play spoiler. A win over Finlandia this weekend would significantly dim the Lions' chances of winning the league, but unfortunately for UM-Crookston that's about all they can do as fifth place is theirs unless they lose out while Northland finds a way to win its first four games of the season. Suffice to say this is your fifth place team.
Northland (6th place, 1 point)
Remaining games: @ Marian, @ Marian, @ UM-Crookston, @ UM-Crookston
Outlook: The Lumberjacks are still winless in league play, and are all but a lock for last place. Despite closing out the season on the road, the Lumberjacks have a shot at getting in the win column next week as they travel to Crookston, who they tied and lost to in overtime earlier this season. That's about all they can hope for though, as unfortunately for Northland, the final spot is theirs once again.
This Week's Schedule
Friday, Feb. 9
Northland @ Marian
Lawrence @ MSOE
UM-Crookston @ Finlandia
Saturday, Feb. 10
Northland @ Marian
MSOE @ Lawrence
UM-Crookston @ Finlandia
This Week in the NCHA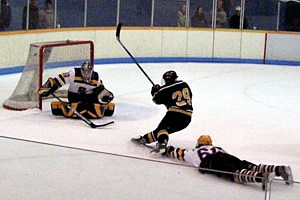 With apologies to everyone, I must confess that I have lied. In last week's column I stated "Stay tuned as next week it will be time to analyze any and all playoff scenarios, which oughta be a blast."
Now, the part about it being a blast is correct, but unfortunately I will not be able to analyze "any and all" playoff scenarios. Last season it was possible as there were "only" sixteen to deal with, but this year there are just a few more. I tried to figure it all out but the possibilities are nearly endless. Let's just put it this way: Even if ignoring the possibility of Lake Forest taking three or four points from St. Norbert this weekend, there are still over 80 ways the games can play themselves out. That's right, 80, and even I am not crazy enough to tackle all of them. Did you know it's mathematically possible for St. Scholastica to finish in second? I bet not.
So what I am going to do is try to streamline things for each team, from bottom to top. Note: I am excluding possibilities where a team must outscore another by a ridiculous margin in order to make up goal differential. Also for the sake of simplicity, I am going to assume St. Norbert gets at least one win against Lake Forest, except for the instances in which Lake Forest would move into seventh. Nothing against Lake Forest, but without doing so this becomes nearly impossible to manage.
I apologize for the complex nature of this, but I rest the blame solely on the shoulders of the teams themselves, and I wouldn't have it any other way.
Some huge series this weekend, and no matter what happens I will guarantee you it is covered below, in the simplest way it will allow.
Here are your possibilities:
Lake Forest
Take seventh with: 3 or more points and a sweep by UW-Stevens Point or UW-Eau Claire; or 4 points and two ties between UW-Stevens Point and UW-Eau Claire; or 4 points and three points from UW-Stevens Point or UW-Eau Claire
Take eighth with: Anything else
UW-Eau Claire
Take sixth with: Three or more points
Take seventh with: Two points but not both from ties; or one or fewer points and any Lake Forest loss; or one or fewer points and two Lake Forest ties
Take eighth with: no points and at least three points by Lake Forest
UW-Stevens Point
Take sixth with: Two or more points
Take seventh with: One point and any Lake Forest tie or loss; no points and any Lake Forest loss
Take eighth with: One point and a Lake Forest sweep; or no points and at least three points by Lake Forest
St. Scholastica
Take third with: Four points and a UW-Stout sweep and a win or tie by St. Norbert
Take fourth with: Three points; or four points and a win or tie by St. Norbert and UW-River Falls
Take fifth with: Two or fewer points
UW-Superior
Take third with: Four points and two or more points by St. Norbert and one or less points by UW-River Falls; or four points and two or more points by St. Norbert and two points from UW-River Falls and must make up four goals in overall goal differential on UW-River Falls; or three points and two or more points from St. Norbert and a UW-Stout sweep; or three points and one or more points by St. Norbert and one point from UW-River Falls and must make up four goals in overall goal differential on UW-River Falls; or two points and at least one point by St. Norbert and a UW-Stout sweep and must make up four goals in overall goal differential with UW-River Falls
Take fourth with: Any three-way tie with St. Norbert and UW-River Falls; or four points and at least three points by St. Norbert and UW-River Falls; or three or fewer points and at least two points by St. Norbert and UW-River Falls; or two points and at least a point by St. Norbert and UW-River Falls
Take fifth with: One or fewer points
UW-River Falls
Take first with: Four points
Take second with: points and a St. Norbert loss
Take third with: Three points and three or more points by St. Norbert; or any tie with UW-Superior so long as UW-Superior fails to make up four goals in overall goal differential
Take fourth with: One or fewer points and a UW-Superior sweep; or no points and three or more points by UW-Superior; or no points and a St. Scholastica sweep
St. Norbert
Take second with: Four points and a UW-River Falls sweep and UW-River Falls outscores UW-Stout by three or more goals; or four points and any win or tie by UW-Stout; or three points and any loss by UW-River Falls; or any two-way tie with UW-River Falls
Take third with: Four points and a UW-River Falls sweep and UW-River Falls wins both games by a single goal; or three or fewer points and a UW-River Falls sweep; or two points and three or more points by UW-River Falls
UW-Stout
Take first with: One or more points
Take second with: No points and a St. Norbert loss or tie; or no points with both losses coming by a single goal
Take third with: No points and a St. Norbert sweep and are outscored by three or more goals this weekend
This Week's Schedule
Friday, Feb. 9
UW-Eau Claire @ UW-Stevens Point
St. Scholastica @ UW-Superior
Lake Forest @ St. Norbert
UW-Stout @ UW-River Falls
Saturday, Feb. 10
St. Norbert @ Lake Forest
UW-Superior @ St. Scholastica
UW-River Falls @ UW-Stout
UW-Stevens Point @ UW-Eau Claire