Editor's note: Tuesday Morning Quarterback was delayed this week by technical issues.
It seems like all year we've heard rumblings about Clarkson and the success the team has had this year up in Potsdam, N.Y.
The Golden Knights are 23-8-5, the fourth-best record in the country. Last weekend, Clarkson rolled over a playoff-experienced Harvard team in the league quarterfinals and a return to the ECACHL final four for the first time since 2004.
What's strange about this team, though, is the fact that much of the year it has been lost in the national picture. The Golden Knights, in a way, have gone about their business. They didn't win the regular-season title in the ECACHL, which given the fact that they sit fifth in the current PairWise Rankings is a shock to many.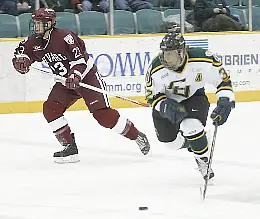 Clarkson has risen to the top without many marquee names. When I looked at the Golden Knights' current statistics, the only name that immediately stuck out was leading scorer Nick Dodge, who has potted 17 goals and 37 points in 33 games. But the Golden Knights actually have four 30-point scorers (Minnesota, by comparison, had six and has played four more games; Notre Dame has four as well, though one player has cracked 40 points).
In net, Clarkson's goaltender David Leggio has a 2.15 goals against average, a .931 save percentage, and already has racked up 22 wins. But with names like Curry, Brown, Fallon and Goepfert grabbing headlines, Leggio, like his team, has gotten lost in the crowd.
So just how good are the Golden Knights? For one, if they should run through their next two games against Dartmouth and the Quinnipiac/St. Lawrence winner, Clarkson will not only capture its fifth ECACHL tournament title (and first since 1999), there's also a likelihood that the Golden Knights can earn a number-one seed in the NCAA tournament.
Once they arrive at the big dance, teams should fear this Clarkson team. They're balanced (six scorers with 10 or more goals), have solid special teams (power play is ranked third, penalty kill is 14th) and seem to be getting excellent goaltending — all three a major factors in the tournament.
So get ready, upstate New York — for the first time in a few years (likely since St. Lawrence in 2000) championship hockey is back in full force.
Status Quo
All four of the top seeds advanced in last weekend's Hockey East and Atlantic Hockey playoffs.
No really, they did.
Is it just me, or did anyone else have higher expectations for the underdogs?
In Atlantic Hockey, the tournament was set up for the upset with a single-elimination format. Instead, we ended up with two routs (Sacred Heart over American International, 4-0; Army over Bentley, 6-2), a kind-of-close game (Air Force over defending champ Holy Cross, 3-0) and only one squeaker (Connecticut over Mercyhurst, 5-4).
Hockey East produced three series sweeps in which Game 2 wasn't close (Boston College over Northeastern, 7-1; New Hampshire over Providence, 6-0; and UMass over Maine, 5-2).
The only series to really produce heart palpitations was Boston University and Vermont . After BU lost at home on Thursday for the fifth time this season, head coach Jack Parker decided to use a little Psychology 101 on his club and treated Friday and Saturday's games as road games — complete with packing bags and moving out of the comfy confines of the Terriers' home locker room.
The mental exercise helped, though barely. BU won Friday's game two, 2-0, but was taken to overtime by a gritty Catamount team in Saturday's rubber game before Brandon Yip, last year's OT hero in the Hockey East title game over BC, scored on the power play to advance the Terriers to the Garden.
What each conference's top-heavy domination created last weekend is a scenario in which the conference tournaments may not have a strong bearing on the NCAA field. All four Hockey East teams are likely to make the tournament (though it's still possible that Massachusetts could get bumped), while, as expected only Atlantic Hockey's winner will punch an NCAA ticket.
That said, each conference tournament should conceivably produce the most competitive hockey possible with none of the games appearing to have blowout potential on paper.
Eastern Bias
I love that headline, I really do.
For years, the college hockey world has rumbled about the fact that everything in the college hockey universe seemingly skewed towards the east (except the number of national championships). Things seemed to get better over the past couple of years as the WCHA has pretty much dominated the game, capped by their all-WCHA Frozen Four at the 2005 NCAA tournament in Columbus, Ohio.
Well, all ye of eastern following, brace yourself for the wind of disgruntlement to once again return.
There's a good chance that when the NCAA tournament field is announced this Sunday at 2:30 p.m. (ESPN2) that it could have a strong eastern flavor. Right now, five eastern teams are locks: New Hampshire, BC and BU from Hockey East, Clarkson for the ECACHL, and the Atlantic Hockey champion (though Air Force is further west than most teams, it still plays in what's considered an eastern conference). UMass is likely to receive a bid as well, and St. Lawrence can make a strong case with a win in the ECACHL semifinals.
Add to that Maine, which despite losing in two games to UMass in the Hockey East quarterfinals, has a good chance of making the field because of two quality wins at North Dakota this season. The Black Bears also won a game against Minnesota, but that game isn't in their "quality wins" category because it was played at the Xcel Energy Center (albeit in front of 19,000 screaming Minnesota fans), a "neutral" site, as opposed to Minnesota's Mariucci Arena. Regardless, the Minnesota win strengthened Maine's NCAA hopes.
Should Quinnipiac or Dartmouth win its conference tournament, it would earn an automatic qualifier, potentially giving the eastern teams nine tournament bids. If that were the case, the CCHA and WCHA could each get three bids and CHA champion Alabama-Huntsville would close out the field.
It there is some disgruntlement among those in the west, particularly the WCHA, it would be justified. The league has the highest RPI among the six conferences. Unfortunately for the WCHA, last weekend, Wisconsin and Michigan Tech ousted Denver and Colorado College, respectively, from the WCHA playoffs and likely from the NCAA picture, though Denver still has a slim chance.
Wisconsin and Tech themselves are both bubble teams, with the WCHA tournament title being the only sure way into the NCAAs, though Tech can do it without the championship.
So eastern fans, come March 18th if you're going to head to the USCHO.com message board, you might want to do so wearing flame-retardant materials.