Don't write the obituary on the defending national champions just yet.
"Last year was last year," says senior Wisconsin center Andrew Joudrey. "For us, we're taking everything one step at a time."
After a difficult regular season that saw the Wisconsin Badgers struggle to a No. 7 seed in the WCHA playoffs, many were already penciling in the team as the second consecutive national champion to fail to reach the NCAA tournament the following season.
It's not over yet, but their chances have been improving steadily with every passing period since the WCHA tournament began. The defense which anchored the national championship run has continued to shine for Wisconsin all year, perhaps now more than ever.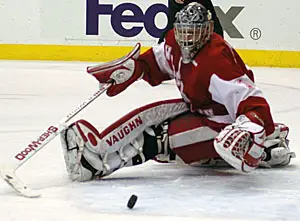 "[Senior goaltender] Brian [Elliott] is the backbone of this team," says Joudrey. "He keeps us relaxed out there."
One important element has been added — the offense has come to life. With a goaltender like Elliott in net, the Badgers should only need about three goals in a game to notch the 'W.' Indeed, Wisconsin now has a record of 14-2-1 when the team puts three or more goals on the board. That leaves a record of 4-15-3 when they don't score three.
The Badgers have now reached the magic number in three of the last five games, accruing a 4-0-1 record in the span.
"Our challenge has been to 'manufacture runs,'" said head coach Mike Eaves, comparing Elliott's play in net to that of a baseball team's ace pitcher. "We've finally gotten through in some of the areas that we've wanted to in trying to create those 'runs.' We've gotten pucks and bodies to the net consistently and have been going to the net with a purpose. Maybe it's just that time of the year where guys are starting to decide that it might be best if they did what the coaches have been saying."
Michigan Tech found out the hard way that experience counts on the big stage. The Huskies were appearing at the Final Five for the first time since 1996, while Wisconsin has appeared in three consecutive Final Fives.
"There's no substitute for experience," said MTU head coach Jamie Russell. "They're the defending national champions. They have confidence in this setting. They have confidence playing in big games, and we're still a very young team. At this time of year, there's no substitute for actually having gone through what they've been through in the last few years. Not having one player on our roster who's been here before hurt us a little."
It was certainly a change from three weeks ago, when the Badgers were swept out of MacInnes Student Ice Arena in Houghton without any points.
"The main difference tonight was that they had a lot more jump in their step," said Michigan Tech captain Lars Helminen. "They got a couple of good bounces on their first couple of goals and it went from there. In our second game at home it went our way, so the bounces were a big difference too."
Those bounces led to Wisconsin jumping out to an early lead, and UW did not waste the opportunity. The Badgers have won six straight games in which they have scored the first goal.
"We've gotten off to a great start in our last three games," said Eaves. "If you go back and look at statistics, the team that scores first is going to have the odds in their favor. It was on our minds to execute that from the beginning. It gave us something to build upon in the second and third periods."
There are big hurdles yet to be overcome. Looming large in the semifinals are the archrival Minnesota Golden Gophers, MacNaughton Cup champions for a second consecutive season. To make the national tournament, the Badgers still need to win the Broadmoor Trophy for the first time in nine years, and they have to become the first play-in winner to run the table for it.
"It'll be more of the same from Minnesota as we've seen in the past," said Eaves. "Lots of speed, talent, and puck control. We haven't seen them much in the second half, but I know that they'll play hard and they'll be rested. It should be a tremendous atmosphere."
The road ahead isn't any easier than the road behind. But with four wins in their last five games and a defense that was hard to beat even when they were struggling during the season, the Badgers have every right to believe that they can beat history and earn themselves the chance to defend their crown.