Boston College left wing Nate Gerbe still remembers the first time he met Brian Gionta.
Gerbe's older brother Joe, a 5-foot-7, 180-pound forward who ended up playing for the University of New Brunswick and a pair of ECHL teams during his hockey career, skated with Gionta on a District Select team in the mid-'90s and the excited younger Gerbe, not more than seven or eight years of age at the time, got a chance to meet one of his hockey heroes in Gionta — a memory that still lingers with the 19-year-old Gerbe when the conversation turns toward the New Jersey Devils All-Star and BC grad.
"I met him once," said Gerbe. "It was a while back … he played on a Select Festival Team with my brother once and I kind of met him then. Stephen [Gionta] and I got to talk about that last year when he was playing at BC."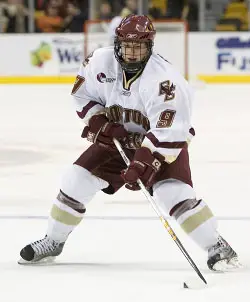 Since that fleeting meeting, it seems that the 19-year-old Gerbe and the 27-year-old Gionta's paths have been intertwined, with both excelling at the highest levels of amateur competition from the get-go before taking their game to the Heights of Boston College as fresh-faced, enormously skilled 18-year-olds.
"I've seen him play a couple of games at the World Junior Championships against Canada and a BC game," said Gionta, who piled up 232 career points during his four seasons at the Heights. "He's obviously a shorter guy and he's very quick to the puck, he works extremely hard and he's very effective on the forecheck … so I think in that fashion he's very similar to me."
BC hockey coach Jerry York originally opened up the striking parallels between the two undersized scoring dynamos during this season's Beanpot, when college hockey's winningest active coach did everything but concede that Gerbe was a long-lost little brother from the Gionta household in Rochester, N.Y.
"[Gerbe] a terrific player," gushed York . "Our goal is to recruit a lot more players like Nathan Gerbe to BC for sure. He's got a lot of Brian Gionta in him.
"I've watched him play two full years and he's got the heart of a warrior with terrific skills and he's an outstanding skater," added York . "He's close to Brian. If he stays at BC and continues to improve, then I think his path will be very similar to Brian's."
Gerbe credited Gionta with starting him on that path — opening up the door for smallish, skilled skaters to gain a toehold at Boston College and thrive in the Hockey East atmosphere. After Gionta took his polished game to the pro ranks in 2001-02, the Eagles' doors flew open again for similar players like Ben Eaves, Chris Collins, Ryan Shannon and then finally Gerbe.
"I think maybe now BC is willing to take a second look at a guy like me, whereas before maybe you only had that one chance to impress people," said the 5-foot-7, 175-pound Gionta, who then harkened back to his time at the Heights. "Coach York a great coach with a lot of hockey experience, but more importantly he's one of the most honest people I've ever met and that's why I decided on Boston College .
"He's genuine and honest, and you look at his outstanding record as far as wins go and it kind of impresses you that he was able to go back to his alma mater and have the success that he's had," seconded Gionta. "I really enjoyed playing for him for the four years I was up there, and Coach York was a big part of that."
Gionta and York helped open the doors for a 5-foot-6 player with equal parts skill and bravery, and Gerbe had always kept a keen eye on BC's fortunes when playing in the junior ranks and for the national development team. The 19-year-old was always enamored with the idea of continuing on the strong tradition laid down by his predecessors at the Chestnut Hill campus.
"That was one of my goals at BC, to be successful like [Gionta]," said Gerbe, who led Hockey East with his 21 goals this season and was among the nation's best with four shorthanded goals. "Brian, Ben Eaves, Ryan Shannon … they're all not big players and the one thing I really looked at was that players similar to my stature have had a lot of success here.
"[The comparison] sounds unbelievable to me given what [Gionta] has accomplished and the success he's had at every single level and every team that he's every played for," said Gerbe, his voice revealing that Gionta is a guy that he looks up to, both literally and figuratively. "Being compared to him is a big inspiration. He's a guy I watch play all the time for the New Jersey Devils on TV and he's an unbelievable guy to be compared to. I take it as a huge compliment."
Gerbe flashed glimpses as a freshman of the Gionta-like ability to score goals and inspire teammates with his feisty impulse to never back down from bigger or stronger opponents, but he has clearly become that "Gionta" kind of guy in his sophomore year.
"I think my confidence level is a lot higher this year and that a lot more chances have been going in for me," said Gerbe. "I also feel like my role is a little different on the team this year.
"Last year I was a little more back being a freshman, not wanting to do too much or mess up out there or say too much," added Gerbe. "It was a new experience for me. I like to talk a lot out there and also try to be a leader on the team and I've been able to do a lot more of that this year."
Gerbe's linemate and fellow sophomore Brock Bradford said the two forwards will look at video of themselves playing for BC as freshmen, shake their heads and wonder "what the heck were we doing out there … was that really us?"
Both have "gotten it" in their second season with Boston College, with Bradford jumping from 18 points (six goals, 12 assists) to 36 points (15 goals, 21 assists) and Gerbe exploding from 18 points (11 goals, seven assists) to 38 points (21 goals, 17 assists) and combining with Benn Ferriero (20 goals, 20 assists) and Brett Motherwell (three goals, 21 assists) for a superb sophomore class for York.
"It takes a year to really feel comfortable," said York . "[Gerbe] showed flashes last year, but it usually takes a year for a player to get consistently good efforts going night in and night out."
The year of development as a college hockey player has allowed Gerbe to show off the skillset that made him stand apart as a 15-year-old skating for the Omaha Lancers of the USHL — the first moment when Gerbe popped up on the Boston College radar screen and York started envisioning another Gionta-type player on his roster.
Gerbe made his way to a starring role on the U.S. National Development Program Team, and former BC assistant coach and current U.S. NDTP coach Ron Rolston was able to track Gerbe's progress and foster the connection between Gerbe and the Eagles.
"There are a lot of similarities in [Gionta and Gerbe]," said York . "He's had a great season for us. He's a dynamic player for us, and his strength and skating have really been assets for us despite his size. Those are the same things that we thought about Brian when we had him here.
"Their balance, their edge control and they're both feisty guys that compete like heck," added York , ticking off their shared characteristics. "Then you add a little offensive skill and flair, and you've got yourself quite a package there. Sometimes you have the feisty, hard-edged competitive guys but they're not going to get you five goals all year. Nate is highly skilled and that makes for quite a package."
Gerbe was a fifth-round pick of the Buffalo Sabres in the 2005 NHL Draft and faces a similar climb through the college and pro ranks if he is to continue to follow on the "Gionta path" — a path that might be a little easier given Gionta's big success at the National Hockey League level, but still one that will require Gerbe to make believers out of doubters every step of the way.
"I would tell him to just keep working hard and playing the game," said Gionta when asked what kind of advice he had for Gerbe on succeeding at the next level. "Doors might not open for you at first, but if you keep pushing and working hard then things will happen for you."
The 5-foot-6, 165-pound Gerbe sounds like he's already got one big believer in his abilities in the guy making hockey magic for the New Jersey Devils on a nightly basis.