When you prepare to play New Hampshire, you shake your head over the Wildcats' arsenal of weapons.
Trevor Smith. Matt Fornataro. Jacob Micflikier. Mike Radja. Brett Hemingway. Jerry Pollastrone.
All six members of UNH's top two lines have cracked the 30-point barrier this year. It isn't enough to shut down just one line; you have to shut down two.
In the Hockey East semifinals, however, Massachusetts found out that not even that is good enough. On a night when the Minutemen held the top two lines without a point, they still fell in double overtime, 3-2, on goals scored by UNH's third and fourth lines.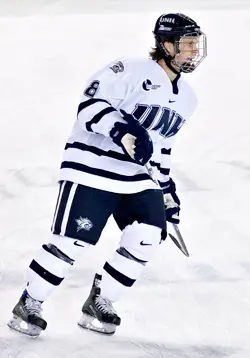 Greg Collins, Danny Rossman and Bobby Butler did what Smith, Fortunato and company could not: get pucks past UMass goaltender Jon Quick.
"That's why we have balance throughout our team," UNH coach Dick Umile said. "That's who we've been all season. The first and second line have done a great job. [The third line has] been a tenacious forechecking line that can really move the puck and play very well for us.
"The third and four lines scored some huge goals for us tonight."
Huge as in a trip to the Hockey East championship game.
Or as UMass coach Don "Toot" Cahoon put it, "That's just the way the hockey gods played it out."
The hockey gods had appeared to do UMass a big favor and UNH a big disservice by sending the flu bug through the Wildcat locker room. Hemingway would not dress and third-line center Thomas Fortney was questionable, though he eventually would play.
As a result, three hours before the opening faceoff, Umile told Rossman, a freshman who had dressed for 17 games, that the Hockey East semifinals would make it 18.
Rossman told himself, "I've got to get out there and bang bodies, bring a lot of energy to the fourth line, and play my role, play within myself."
Before the game, he told his roommate, backup goaltender Brian Foster, that he, Rossman, would score his first goal. He then rubbed Foster's goalie glove for luck. The prediction proved prescient, although it would take a couple periods to find that out.
Third-liners Collins, Butler and Fortney collaborated on the first goal just 3:29 into the game. Early in the second period, however, the Wildcats trailed, 2-1, and Quick looked sharp.
Rossman then scored the first goal of his collegiate career and the biggest goal of his life. Linemate Shawn Vinz's shot hit a defenseman's skate, Rossman collected the puck and ripped it into the net.
"I just got the chills when he sat down," Butler said. "It was awesome. It's tough getting into this lineup, but he works hard when he's in there and he works hard when he's not. It was great that he popped one."
The huge goal not only tied the score; it also energized UNH.
"Without a doubt, this is the biggest game and the biggest goal I've ever scored," Rossman said. "I'm just so happy to be part of a team like this."
At the 1:30 mark of double overtime, Butler capitalized on a turnover and chipped the game-winner over Quick's shoulder.
UNH had advanced to the championship game.
"The first two lines aren't going to score two or three goals every night," Rossman said. "It was our opportunity to step up and we did our part.
"It's a great feeling, but it's an even better feeling that we won."