They sat in the locker room, not wanting to take off their jerseys. It wasn't supposed to end this way. Not this soon. Not this way.
The white jerseys with their blue letters might be fouled with sweat and blood, but those jerseys stood for something. Something that was being taken away. For some, until next fall. For others, forever.
The New Hampshire Wildcats, the number one seed in the Northeast Regional, had just been ousted from the NCAA tournament in front of a crowd dominated by their own fans. The Wildcats might have held the clear territorial advantage, outshooting Miami, 44-25, with a similar preponderance of quality opportunities, but the Red Hawks had been either opportunistic or lucky, depending on your allegiance, winning 2-1.
And so the Wildcats lingered in their locker room for an extra moment or two, not wanting to pull off the jerseys, soaked with the sweat of hard work gone for naught.
"Our goals were never anything short of a national championship," UNH captain Josh Ciocco said. "But it's one game and out.
"The hardest thing for me was to look at those guys. I'm not their captain anymore."
Miami's first goal hit off the side of the net before bouncing to Nathan Davis in front. The second caromed in off a UNH defenseman's skate.
For the Wildcats, however, only a highlight reel shorthanded goal by Mike Radja got past Miami goaltender Jeff Zatkoff. The sophomore stopped the other 43 shots. UNH coach Dick Umile, as would his players, paid tribute to Miami's defense.
"They did a good job defensively," Umile said. "We had scorers out there and we didn't score. We needed to get a bounce. Nights when you don't score, you need a bounce and we didn't get a bounce.
"They did a good job shutting us down in some areas, but it's a tough way to lose when the winning goal goes off a skate."
A tough way to lose.
The Wildcats were supposed to win. They were the number one seed hosting a number four seed that had lost three straight and hadn't played in two weeks. Miami had appeared in only four all-time NCAA tournament games and lost all four.
By contrast, UNH easily won the Hockey East regular season championship and didn't lose in the league tournament until the title game against the red-hot Boston College Eagles.
"We were too good of a team to stop playing right now," assistant captain Chris Murray said, sporting 10 stitches in a nose sliced open by an opponent's skate. "We felt like we should be going on. But if you don't get it done out there, you're not going to [move on]."
The pieces for a national championship run appeared to be in place. Goaltender Kevin Regan led the nation with a .936 save percentage. In front of him was a defense that Umile called the best since he'd returned to his alma mater 17 years ago. And the Wildcat forwards were among the most deadly in Hockey East.
"I saw us going right to the national championship," Brett Hemingway said. "We had a special team here. We knew that all season. It's real disappointing to not even get a chance to go to the Frozen Four.
"But it's over. It's the last time we're going to wear those jerseys.
"It's not the way we wanted to go out."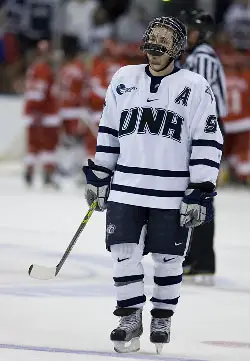 Not the way we wanted to go out.
New Hampshire last advanced to the Frozen Four and the national championship game in 2003, the year before the current seniors arrived. The Wildcats earned berths in the NCAAs every subsequent season, but never as a region's top seed.
"In years past, maybe at times we were happy to make the NCAA tournament and just compete," Ciocco said. "But this wasn't a team that wanted to compete. We wanted to win.
"All year long, the national championship has been what we wanted."
The Wildcats gave every possible effort, but even so the way they lost will still gnaw at them.
"We played our hearts out," Murray said. "We just didn't get any bounces. We outshot 'em, we kept going to the net, we kept tipping shots and hitting their goalie. They got two good bounces and went up by two. It was tough to come back."
When asked about the outcome if the two teams played the same way 10 times, Hemingway said, "I'd say we'd probably win eight times. That's why we're extra disappointed. We knew we could have beat this team. The puck just didn't go in."
This, however, was one of the other two times.
Which means it's over for the Wildcats.
"I had a great time with these guys," senior Jacob Micflikier said. "This team won't be together anymore. We were a pretty good squad, but it's over for all of us.
"It's been a helluva ride and a great season for us, but it's not the way we wanted to go out."
Not the way we wanted to go out.