Bowdoin College's new ice arena will be named for legendary coach Sid Watson. The announcement was made Saturday at groundbreaking ceremonies for the new facility. Fundraising for the $20-million arena continues.
The new Watson Arena will have a seating capacity of 1,900. Its planners say the new arena will have the best and most energy-efficient refrigeration system and best dehumidification system, seating design and home team accommodations of any Division III collegiate arena.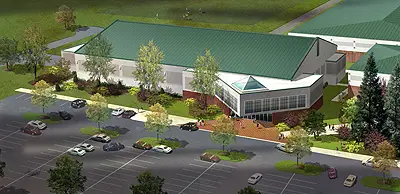 An immortal in the world of collegiate hockey, Sid Watson guided the Bowdoin hockey program to extraordinary heights during his career behind the bench. A native of Andover, Mass., Watson retired from the College in 1998. He passed away in April 2004 at the age of 71.
As an undergraduate at Northeastern, Watson became one of the greatest gridiron players in school history. He averaged more than 100 yards per game and 7.1 yards per carry during his career as a running back. He still holds Northeastern¹s school records for most career points (191) and single-season points (74). Watson then moved on to play in the National Football League with the Pittsburgh Steelers and Washington Redskins. In 1958, despite the chance to play another year in the NFL, Watson accepted a temporary position as Bowdoin¹s hockey coach. Watson grew to love the game while at Northeastern, although he never played competitively. After one season as a co-coach with Nels Corey, Watson took over the position full-time in 1959.
Over the next 24 seasons, Watson's teams compiled a record of 326-210-11 (.606). In the postseason, Watson's teams qualified for the ECAC playoffs every year but once from 1969 to 1983, reaching the ECAC Championship Game six times. The Polar Bears won the ECAC Division II Championship four times, in 1971, 1975, 1976 and 1978. He received numerous awards for his exploits, winning the Edward Jeremiah Trophy as national college division coach of the year three times (1970, 1971, 1978). In 1983, Watson retired as coach and became Bowdoin's athletic director one year later. During Watson¹s tenure as athletic director, Bowdoin athletics grew to 29 varsity sports, 5 club teams, and more than 20 physical education courses. In 1996 Bowdoin dedicated the Sidney J. Watson Fitness Facility in his honor.
In 2001 Watson was awarded the Hobey Baker Legend of Hockey Award by the United States Hockey Hall of Fame. He has also been inducted into the Andover Hall of Fame, the Northeastern University Hall of Fame, and the Maine Sports Hall of Fame.
Watson lived in Brunswick, Maine, and Naples, Florida, with his wife, Henrietta. His son Christopher is a member of the Class of 1986.
Watson Arena will replace Dayton Arena, which was built in 1956 and which has been determined to be beyond repair. Once the new arena is up and running, the current plan is to dismantle Dayton Arena and build a new parking lot on the site. A 360-space parking lot is also planned for the new arena.
Construction on the 68,200 square feet arena is expected to be complete in the fall of 2008.