Denver forward Geoff Paukovich has decided to forgo his final year of college hockey eligibility and has signed a professional contract with the Edmonton Oilers of the National Hockey League. Terms of Paukovich's three-year entry level contract were not disclosed.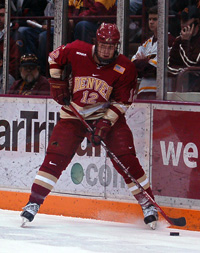 "We are happy for Geoff and his family and support his decision to sign with Edmonton," DU head coach George Gwozdecky said. "Geoff was a valuable two-way center for us and played a key role in our championship run in 2005. He is ready to take his game to the professional level and we wish him continued success."
A 6-4, 220-pound forward, Paukovich tallied 49 points on 24 goals and 25 assists in 117 career games at DU. He netted 11 power-play goals and added seven game-winning goals, including four in 2006-07. Paukovich finished his DU career ranked 11th with 257 penalty minutes. He helped DU to its seventh NCAA National Championship in 2005 and was a member of the U.S. Junior National Team that finished fourth at the 2006 IIHF World Junior Championships.
Paukovich was drafted in the second round (57th overall) of the 2004 NHL Entry Draft by Edmonton. He is the second Pioneer to forward to give up remaining eligibility to play professional hockey this offseason, following Ryan Dingle's signing with Anaheim on March 27. Paukovich joins Brett Skinner (2005), Matt Carle (2006), Paul Stastny (2006) and Dingle (2007) as Pioneers who left DU early to turn pro since 2005.