Making a hundred-Gs over your summer break is pretty sweet. The money's packaged with a world-class tan, a free workout, an extended sight-seeing tour and not a desk or cubicle in sight.
After all that, the dog chases are just gravy.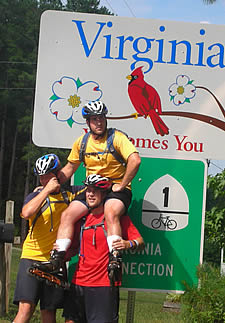 This summer, four former Union College hockey players flew to Florida to undertake the post-grad roadtrip of a lifetime. Dan Tatar, Jason Ortolano, Sean Streich and Carson Strang traded their steel blades for rubber wheels, departing from the Georgia border on June 28 with the ultimate goal of reaching southern Maine on August 19 — all in the name of autism.
"Autism is a cause that's very popular. The rates are alarming — one in 150 people [are afflicted]. Everyone knows someone who is affected by it," said Tatar, the founder of Rolling for Autism.
Tatar's own connection to the neurological disorder is his older brother Ben, who has symptoms which fall in the autism spectrum. Ben's success as a college graduate, accomplished weightlifter and aspiring journalist proved to his younger brother that "people can overcome things with proper support."
Active in community service projects while still lacing up for the Dutchmen, Dan Tatar began to formulate the foundation for his foundation a year ago this month.
"The idea started last August," he said, and was originally discussed by only himself, Streich, and Ortolano. "There's certainly that time period between college and the real world, where people travel Europe, or go on roadtrips… but we got to keep the adventure part — keep the fun part — and also help others at the same time.
It didn't take long for the idea to blossom.
"By September we had 20 people in, and 40 after that. By June, there were over 160 students [working] on it across the country, helping out our PR department."
Upstate Upstarts
The four constant skaters — Ortolano ("Orto"), Tatar, Streich and Strang — became friends through Union hockey, of course.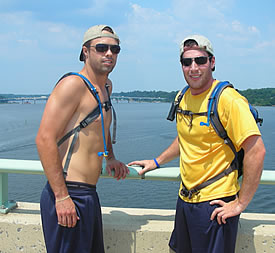 Ortolano donned the garnet sweater for two and a half seasons as a blueliner, while Streich was a four-year letterwinner and captain of the 2006-07 team as a senior defenseman. Tatar himself played for his first three years of college as a perennial backup goaltender, while the forward Strang played his freshman year at the Air Force Academy before transferring to Union and exchanging his hockey sticks for baseball lumber.
"Streich was the hardest-working player on the team [in college], so he's definitely the hardest-working skater on the road," Tatar said. "Orto takes his time, jokes about everything we pass. … Strang is absolutely the best guy at different events; he's phenomenal at representing the organization."
As for the founder himself, Tatar can't shake his rep as a backup goalie. "Tatar is a goalie, does he even know how to skate? I bet he's the first skater we pull out of a ditch," said Ortolano on Rolling for Autism's pre-trip press release.
The guys aren't above a little posturing and character assassination, though.
"Streich thinks he's like a Calvin Klein underwear model. We have a hard time keeping a shirt on him on the road. But Carson … we have a hard time keeping a shirt on him at the bars," Tatar reported. And, just for good measure, "Streich just had to run to the store; he hasn't had deodorant in like two days," Tatar chirped.
The quartet was also joined along the way by the newly graduated captain of Union's women's hockey team, Kelly Lannan, as well as University of Vermont senior Amber Leenstra.
On The Road
The journey began in Amelia Island, between Jacksonville and the Georgia line. The specifics of the skate were arranged with care: 53 days, including two set aside to make up for weather delays, three additional days off, and modest yet respectable distances to be completed each day.
However, there are also twists that had to be considered: at least ten designated events along the way meant that the team couldn't get ahead of schedule each time the opportunity presented itself, nor could it fall far behind.
"Rain or shine, we had to stay on schedule," Tatar said. Fortunately, the RFA team has only slogged through one rainy day so far.
There were some unexpected tests, to be sure. The skaters were prepared for the hills of the Carolinas and that mid-Atlantic humidity. What they hadn't counted on were unchained canines.
"That was a shocker," Tatar gasped.
As soon as they'd laced up their rollerblades, it seemed, the fellas encountered Georgia dogs on the loose. Out of the gate, they were forced into headlong sprints, taking to heart the concept that they wouldn't have to outrun the dogs … just each other.
"Until about one and a half or two weeks ago, we had three guys skating, and one driving [the support van]. The van would drive up ahead a few miles and scout for dogs."
Eventually, the group wised up and invested in pepper spray.
"Now we just kinda invite 'em on," said Tatar, with a dash of triumph.
The van — provided by Enterprise — carries the team's luggage, a first-aid kit, and cameras, but also replacement skate parts and sustenance provided by K2 Skate and Pepsi, respectively.
"We've gone through a ton of wheels … and Gatorade and Aquafina," the founder stated.
The team also benefits from the generosity of companies from AAA (for their travel planning) to Bic (for custom RFA pens) to Sodexho USA (for food), and a dozen others in between.
Despite the trials of maul-minded mutts and this summer's brutal heat wave, the rollers have felt loads more privilege than privation. Toasted by the likes of Good Morning, America, Rolling for Autism has also been documented by 13 (now 14) different print-media outlets, 13 television stations and a radio station as well. So as not to be accused of missing the wired generation, RFA also has an up-to-date blog and a YouTube spot, of course.
It's not just the exposure that is so rewarding to the organization, but also — probably moreso — the response.
"At Good Morning, America, there were a bunch of kids in hockey jerseys out front with Rolling for Autism signs," said Tatar proudly, and incredulously.
As part of the skaters' feature on the show, they spun around the set, which was an adventure in itself.
"Streich almost tripped and landed in Diane Sawyer's lap," recalled Tatar.
Worth the Blisters
When the great northward journey concludes just over the New Hampshire border, the team members will find their own beds indescribably appealing, to be sure.
"For that next week, I'm not going to leave my bed," said Tatar flatly.
But for the Rolling for Autism crew, the nearly 1,500-mile skate is only the beginning.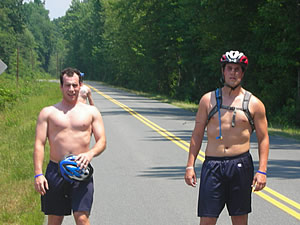 Tatar will be moving to Boston to work for Price-Waterhouse-Coopers, but will remain on board with his organization in an official capacity. He said that he's already received inquiries from other groups across the country, interested in helping Rolling for Autism with future trips of their own; it is not an organization that will fade after Kittery.
With a board of governors, federal certification, momentum, and over $100,000 already in the bank, RFA looks good to fulfill its first long-term goal of raising a half-million dollars for autistic concerns.
"When we started, the idea was to maybe provide individual scholarships for autistic individuals," Strang explained, "[but now] we're also sending money to other autism organizations and people."
While autism merits persistent and well-funded research, Rolling for Autism is more concerned with helping those affected by the condition. Ideas run the gamut between paying for classes or summer camps for autistic children, to sending them horseback riding, or buying them trained dogs to improve their general quality of life.
Including the full-fledged support of the Union athletic department and alumni association, Rolling for Autism has also received assistance from the Detroit Red Wings, New York Rangers, Washington Capitals, American Special Hockey Association … and even Rensselaer Polytechnic fans, according to Tatar.
"The biggest part of the whole thing is the sense of community we've developed… and the help we've received through the hockey community," said Strang. "We're never going to forget some of the kids we've met along the way."
For more information or to make a donation, visit http://www.rollingforautism.com.