The sounds aboard the bus were what one might expect to hear on a road trip with North Dakota athletes — laughing, talking and the occasional shout of someone attempting to be heard over the din.
But last Saturday, as the bus approached the town of Northwood 40 miles southwest of Grand Forks, the signs of the massive tornado that struck the community on the night of Aug. 26 became evident. Suddenly, there was silence as the passengers took in the devastation surrounding them.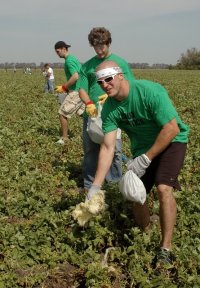 "You see all this stuff on TV, but it really doesn't hit home until you come here," said Fighting Sioux defenseman Zach Jones, one of 11 members of UND's men's hockey team who volunteered to assist with the cleanup effort in Northwood.
Bits of scattered insulation and twisted sheet metal gave way to pulverized vehicles in a flattened field of corn. Buildings were ripped apart. What had once been safely inside was now outside, scattered throughout the ditches and fields east of Northwood.
A denuded shelterbelt, looking like blackened bones against the clear blue sky, showed the path of the tornado — rated as an F4 by the National Weather Service. The twister, nearly a mile-wide when it engulfed Northwood, killed one person, injured 18 and damaged or destroyed nearly every structure in the small rural town of 1,000.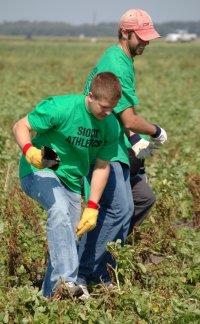 "I was in awe when we got here," said UND hockey player Rylan Kaip. "Coming here is a great shock. You see trucks crumpled up like little tin cans. It's quite unfortunate what these people were subjected to."
While many were away enjoying the long Labor Day weekend, more than a hundred athletes, coaches and trainers from UND traveled to Northwood for a day to assist with the clean-up effort. Arriving in two buses and a caravan of vehicles, they volunteered to help wherever needed.
"It's these guys' day off and they can help out someone less fortunate," explained Greg Lotysz, offensive line coach for UND football. "That's the way it should be. It's a matter of doing what's right, no matter what community it is. When someone's in need, you get off your butt and you go help them."
This was the second group of UND athletes to volunteer their services in Northwood and it included members of the football, men's hockey, women's hockey and baseball teams, as well as coaches and athletic trainers. Among them were Sioux hockey players Taylor Chorney, Ryan Duncan, Joe Finley, Michael Forney, Jones, Kaip, Andrew Kozek, Derrick LaPoint, Ryan Martens, Kyle Radke and Matt Watkins.
The tornado that hit Northwood was one of seven spawned by a storm system that moved through northeastern North Dakota and northwestern Minnesota Aug. 26. That night, a tornado warning issued for Grand Forks caused Civil Defense sirens to sound.
Reflecting on the damage he'd witnessed around Northwood, Finley remarked, "It's only 40 miles from where we were. I couldn't imagine if it had hit a place like Grand Forks and what that would be like for us."
Ten years ago, residents of Northwood and other communities opened their doors and their hearts to evacuees from Grand Forks — home to UND — when the town was overwhelmed by the flooding Red River. Jim and Barb Dahl, who've lived in Northwood since 1979, took in relatives from Grand Forks during that disaster.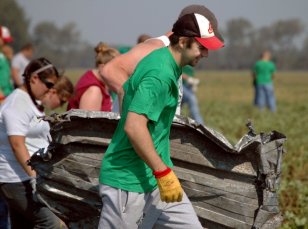 On Aug. 26, the Dahls were in still shock from the unexpected death that morning of their pastor, Bill Fretwell, when the sirens sounded. They took shelter in the basement of their house on the southwest edge of Northwood. The twister ripped the roof off, exposing everything inside the house to a drenching rain.
Standing near a pile of debris that had once been his grandparents' home, Grant Dahl said, "The night the tornado hit, they came to Grand Forks and stayed at my parents place. Ever since then, it's been salvaging what we can. It's been tough for them. It's been tough for all of us. We have a lot of memories in this house."
On Saturday afternoon, members of the Dahl family were dreading the last major task of the cleanup — tearing out and removing everything from the home's basement. But then, quite unexpectedly, two dozen burley members of the Sioux football team arrived on the scene. The job was done in less than an hour.
"It's an absolute relief," Dahl said. "Just to have these guys here, to have this big of a crew here and have it all get done in an hour, it's unreal."
UND's athletes began the day by combing a potato field east of Northwood for debris and personal effects, such as checks, receipts and tax records. Head football coach Dale Lennon conducted the exercise like one of his practices, barking out orders and commands to the long line of Sioux athletes as they methodically swept the field clean.
"It just feels good to be out here with my teammates and all the other athletes who are helping out," Kaip said. "Lots of guys might have had other plans, but it feels good to come out and help a community that needs it. Everyone's just pulling together, and that's what you need."
From there, the group split up to assist with cleanup efforts in and around town. Wherever they went, the Sioux athletes were greeted with words of thanks and appreciation from Northwood residents. The work was exhausting, but rewarding.
"The people from Northwood and the surrounding areas of Grand Forks have always been supportive of Sioux athletics," Finley said. "I don't think any of the guys who are here today had to think twice about whether coming was important to them or the people."
Kaip put the day's events into perspective: "When something devastating like this happens, athletics isn't really on your mind. You just want to help out someone who needs help."