Minnesota junior left wing Ryan Stoa will miss the remainder of the 2007-08 season with an injury suffered in Saturday's win over Michigan.
Stoa, who scored the team's first goal of the season to spark Friday's comeback from a three-goal deficit against Rensselaer, suffered a knee injury in the first period of Saturday's victory that will require surgery. The Bloomington, Minn., native ranked seventh on the team with 12 goals and 12 assists for 24 points during 2006-07.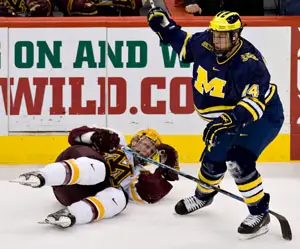 "I'm really disappointed for Ryan," said Gopher head coach Don Lucia. "He worked extremely hard this offseason and had really taken a step in his development."
Stoa played in all 41 games as a freshman and appeared in 41 of 44 games last season. Including his goal and assist last weekend, Stoa has 23 goals and 28 assists for 51 career points.
"We're going to miss him as a leader and a person this upcoming season," Lucia said. "I know Ryan will work extremely hard to get back on the ice and have a great year next season."
Minnesota opened the season with a pair of victories, capturing the IceBreaker Invitational with wins over Rensselaer and Michigan by identical 4-3 scores. The Gophers open Western Collegiate Hockey Association play this weekend with a two-game series at Colorado College on Friday and Saturday.