It's long been a topic of discussion in College Hockey America circles.
Does the CHA have a future?
The league has never had a steady core of teams and since the inception of the league in 1999, Army, Findlay, Air Force and, at the end of this season, Wayne State will all have fled the league for one reason or another.
When Air Force left at the end of the 2005-2006 season, that left the CHA with five teams, but the league kept its NCAA tournament autobid.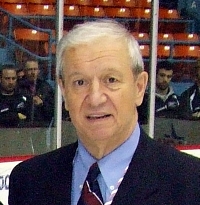 But with WSU closing up shop at the end of this year, where does that leave the CHA? Can a four-team league be viable in the eyes of college hockey? Is it even worth it?
Wayne State head coach Bill Wilkinson called a four-team league a "non-entity" and said he couldn't see it surviving past this season.
CHA commissioner Bob Peters, though, has other ideas.
"We don't get the automatic qualifier with four teams, but we do with five," Peters said. "We just need to add one team and we're actually working on that issue. There are a lot of people involved, so I can't really make any comment. This person has to talk to that person and so on."
Findlay folded its program after 2003-2004 and Army left for the MAAC (now Atlantic Hockey) in 2000. Robert Morris is the newest CHA club, having joined in 2004 to replace Findlay.
There has also been talk of the four remaining teams joining other leagues, but it's just that at this point — talk. Getting a club team to move up to Division I has also been discussed, but again, it's just talk and maybe hope right now.
Once Air Force had flown to Atlantic Hockey, talk of the CHA's doom has been common fodder among league fans, officials and media.
"If possible, we'd like to get back to six teams," said Peters. "If possible. But we just need the one team to keep the AQ. If we had six, that certainly makes for good scheduling, though, too.
"We're hoping we can get something done. There's just so much out there."
Peters wouldn't go any further in discussing the CHA or the Wayne State fallout, but did ask that the author of this column call him on a weekly basis for updates, if any.
So, 'till next week …
Purps Extend Dwyer Unbeaten Streak
A record crowd came out last Thursday to see Niagara extend the nation's longest home unbeaten streak to 18 games inside Dwyer Arena with a 2-0 blanking of Bowling Green.
Junior goaltender Juliano Pagliero made 32 saves for his second career shutout.
A record 1,848 fans, including another record of 632 students, packed the arena and saw the Purple Eagles reach a 16-0-2 mark at home since Feb. 10, 2006.
"That is the most fired up that I have ever seen a crowd here," NU head coach Dave Burkholder said. "To say that we accomplished this Dwyer run of 18 games is something incredible."
Pagliero made 13 saves in the first period, eight in the middle frame and 11 in the third period.
BGSU outshot Niagara, 32-20.
"Pagliero was great," Burkholder added. "Everything he saw, he handled. He was the difference tonight."
Tested late in the second period when Bowling Green had a 5-on-3 opportunity with Niagara leading 1-0, Pagliero made four stops, including two from in tight, to keep the Purps ahead.
"I saw everything pretty well tonight," Pagliero said. "But I have to thank the guys up front. Everyone in front of me played terrific tonight."
Junior Kyle Rogers and senior co-captain Matt Caruana each had a goal and an assist, while sophomore defenseman Tyler Gotto picked up a pair of helpers.
Rogers, Caruana and Gotto are the only three players to record a point in all three games in the early part of the season. Rogers leads the team with five points, while Caruana and Gotto are second with four.
The Purple Eagles are back in action at Dwyer this weekend, hosting Western Michigan for two.
Bemidji State Swept Aside by Merrimack
Bemidji State lost two one-goal games over the weekend at home to surprising Merrimack, which has now topped Niagara and BSU in consecutive weekends.
The Beavers' comeback attempt came up short Friday as the Warriors held off a late rally to take a 3-2 win.
After Tyler Scofield got the boot after a checking from behind penalty late in the first period, Brandon Marino scored in the second period and then Blaine Jarvis tied the game at two 56 seconds into the third.
The Warriors and Beavers did not stay tied for long as Merrimack once again took advantage of a Beaver penalty. Bemidji State was called for too many men on the ice at 1:38 and it took the Warriors just 38 seconds to take the lead.
Late in the third, the Beavers seemed to have scored to tie the game at 3-3, but a quick whistle by the referee ended play early. BSU took a shot from the point and Merrimack goaltender Patrick Watson stopped the puck, but never had control. The puck was lying in front of the net and a BSU player poked it in for what seemed to be a game-tying goal, but because of the whistle, play was dead.
BSU outshot the Warriors, 36-11, but Bemidji State freshman netminder Matt Dalton, in his first collegiate start, only stopped eight shots. Merrimack was 2-for-7 on the man advantage while Bemidji State was 0-for-6 on the power play.
Saturday night, Bemidji State fell behind 2-0 for the second night in a row and lost 2-1.
Travis Winter scored a power-play goal and Matt Climie made 19 saves in net for BSU.
Merrimack was 0-for-4 on the man advantage while Bemidji State was 1-for-9 on the power play.
This was the first time the Beavers have been swept at home under head coach Tom Serratore. The last time the BSU was swept at home was on Nov. 10-11, 2000, when Miami swept Bemidji State when Peters was behind the bench.
The Beavers are now 3-3 all-time versus Merrimack and 2-2 at the John S. Glas Fieldhouse. The Warriors are currently on a three-game winning streak against BSU and the last four meetings between the two teams have all been one-goal games.
Bemidji State will face its first WCHA opponent this week when the Beavers rekindle a series with St. Cloud State that began way back in 1948.
"You can't always start 4-0," BSU sophomore defenseman John Vadnais told the Bemidji Pioneer. "But I believe we've had a good week of practice and the team is looking good. Everyone is feeling good, we have pretty good team chemistry and I really believe we're going to have a good year."
This weekend will also be a reunion of sorts for BSU forward Matt Francis, who played two years with the Huskies before transferring to Bemidji last year.
Walters Eager For Bemidji State Career
Even with a haze surrounding Bemidji State and the CHA, one of the Beavers' recruits for next season is chomping at the bit to play for his home-state team.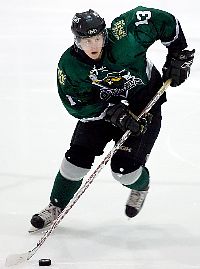 Shea Walters played two seasons with the United States Hockey League's Green Bay Gamblers before the Gamblers released him at the end of last year. The North Iowa Outlaws of the North American Hockey League selected Walters in the first round of the NAHL Draft last May and he has been among the league's top scorers all year.
"Shea's such a smart player," North Iowa coach Dave Boitz said. "So many players are cookie-cutter types and just go north and south and that's just not Shea. He's a rink rat; he's all over the ice.
"He's also such a playmaker that he doesn't shoot the puck as much as he should. He and I have talked about it and he's scored a goal in six straight games (going into this weekend, including two two-goal games and five multiple-point games). Shea is the type of player that sees a play develop or can be the first one in."
Walters signed his National Letter of Intent with Bemidji State last fall.
"Shea is a talented playmaker," BSU assistant coach Ted Belisle said. "He sees the ice extremely well and he's a threat on the power play. We've been watching Shea for a long time and we're excited about the reality of him being a part of our program."
"Bemidji just seems like the right fit for me," said the 20-year-old Walters, North Iowa's leading scorer with eight goals and 16 points through 10 games. "It's only two hours from home (Hibbing, Minn.) and I used to watch their games when I was in high school. I like the way they play and I like the coaches. I also liked the way they recruited me; I know I'll be able to play right away."
The 5-foot-11, 180-pound Walters will reunite with former Green Bay teammate Tyler Lehrke when he joins the Beavers next year. He and Lehrke played together in Green Bay during the 2005-2006 season.
And as for the rumors about the CHA and Bemidji State's program?
"There are too many good people around there that won't let anything happen to the program," Walters added. "There's going to be a team."
Alabama-Huntsville Takes Second In Omaha
Tom Train provided Alabama-Huntsville with some early-season heroics when his one-timer with 3.5 seconds remaining in the third period beat Canisius, 4-3, last Friday at the Mutual of Omaha Stampede.
Freshman defenseman Mike Ward took the puck deep into the right corner and fed a perfect pass to Train, who was crashing the net, for an easy redirect to seal the win for Danton Cole in his UAH debut.
Josh Murray, Tyler Hilbert and Brennan Barker also scored for the Chargers.
Blake MacNicol pitched in with an 18-save performance between the pipes, giving UAH a win in their season opener for the first time since the 2003-2004 campaign
Cameron Talbot stopped 27 shots in his NCAA debut the next night, but Alabama- Huntsville dropped a 5-1 decision to host Nebraska-Omaha in the championship game.
Murray scored the lone goal for the Chargers.
UAH continues road action at Massachusetts-Lowell Friday and Saturday night before opening home play next weekend at the Von Braun Center against Minnesota State.
Warriors Lose, Tie, Fight At Ferris State
Wayne State remains winless on the year as the Warriors lost and tied two games at Ferris State last weekend.
Friday night, the two teams amassed a combined 85 penalty minutes, 61 of which came in the second period and included two game disqualifications as a result of fighting penalties for WSU senior Tylor Michel and Ferris State's Matt Case. After FSU defenseman Jim Jorgensen scored, Michel skated through the Ferris players celebrating the goal, Case took exception to the move and the gloves came off.
YouTube video, anyone? Send it to [email protected].
Ferris State won the game, 6-2, and outshot Wayne State, 43-15. Michel and freshman Brock Meadows, with his first collegiate goal, scored for WSU. Brett Bothwell made 22 saves for the Warriors before giving way to freshman Kyle Funkenhauser, who finished with 15 saves in the final 20 minutes, including a stop on an Adam Miller penalty shot.
Three Wayne State players had two points apiece in Saturday's 2-2 tie as senior captain Mike Forgie and defenseman Jeff Caister each scored and recorded an assist for the Warriors while Stavros Paskaris added a pair of helpers.
Funkenhauser kicked out 39 shots in his second collegiate start.
"I thought we played well, but it's not easy getting a sweep against a good team," Ferris State head coach Bob Daniels said. "We knew Wayne State was going to come out and play better on the second night and I thought that was exactly what they did."
Wayne State wraps up its six-game road swing at Robert Morris this weekend. WSU leads the all-time series against Robert Morris, 7-3-3, a mark that includes four straight victories last season.
Side note: The Warriors have scored a power-play goal in all four games this season. Their power-play conversion rate of 21.1% is tied for 12th in the nation.
Colonials Skunked By Badgers
Robert Morris tried, but just couldn't make it two upsets in two weeks.
Allowing eight power-play goals didn't help, either.
Last weekend, the Colonials traveled to Madison and lost both games to then-No. 13 Wisconsin and were outscored by a 15-4 margin in the process.
Junior Jason Towsley and senior Sean Berkstresser scored in Friday's 7-2 loss. Senior goalie Christian Boucher was credited with his first loss of the season, allowing four goals in two periods of work. Boucher made 22 saves before sophomore Wes Russell made nine saves on 12 shots during the third period.
RMU went 1-for-12 on the power play and Wisconsin went 4-for-9.
Saturday night wasn't much better as RMU suffered an 8-2 loss to the Badgers.
Sophomore J.C. Velasquez and senior Ryan Cruthers notched goals to being the Colonials to 3-2 at one point, but Wisconsin would score five unanswered goals to close out the game.
Russell took the loss in his first career start for the Colonials, making 41 saves.
Wisconsin went 4-for-8 on the power play. RMU was unable to convert on any power- plays going 0-for-4 for an ugly weekend stat of 1-for-16 with the man-advantage while only killing off nine of 17 Wisconsin power plays.
"Wisconsin is a very good hockey team," RMU head coach Derek Schooley said. "They are very skilled, but we were in both games in the second period. We know heading into this weekend we need to play better. Wayne State is a very young hockey club. They gave us a very hard-fought game a few weeks ago in Alaska and I expect nothing less this time around from a Bill Wilkinson-coached team."