Coming into the 2007-2008 season, North Dakota junior forward Ryan Duncan faced a lot of expectations. Duncan, winner of the 2007 Hobey Baker Memorial Award, could have parlayed his success last year into a chance to play in the NHL, much as one of his linemates, Jonathan Toews, did. Instead, Duncan, along with T.J. Oshie, the other key player of the feared "DOT line," returned, in part to try to help the Fighting Sioux capture that elusive national championship.
The hockey ranks are filled with players who follow up a very successful year with a so-so one. Some might have argued that Duncan, an undrafted and unsigned player, risked more than most by coming back to college hockey. In fact, Duncan is only the fifth player in college hockey history to return to school after winning the Hobey Baker. How has Duncan responded?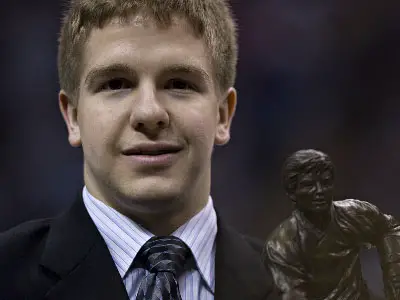 Through the first nine games of the year, Duncan, who finished as the Fighting Sioux's leading scorer last year, is tied for the team lead in scoring with none other than Oshie. One week after getting the assist on Oshie's 100th point in a Fighting Sioux uniform, Duncan himself passed the 100-point mark against Colorado College in a 6-2 win.
Says Oshie of Duncan, "I think his offensive ability is unreal. He can score from just about anywhere. He always seems to find a way to get the puck and get it into the net."
For Duncan, who stands only 5-foot-6 and weighs a slight 158 pounds, the points and awards might be seen as sweet vindication, considering that many doubted his ability to play college hockey, but Duncan doesn't see it that way.
"I was disappointed, obviously, when I wasn't drafted, but I don't think it's any sort of vindication," he said. "I've never had a lack of confidence in my ability to play the game. I just knew if went out there and worked as hard as I can and just hopefully go out there and prove the people wrong who didn't think I was good enough to play at a certain level, one day I'll be able to play at that level."
Duncan grew up in Calgary, Alb., and started playing hockey at the age of three. His father played hockey at North Dakota as well and introduced Ryan to the game. Like many other young hockey players, Duncan was a two-sport athlete, playing baseball in the summer, and even sometimes a little golf. However, he eventually had to choose as he got older, since hockey has become a year-round sport, and picked hockey.
In Calgary, Duncan often got to watch the Mac's Midget tournament, an event that would have a formative impact on his hockey career, since it is where he discovered Shattuck-St. Mary's.
"Shattuck, they were kind of becoming the big powerhouse in that tournament about two or three years before I got involved, so I got to watch guys like Zach Parise and Ben Eaves and Brady Murray and people like that. Later on, I had a chance to play in the tournament in my first year for the Calgary team and it just so happened that I was fortunate to have a good game at a time slot just before Shattuck was playing, so they had caught notice of me and then we both showed some interest and went from there."
While at Shattuck, Duncan helped his team win a national championship, and played with several of his future Fighting Sioux teammates, including Toews and Taylor Chorney. He also got to skate with Pittsburgh Penguins phenom Sidney Crosby during the 2002-2003 season. Duncan treasures his time at Shattuck.
"I learned a lot about hockey and the most about life, and it's just a great place because everybody's focused and motivated on the same things, with hockey and schooling, and it's kind of a neat situation where you're living in the dorms with your teammates and all of your buddies that you're going to school with, so you can form some deep bonds and friendships with them and it's just a great all-around experience."
Given that his father was a Fighting Sioux alum, it was natural that Duncan would have been expected to play at North Dakota. However, Duncan considered several options.
"I think my dad and my mom, they wanted to push me towards college hockey, not North Dakota, in general. I think growing up in Canada, major junior is the big thing, with the WHL up there, so I definitely took a look at that route, but my dad took me down to a game at North Dakota when I was in about eighth grade, and I got to see what that was all about because not a lot of people know what the college hockey atmosphere, the game, is like, so I was just glad I got to open my eyes a little to that."
Fighting Sioux coach Dave Hakstol said he and his coaches saw a lot of the same positives in Duncan, and felt Duncan had already answered any questions about being able to compete despite his size.
"We saw an intelligent, very competitive hockey player," says Hakstol. "I think Ryan answered the question (regarding his size) early on in his career at the AAA/Midget level, both in Calgary and certainly at Shattuck, when he was playing there. He's a guy I think has probably had to deal with that his whole life, but his hockey sense and his competitiveness, he rises above that issue because of those traits."
Duncan was almost immediately successful at North Dakota. As a freshman, he finished fifth on the team in scoring with 36 points. Oshie had 45 that year, while Toews had 39.
In the first half of his sophomore season, Duncan only played a handful of games with Toews and Oshie as his linemates. For those who might think that Oshie and Toews are mostly responsible for Duncan's success, Duncan's offensive output during the first half of the year gives the lie to it, something Oshie acknowledges.
"Before Christmas, we couldn't really get anything going," says Oshie. "Our role on the team was to create offense, and right around Christmas when Jonny got back we started feeding off each other and started putting pucks in the net a little bit more. Before that, it was all Duncan."
For the second half of last season, the DOT line terrorized opposing netminders, and was a big reason that the Fighting Sioux got as far as they did in the NCAA tournament. After a series against Denver in Denver in January, Denver coach George Gwozdecky said of the DOT line, "That's like trying to play against a National Hockey League line. Those guys are extremely talented and they play so well off each other that just trying to contain them is tough. They're really good with the puck and without it."
Asked about his success with Toews and Oshie last season, Duncan downplays his contribution, praising Oshie and Toews.
"They have tremendous talent to go along with unbelievable work ethic. That's something that you don't find very often, and it was just pleasure for me to play with those guys; they make being in hockey a lot easier for you, and I just went out there and tried to complement their talents, stay out of their way and let them go out there and make the plays and hopefully get into a position where you can give them the puck or get the puck and put the puck in the net."
For his part, Hakstol isn't surprised by Duncan's comments, but believes Duncan elevates those around him.
"Well, that's just Ryan's personality. He deflects praise quite often, he's very complimentary of the people around him, and he's just a humble young man. I think that's a great quality. When you put him on the ice, he becomes extremely competitive. He'll tell you part of his success is he's played with a lot of great players; I think he's been a big part of the players around him being successful."
Oshie enthusiastically agrees with this sentiment.
"His best quality is how easy it is to play with him. On the ice, he makes everyone around him better, and when people do that, he brings people up to his level and I think your linemates definitely feed off of that.
"As far as him crediting me and Jon, it definitely goes both ways, because like I said, we weren't giving him too much help last year early, and he just kept scoring and scoring every game, and he definitely earned everything that he got last year. It's amazing how humble he stayed through all of his success last year and even going into this year he still credits everyone else besides himself and that's just a great teammate."
For Duncan, winning the Hobey Baker was a thrill, as well as a bit of a surprise. "Like I mentioned before, just playing on the line with T.J. and Jonathan opened a lot of doors for me. I could just fly under the radar playing with those two guys; they did most of the work. I was fortunate to benefit from their skill and talent; I was pretty fortunate to get some publicity at the right time and things just worked out for me."
Even after he, Oshie and Chorney announced their commitment to return to North Dakota last spring, almost immediately after the loss to Boston College, Duncan did get some interest from pro teams, and he attended the St. Louis Blues' camp over the summer.
Duncan himself has a realistic attitude about his size and his ability to be competitive, and for the most part doesn't worry about it, trying instead to focus on playing to the best of his abilities.
"Obviously I don't have the physical attributes some other players I'm playing against have, but I just think you have to use other tools to be successful. I just think I have to use my speed and quickness to my advantage and also use my teammates as much as I can. It's not often I'm going to burn a guy one-on-one or beat him with my physical strength, so I have to use my brain a little bit and hopefully use my teammates; they can help me, and hopefully we can be successful and make some plays out there."
Duncan does hope to play in the NHL one day, and he acknowledges that he and his Fighting Sioux teammates have been following Toews' success closely, including his amazing goal against the Colorado Avalanche in October.
"We've seen that goal numerous, numerous times," Duncan exclaims. "It's unbelievable to me how he can do that kind of stuff at full speed. We're definitely very proud of what he's doing so far."
For now however, Duncan is pleased to be back at North Dakota. "Like I said, I'm just worried about having a great year this year, because I have no guarantees, no ties to any teams, no NHL team has any guarantees to me or owes me anything, so I have to go out there and prove myself every game. Hopefully I can put myself in a position where the ball's kind of in my court and I can make the decision that I feel is best for my hockey career."'