Jim: So the holidays are almost here and once again we have WCHA Correspondent Theresa Spisek filling in for my cohort Scott Brown. Theresa, it seems like the mighty have finally fallen, at least in the case of Miami which was shutout by Alaska on Saturday night. The pollsters spoke on Monday and the result was that the RedHawks need to take a backseat to CCHA rival Michigan. In fact, the Wolverines jumped two spots from third all the way to first with Colorado College idle last week. What are your thoughts? Was the Alaska win that bad to demote Miami?
Theresa: Honestly, I think the pollsters used it as the out they needed to finally drop Miami down. I've heard a lot of grumbling from people saying, "Okay, sure, Miami has a great record, but c'mon guys, it's still the CCHA. Who have they played, really? Their non-conference record so far has been a bunch of cupcakes." Part of me is inclined to think that stuff like that is being said because all things considered, most of the typical cream-of-the-crop teams from the typically elite conferences — Hockey East and the WCHA — are seemingly having down years and it's just weird seeing the CCHA so dominant. However, I think we all need to step back and realize that these things are cyclical and maybe it's just time for another conference to step up into college hockey's national spotlight.
Jim: Well, the fact that Miami was replaced by Michigan certainly seems to support your belief that maybe this is the CCHA's time in the college hockey cycle. Speaking of a cycle, the national picture seems to be further playing out in a microcosm in Hockey East. While Northeastern has sat at the top of the standings for a few weeks, this week another country was heard of at the top of the league as Mass.-Lowell moved into a tie with Boston College for second place. The River Hawks made their debut this season in Monday's USCHO.com poll, albeit at number 20, after beating Boston University and Bentley at home over the weekend. You're a one-time Hockey East follower: has this league now officially entered the Twilight Zone?
Theresa: Hey now, just because I moved back home into WCHA (and technically AHA) it doesn't mean I still don't keep up with the ol' alma mater and its conference. Still, I think the key word to use in talking about Hockey East is the same for most of the conferences: parity. There's no longer the huge gap between first and last place. The conferences where this seems most evident are Atlantic Hockey, Hockey East and the WCHA. I was down at Air Force this past weekend and Frank Serratore as well as a few of the players mentioned the parity in the league. I also hear that a lot from the WCHA coaches. In the case of Hockey East, I think again, it's partially cyclical. Northeastern hasn't always been a cellar-dwelling team. Massachusetts (the third team tied for second) usually flip-flops on whether they want to be part of the Hockey East elite or not. If there is anything Twilight Zone-ish about the league, I think it probably has more to do with traditional powers Maine and Boston University down near the bottom of the standings … or that six points separate first from last.
Jim: You're right, Theresa. I believe since mid-October, the word I've written the most in this column is likely parity. I have little or no explanation for what has finally created it in Hockey East, but it's fun to watch. I'm sure the coaches of the league's perennial powers might not agree, but it certainly helps a league when teams that have struggled for an extended period of time begin winning. I was at Lowell on Saturday for their win against Bentley and it was nice to see the building pretty excited to watch a decent team. The River Hawks are 6-1-1 at home. A few years ago, a Saturday afternoon game against Bentley might have drawn 800 fans tops. But a little success saw more than 2,500 at the Tsongas. Earning the support of fans is the best way to begin a program's resurgence. Looking forward instead of behind, this is certainly a light week ahead for games. The one match-up that intrigues me, though, is Colorado College and St. Cloud. The games are in St. Cloud but is that enough to make you think the Huskies have a chance against CC?
Theresa: I'd like to think they do, but the Huskies are having a lot of issues right now. Two weeks ago, I did a bit about them in my column and how they seemed to have done a good job filling the holes that needed to be filled from the offseason. However, their defense has seemingly fallen apart again and the fans don't know what to do. One jokingly picked on me on the Fan Forum for not picking SCSU to win another game until the second night of the Ohio Hockey Classic. For a while this past Saturday, it looked like they proved me wrong until Denver's Rhett Rakhshani's crazy hat trick in the last six minutes to win it for the Pioneers. As a result, I have to keep my original thoughts on the series. St. Cloud will play the Tigers tough — especially on Friday thanks to CC's bye week — but the Tigers will ultimately prevail with a sweep in part because I think they're a bit stronger than Denver. Still, it should hopefully provide us with some good hockey to get us through the holidays and on to tournament time.
Jim: Yes, the college hockey doldrums are certainly approaching. Though it gives you and I a chance to once again do some prognosticating. Last week we talked about holiday tournament. This week, how about we look at some individuals? If the season ended today, who would comprise your Hobey Hat Trick?
Theresa: Sure, always give me the tough questions. There's actually been some talk about this on the Fan Forum, though I typically tend to agree that it's a bit early. That being said, I'll take a stab at it. Michigan's Kevin Porter seems to be the consensus number one pick around cyberspace. I haven't seen him play this season, so I'll defer judgment to my Internet peers and agree with him being up in the top three. Though goaltenders rarely ever win the award, Denver's Peter Mannino and North Dakota's J-P Lamoureux are both making strong cases. Though I doubt he'll make the hat trick again, I consider Eric Ehn a dark horse candidate as well as CC's Chad Rau and SCSU's Ryan Lasch. I think you also have to throw Miami's Ryan Jones and Michigan State's Tim Kennedy into the mix. The most notable thing to me, however, is the early lack of Hobey-worthy Eastern players. You're the Eastern guy here — does anyone from over stand out?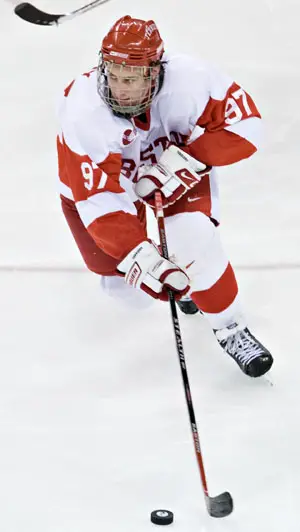 Jim: You've hit the nail on the head: scoring out East is once again down. So an award for which a lot of the scuttlebutt centers around offensive production means you won't hear the names of guys on the right coast mentioned for the Hobey. If you're looking for a candidate, I think it's possible that BU defenseman Matt Gilroy could be mentioned. But that's about it as far as Hobey Hat Trick worthy. I'll turn the question on myself and tell you that I agree with the obvious, Michigan's Kevin Porter. I also think that Ryan Jones will be there come season's end. And if for some reason he's left off, Miami goaltender Jeff Zatkoff's numbers are impressive enough to qualify. On that note, let's hang this one up for another week. If we don't see you here again next week, Theresa, we'll hopefully see you make another guest appearance very soon.