He's just "Phil" to North Dakota coach Dave Hakstol and people around Grand Forks where UND's senior goalie grew up. But officially on the Fighting Sioux roster, he's listed as Jean-Philippe Lamoureux.
"I call him Phyllis," jokes teammate Joe Finley when asked whether Lamoureux's request to be listed by his full name this season has improved his play.
As a 6-7, 245-pound, first-round draft choice of the Washington Capitals, Finley can probably get away with calling anyone pretty much anything. But when it comes to discussing Lamoureux's play this season, the junior defenseman gets serious.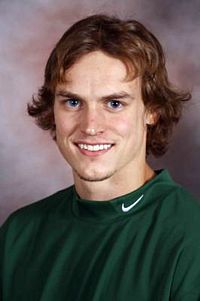 "From Jean-Philippe to Phyllis, call him what you want, he's a good goaltender," Finley says. "He's important to this team and he'll be important to any success we have this year.
"The confidence that our defensive corps has playing in front of him, we know that he's going to make the big save so we can play with a little more risk and comfort level," he adds.
That feeling of confidence might explain why three of the four defensemen leading the WCHA in scoring — Robbie Bina, Taylor Chorney and Chay Genoway — play for UND.
"You can tell he's in a zone back there, and that's how a goalie's got to be," Chorney says of Lamoureux. "You're going to pretty much get scored on every game, and whether it's your fault or not, as a goalie you've got to have a short memory. Phil's done a really good job of that this year. If one goes in off a lucky bounce, he'll hang in there for us."
Even when the Sioux were up and down throughout the first half of the season while playing one of the toughest schedules in the country (16-8-1 overall, 13-7-0 WCHA), Hakstol says the team could usually count on Lamoureux for a solid performance in goal.
"Phil's given us a chance on virtually all but two nights," he notes. "When we talk about consistency, he's set a pretty a high standard for himself."
Lamoureux's .932 save percentage is fifth nationally and his 1.80 goals against average is sixth in the nation. He ranks third in both categories in the WCHA.
In discussing how he's played throughout his career, "solid" is a word that Lamoureux often uses to describe himself.
"I really like that word because you know what you're going to get every night I'm playing," he explains. "Regardless of the score of the game, I always feel like I can battle and make key saves that make the difference of us winning or losing."
Lamoureux's season got off to a fast start when he posted four shutouts in his first five games. As the first WCHA goalie ever to accomplish that feat, he was mentioned as a potential Hobey Baker candidate. However, after a 4-1-1 start, UND had trouble winning more than two consecutive games and split eight straight series.
Although the spotlight on him dimmed somewhat, Lamoureux has been consistently among the top goalies in the country, and his play figures prominently into third-ranked UND's current seven-game winning streak and an .885 penalty kill that's on track to set a school record.
"Whether you're in the headlines or not, for me it's about having the guys not have to worry about who's in net," Lamoureux says.
One reason his teammates don't do much worrying is because Lamoureux has played every game this season for UND. In fact, his 50-game streak of consecutive starts going back to last season is a school record.
When he steps on the ice Friday night at Mariucci Arena to face the Minnesota Golden Gophers, his 51st start will tie Lamoureux with Maine's Blair Allison for third all-time in the NCAA record book. During that 50-game span, the Sioux goalie is 33-12-5 with a .710 winning percentage.
"That record was never really something I thought about," Lamoureux says. "I take it with a lot of pride. It's not just showing up and being in the net. For me, it's looking at the record over the course of those games and feeling like I played very solid."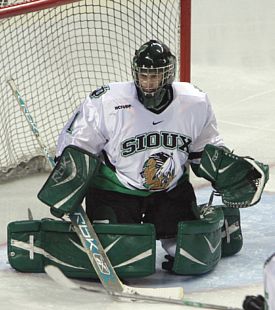 The pressure to perform consistently became even greater when sophomore Anthony Grieco, UND's backup goalie, left school in early November to play in the Ontario Hockey League. That left the Sioux with Lamoureux and Aaron Walski, who's played in just two games the past two seasons. In late November, UND added freshman goalie Landon Snider of Brainerd, Minn., to its roster.
"It didn't really change anything for me," Lamoureux says of Grieco's departure. "I felt coming into the season that I'd be playing the majority of the games and I wanted that responsibility. I felt like I understood and could handle the pressure of being a guy who plays every night."
When UND experienced two disappointing losses to New Hampshire and St. Cloud State in which the team gave up third period leads, some questioned whether playing every game was wearing out the 5-8, 152-pound goalie.
"Conditioning-wise he's in great shape," Hakstol says of Lamoureux. "Mentally, it's a tougher challenge because he has to be on top of his game each night, no matter how he's played the night before. I think he's answered that challenge reasonably well."
"Coach Hakstol has asked me a couple times if I need a break or I'm feeling fatigued," Lamoureux says. "I told him that I feel like I'm getting stronger every game."
The statistics appear to confirm that feeling. During the 25 consecutive games Lamoureux played during the 06-07 season, he had a 2.20 goals against average and .923 save percentage. This season through 25 games, he's improved both those key statistics.
Lamoureux attributes some of this season's improvement to working in the off-season with Ian Clark, goalie coach for the Vancouver Canucks, who taught him the importance of puck control.
"He said there's going to be a big difference when you retain pucks and control the flow of the game," Lamoureux recalls. "You cut the shot-count down by controlling those rebounds. That's one part of my game that I stress every day in practice. I try to push myself to control rebounds and retain pucks when I can."
Another factor this season is Lamoureux's ability to control the emotion with which he's known to play.
"That's something that we've continually talked about," Hakstol says. "Emotion is part of his game, but he needs to direct that emotion in the right way and not be over-involved in other ways. That's an area he's really improved and has to continue to improve. His overall focus is on him being the guy who's there to stop the puck and the other things are left to others."
While Lamoureux is sometimes criticized for his dramatic style of play, such as making flashy glove saves, it's nothing he plans to change.
"For me, I can't be quiet or subtle in the net," he says. "I try to make saves where I look confident and make saves with authority. Playing with that edge is important for my game."
Standing in front of a net with a hard a rubber disk traveling toward it at around a hundred miles per hour at a spot where large players wearing sharp blades routinely converge at breakneck speeds isn't something most athletes would choose to do, but goalie is a position Lamoureux seems born to play.
"I remember back when I was a kid going out to Lions Park here in Grand Forks and taking shots hour after hour, just loving to make saves in any way, shape or form," he recalls. "It's just being able to stop that puck and the feeling it gives you.
"It's kind of a funny position," Lamoureux relates. "Goaltending is very much an individual sport within the ultimate team sport. You're out there all alone, but at the same time, you're nothing without the guys in front of you."
It's also a position for which easily bruised egos need not apply.
"Either you're the hero or you're the goat," Lamoureux says. "When you don't have a good performance, it stands out on the final score. It's definitely a 'What have you done for me lately?' type of position."
The best advice Lamoureux received on handling the pressure came from his father, Jean Pierre, who played goalie at UND from 1979-1982.
"One thing my dad told me growing up is that you have to be like a rubber ball," he says. "Things come at you and you just have to let them bounce off you."
As long as he's in goal for UND, pucks and whatever else opposing teams can throw at Lamoureux will keep coming. Jean-Philippe wouldn't want it any other way.