This was one of the closest Beanpots ever. Three of the four games were one-goal affairs, two decided in overtime, while the other game was determined by a two-goal margin. That goal differential of five in four games tied for the lowest ever with the 1965 tournament (BC coach Jerry York's first Beanpot as a player), which also featured two overtime games. There were a total of 12 lead changes in the four games.
"We played two overtime games, and it really shows the competitive nature of the four area schools," said BC coach Jerry York. "I think we played our best hockey in the overtime."
For the second time in school history, the Eagles won two overtime games in the Beanpot. In the first in 1994, BC also defeated Harvard in the title game, then by a score of 2-1.
Both games in this tournament came beyond the five-minute mark of the overtime session, meaning they would have been ties in regulation games.
"This kind of game prepares us for further down the road," said York. "This is the first significant title we play for. It helps the players get used to being in these situations. When you get to a regional final, when you get to a Frozen Four, you can learn a lot from games like these. [Seniors like Mike Brennan] have been in these situations before, but now this helps freshmen like Brian Gibbons and Nick Petrecki."
No Beanpot school has ever won the NCAA championship without first winning the Beanpot.
History Lesson
With Northeastern taking a 4-2 lead at roughly the midpoint of the consolation game, things didn't look so great for Boston University. While the Beanpot is known to partisans as "The BU Invitational," a quick look through the record book uncovers one of the few bad statistics for the Terriers.
The last time BU finished in fourth place in the tournament was on February 11, 1980; the time before that, on February 11, 1963. Two of the three fourth-place finishes Boston University has had in this tournament came on the 11th.
And Monday? The calendar read February 11.
In fact, prior to this season, the Terriers had played in the Beanpot six times on February 11, compiling a lowly 2-4 record. And it looked like yet another fourth-place finish was in the cards, until Colin Wilson scored two of three goals to win it for BU.
Freshmen Lead the Way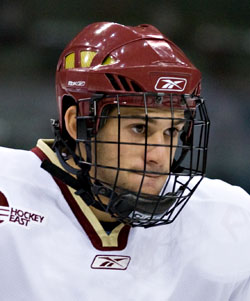 For all four Beanpot teams, freshmen played a key role Monday. Of the four teams, three had the first goal of the night scored by freshmen — Northeastern's Tyler McNeely, BU's Colby Cohen, and BC's Brian Gibbons. The only exception was Harvard, and Harvard's second goal was scored by a freshman, Matt McCollem.
Both Gibbons, who was named tournament Most Valuable Player, and Boston University rookie Colin Wilson scored two goals and added an assist on the night. The overtime game winner for BC came off the stick of Nick Petrecki, a freshman defenseman who had never scored a goal in his collegiate career until tonight, when he scored two, including the winner.
In all, freshmen from the four teams in the consolation and championship games scored a total of 13 points on 10 goals and three assists. BU winning netminder Adam Kraus and BC winning goalie John Muse are first-year players as well.
On the flip side, Boston University senior Craig Saunders was the fourth-line center, making just the 18th start of his career, and first in a Beanpot game. He had an assist on BU's third goal — the first point as a Terrier.
"It was nice to let some guys into the game who hadn't played in a lot of Beanpots," said BU head coach Jack Parker. "Like Monaghan, Sanders (one assist), Smolinsky (one assist), Kielt. I had to decide who to put in, but it was never like we were giving the game away. We knew these guys worked hard in practices, and they rose to the occasion."
Hall of Fame Inductees
This year, three players were inducted into the Beanpot Hall of Fame: Northeastern's Jim Averill, Dan Brady of Boston University, and Bill Flynn, former Athletic Director at Boston College.
Averill led Northeastern to two of its four Beanpot championships, in 1984 and as team captain in 1985. He remains the school's all-time leading defenseman scorer.
Brady, a netminder for BU, was in goal for the Terriers' 1971 and 1972 Beanpot titles as well as the NCAA championship both years. He holds the second best all-time Beanpot save percentage.
Flynn was BC's Athletic Director from 1957 through 1991, during which time the Eagles captured eight Beanpot titles.
Eberly
The Eberly Trophy, given annually to the goaltender starting two Beanpot games that has the lowest save percentage, this year went to Northeastern's Brad Thiessen, who stopped 70 of 78 shots for a 0.897 percentage.
Northeastern finished fourth in the tournament. The last time an Eberly winner came from a fourth-place team was in 1998, when it was also accomplished by a Northeastern goaltender, Marc Robitaille.
Quotable
"We had a great crowd. Thanks to the Dog House for showing up. It was a unique consolation game. Normally you can hear a pin drop, but this year the fans brought a lot of energy. When you are up 4-2, you would like to win that game, but we really let it slip away." — Greg Cronin, Northeastern head coach, on the Huskies' loud and boisterous student section.
"It was nice burying the puck. [Luke] Popko made a nice play, and I had nowhere to put it but in the net." Boston University freshman Colin Wilson, on the game-winning goal, his second of the night.
"It's definitely being in the right place at the right time. I just closed my eyes and took a shot." — BC freshman Nick Petrecki, on his overtime game-winning goal.
"When they announced the MVP, they said, 'Scoring two goals tonight' and [Nick] Petrecki went forward. We had to pull him back." — York, on the Most Valuable Player presentation, which went to BC's other two-goal-scorer, freshman Brian Gibbons.