Scott: Well, Jim, with the Beanpot in the books, I thought I'd turn our gaze West again for a bit, because two teams out here are suddenly threatening to run away from the national pack. Michigan won twice more over the weekend to stay No. 1 in the national polls, but it's North Dakota that really has my attention now. The Fighting Sioux have acquired a reputation for fast finishes under Dave Hakstol's tenure, and that looks like it's happening once again. UND swept Denver last weekend and did so in impressive fashion, rallying from a three-goal deficit Friday and then cruising Saturday. (And they did it without Hakstol this time, since the coach was serving a suspension handed out for shenanigans two weeks ago at Minnesota.) How do you rate the Sioux's chances in the WCHA and nationally right now?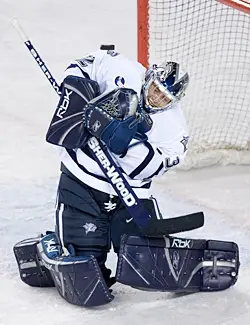 Jim: Any Dave Hakstol team is a major threat in my opinion, particularly in February, March and April. The last two seasons, North Dakota has been one of the hottest teams in hockey down the stretch and it appears they're once again poised to make a similar run. Last weekend's sweep was extremely impressive, particularly Friday's game. Coaches love a team's ability to rally — that "never say die" attitude. You always hear coaches talking come tournament time about their team's ability to never give up. North Dakota certainly proved that last weekend. But before we boast entirely about the West, I have to bring our focus back East. New Hampshire has quietly risen to the top of the crop, having not dropped a league game since mid-December and currently sitting tied for second in the PairWise with none other than North Dakota. Is it time to realize that this UNH team might be the real deal?
Scott: Good point, because New Hampshire's an interesting situation this season. The Wildcats have somehow stayed largely out of the national spotlight despite having another outstanding year, and they're in position to salt away the Hockey East regular-season title sooner rather than later. I guess perhaps the Michigan-Miami horserace and the logjam in the WCHA have distracted people from what's going on in Durham, but Dick Umile's got a national champion-caliber team again. Kevin Regan, in particular, has had a great senior season, and we all know how important goaltending becomes in a single-elimination tournament. New Hampshire hasn't lost in its last seven games (North Dakota's unbeaten streak is the nation's longest at 11), but that will be tested against Boston College this weekend. BC's got to take at least three points to retain a shot at the regular-season title, don't you think?
Jim: This is a major "must" weekend for Boston College. They have been playing decent hockey of late but looked sluggish and undisciplined at times last weekend against UMass-Lowell. That was a weekend where they were very lucky to come away with any points. The BC-UNH matchup, though, is definitely the marquee series this weekend in Hockey East. And I'll up your ante: BC needs to sweep if it wants to win the regular-season title. Staying East, I also wanted to mention BU. After a solid sweep of Maine that saw the Terriers post back-to-back overtime victories last weekend, BU has won four in a row for the first time this season. They're not exactly national-championship caliber, but this is a team that really could cause problems in the postseason tournament. All year they've scored goals but been unable to keep the puck out of their net. Allowing just a single goal last weekend against Maine is certainly a step in the right direction, don't you think?
Scott: Agreed. For most of the season, BU's suffered through the same kind of downturn as another perennial contender, Minnesota. The difference is that the Terriers haven't been able to stop the opposition from scoring, whereas the Golden Gophers can't buy a goal of their own. In fact, Minnesota's struggles on offense this season are nearly unprecedented, both five-on-five and on the power play, where the team's efficiency has been cut almost in half from last year. This is the same program which year after year has finished in the nation's top five in scoring, and now the Gophers are averaging 2.38 goals per game and have scored once — exactly once — in each of their last four contests. For a guy who gets to see a lot of Minnesota hockey, it's been baffling, and unlike BU there doesn't seem to be an upturn in sight.
Jim: It must be rough to consistently watch a club that can't bury a puck to save its life. Don't feel that the Gophers are alone as there are some big-name clubs down at the bottom of the scoring roster. Minnesota-Duluth, Harvard, Vermont and Ohio State are all averaging below two and a half goals per game. And then there's Maine, which boasts the sixth-worst offense in the country, averaging just 2.14 goals per game — tied with perennial Hockey East cellar-dweller Merrimack. But before we start a debate over the size of goaltenders' pads and such, realize that Miami posts a more-than-healthy 4.25 goals per game, with Michigan, BC and New Hampshire all pretty close behind. Speaking of scoring, it's never too early to start talking about players who might win the Hobey. I see BC's Nathan Gerbe night in and night out, and he's a definite candidate. Michigan's Kevin Porter is leading the scorers with 48 points right now. There's a long way to go, but who else would be on your preliminary Hobey ballot?
Scott: Among the guys I see regularly, UND goalie Jean-Philippe Lamoureux has been the biggest asset to his team. The Sioux can score in bunches, but they can also win the close ones thanks to his efforts in net. Of course, it's nearly impossible for a goaltender to win the Hobey these days, Ryan Miller notwithstanding, so among the scorers I think the two guys you've mentioned are the leading candidates: both are among the national scoring leaders while playing for quality teams, which usually translates into Hobey support. Among Western guys, I think Billy Sauer at Michigan should also get some attention, though he probably won't, along with Miami's Ryan Jones and Ryan Lasch at St. Cloud State. Interestingly, last year's winner, Ryan Duncan of UND, isn't really on the radar right now. How about some more Eastern guys from you?
Jim: Gerbe is hands-down the favorite out East and could be the winner if he keeps up his pace, but other guys deserving mention include Colgate goalie Mark Dekanich, who's among the national leaders in save percentage and goals against average, and defenseman Matt Taormina, a solid two-way player at Providence. And RIT d-man Dan Ringwald could attract some attention based on scoring alone. There's a lot left to say on this one, but we'll save that for another time…