I was going to start out with something like: It's the Final Countdown … but then the flashback to 80's hair bands and Euro pop just kind of took the luster off of the whole moment. No, I am looking for something a little bigger than that cliché phrase and song title because, as usual, the last weekend of the season leaves a lot at stake in both conferences heading into the playoffs.
Only Norwich by virtue of their tiebreaker with Babson has guaranteed themselves the one seed. After that it gets real messy with second place Babson having some breathing room over third place Castleton by four points. Teams three through six are only separated by three points in the battle for home ice position and someone is going to get stuck with a very difficult 4-5 match-up in the opening round of the playoffs.
Over in the NESCAC, we have the battle at the top and the battle at the bottom of the bracket with Tufts and Hamilton already eliminated from playoff consideration but in a position to play spoiler on the final weekend of the regular season.
At the top, Bowdoin has a one point edge over Colby and just a two point advantage over Middlebury and Amherst who meet on Friday night. Home ice is pretty much locked up for these four teams but the potential host for the final four is wide open and this weekend will decide everything in terms of position and quarterfinal match-ups.
Almost as if the top half was desperately seeking their dance partner (sorry for that 80's disco allegory there) teams five through eight in the conference are separated by just three points. And everyone could move around a little bit. Conn. College currently is sitting in fifth and holds tiebreaker advantages over Wesleyan, Williams and Trinity but isn't taking anything for granted.
Everyone knows that you need to be playing at your best right now because after this weekend, you lose and the season is over. Think you have the playoff pairings figured out? Don't be surprised if things change after Friday night and get even more confusion again on Saturday. Everyone keeps saying it can't get more competitive than this — guess what? It already is!
Camels Cruising
"We split the season into three periods," stated Conn. College head coach Jim Ward. "We haven't won a period until the third. We are playing pretty good hockey right now and the puck has been bouncing good for us and it's definitely at the right time of the year."
The Camels got off to a slow start, but played better in the middle of the season. Now healthy and able to get players focused in their sweet spots, Conn. has climbed steadily in the standings and is building on the success that saw them make the league playoffs for the first time last season.
Since the first of the month the Camels are 5-1-0 and have outscored their opponents by a 24-13 margin in that span. More importantly, their current four game win streak has included key wins over both Wesleyan and Trinity to garner the tiebreaker edge over teams they are in a dogfight with for position entering this final weekend on the schedule.
"Everyone has picked up their game," noted Ward. "It's the little things like getting some lucky bounces our way but it's also winning the battles on the wall, getting the puck out of the zone and keeping it in the offensive zone to get that extra opportunity. It's also having great goaltending and we have been getting that all season but it really has shown in the latter part of the season."
Sophomore Greg Parker (8-9-2 record, 3.05 goals against average, .912 save percentage) has been steady despite seeing a lot of rubber in his 19 games played and now with his team showing more offense of late, the goaltender has made those goals stand for wins down the stretch.
"It really turned for him and us on the trip to Hamilton," said Ward. "It took us six hours to get up there on the bus trip through an ice storm and we got off to a slow start. In the first period the shots for each team were three apiece with about six minutes left and we kind of let down and Hamilton shelled Greg in the final minutes with 10 or 11 good shots.
"He stopped them all, we survived and ended up winning the game and he just took off from there. He is very level headed on and off the ice. Greg has a great demeanor and is a real student of the game and it shows in his results. I hope at the end of the year other coaches in the league will recognize what he means to this team and how he ranks among the league's best."
Offensively, the Camels were struggling to click up front primarily due to injuries that caused personnel changes and role changes among healthy players on the squad.
Now players are back in their more familiar roles and the numbers on the score sheet reflect their improved play in the back half of the season. Senior Rob Campbell (10 goals, 8 assists, 18 points) leads the team in goals and has flourished late in the season after some of the weight and responsibility of being a team captain was distributed among his teammates.
Freshman Ryan Riffe (9-8-17) has been a pleasant surprise in his first campaign and sophomore Ryan Howarth (5-7-12) is just getting back on track and starting to add the goal production many expected from him at the beginning of the season.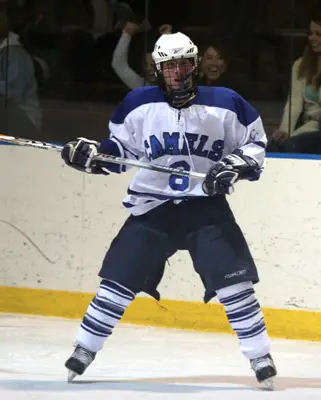 "Ryan has been asked to do more on the other side of the puck this season," stated Ward. "He is really playing his best hockey right now and the chances and goals are starting to come his way."
The Camels finish out the regular season at home against Babson and UMass-Boston so there are no freebies coming in the points department this weekend.
"We know we have to earn our position and it's great to be playing important games at home where we have created a lot of excitement and are getting great support from the students here. Last year our motto was "Get In" and this year it is "Get In and Get Ready."
The one game visit to the playoffs last year has this year's team hungry for more and if they prolong their February success out for another week or so they just might be making other teams wonder if they are ready.
Spartans Soaring to Top
Going back to the middle of January, the Castleton College Spartans weren't even in the playoff hunt in terms of competing for a home ice berth. Since back-to-back losses to Williams and Middlebury the team has gone 8-1-1 including their first ever win over Norwich on the road last weekend.
"Two weeks ago we weren't even in it," observed head coach Alex Todd. "Now we need to take care of our own business and whatever anyone else does really won't matter. We have had good discussions with the team this week and I think they understand that even though we are at home we are playing against teams with some unfinished business in terms of what they can accomplish for their own playoff position.
"We have worked hard to get where we are and it is great to play games that mean something at the end of the season — here we are and we now have a chance to clinch a home ice playoff berth so there is a lot at stake for us too."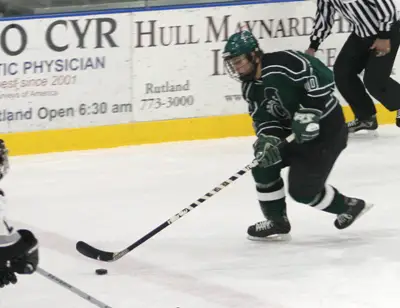 So what caused the turnaround after such a rocky start? Todd found those answers from within himself and two unlikely sources of inspiration for his team.
"I think that we just kept looking back to what last year's team did and what made them successful and I never really let this team find its own identity for themselves," he said. "We, and I really mean they changed some of the things we do, the systems we play to make them work better for their style of play and we really found that identity in this year's team. We also saw some key changes in the leadership on the team.
"Brandon [Heck] and Travis [Martell] were really ready to go every game and killing themselves to get the guys ready to go on the ice and prepare to practice and play — I always saw the effort and the leadership those two guys provided our team. But there were other leaders taking care of the off-ice stuff and making sure things were going well around campus and in the classroom and really bridging the gap away from hockey.
"Jared [Lavender] and Matthew [Link] were the guys that really shifted the load and made it easier on everyone to just relax as students and hockey players and after seeing the impact I added another "C" and another "A" with each of those guys and we really have taken off with their added leadership and support."
Continuing, Todd noted that "Matt's a real interesting guy because although he is a senior, he is one of our younger guys since he came in from high school and most of our players have come in as older freshmen out of playing juniors.
"Not only that he is the one piece of the puzzle that connects the early days and struggles of the program and he can make that very real for the guys here who want to be successful and want to help the program become established. Matt has been a great role model and leader and a big part of how this team found its own identity."
Leading the way on the ice for the Spartans has been Brandon Heck (12-16-28) who also has three power-play goals, three shorthanded goals and three game-winning goals in his totals.
"I think at the beginning of the year Brandon thought things were going to go a certain way with his line," commented Todd. "I think when it didn't play out quite that way he and his teammates just worked hard for results and at times it's been ugly but it has been effective — they don't have to be real pretty to count on the scoreboard."
Another big piece to the second half revival has been the health and continuity of the defensive corps which is only now at this point in the season fully familiar with the faces lining up on the blue line each night.
"We maybe had one defenseman that has played in twenty or more games this season," Todd said. "We have had a lot of guys out and people playing in different combinations while we healed up. Now we are back to a regular rotation of our top five or six guys and the results have been noticeable."
The Spartans have already been through a lot this season and even their coach wonders a little bit about what could have been if they got off to a better start at the beginning of the season.
"It would be great to see what we could do if we had another month or two in the season with the way are playing now. We have to be content with playing for something every game now and deal with the challenge of being focused and taking care of business on the ice. We can't look ahead. It's really about the one game mentality now."
So there's one week left in the regular season and for most you don't have a clue who your team is going to see in the playoffs next week — having fun yet?
Drop the Puck!