Careful what you ask for . . . yes it's playoff time but that also means the season is winding down and now for most teams, it's lose and you go home until next year. Everything is up for grabs and even the littlest on-ice detail now can mean the difference between moving on and advancing, moving forward in the playoffs and improving your chances at making the NCAA tournament.
The last weekend of the season didn't disappoint as teams battled for their final positions and today, with the quality of play across both conferences, there aren't many coaches who can claim they like their first round opponent a whole lot.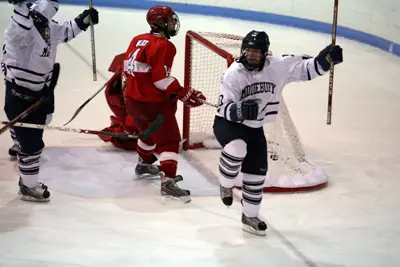 Just how close is it?
Well, when talking with Tufts head coach Brian Murphy, he legitimately could diagram that either team could win in virtually every match-up coming up this weekend in the quarterfinal round. He had me convinced that the match-ups could go either way, but at the end of the day — be it in three periods or more — someone is winning and moving to the final four for each conference. It is there where just one weekend separates teams form conference glory and the chance to play on the national stage.
But let's not get ahead of ourselves. There's lots of hockey to be played this weekend so let's take a look at who's likely to be playing beyond the first of March.
ECAC East: The Match-Ups
#8 Skidmore @ #1 Norwich — "Skidmore really has an uphill battle for sure," noted coach Murphy. "They will need to play mistake-free hockey against the Cadets in their building to have any chance."
I am going to agree with the coach on this one since the Thoroughbreds have had trouble keeping the puck out of their own net (4.44 GAA) and they see opponents with a success rate of over 27% on the power play — not a good combination for playoff hockey.
Prediction: Cadets set the tempo for hosting the final four with a 6-1 win at home.
#7 UMass-Boston @ #2 Babson — "Babson is really solid top to bottom," observed Murphy. "But that first unit for UMass-Boston is special. That kid Tufman controls the puck and distributes it real well. He's got an awesome shot in tight and knows how to finish."
The two travel partners played a thrilling 1-1 tie back in December which jump started the Beacons in the second half. Like the enthusiasm that Peter Belisle's team has shown this season but Babson's four lines and experience combined with home ice has the defending champions moving on in a close game due to solid goaltending on both sides.
Prediction: Beavers continue the ride and chance to repeat with a 3-1 win over the revitalized Beacons.
#6 Salem State @ #3 Castleton — "That is one tough place to play up at Castleton," stated coach Murphy. "The rink is not on campus but they get great local support and really make it tough physically on opposing teams. I think we were the last team to beat them before they went on a roll and they look like they have it figured out. Castleton will need to stay out of the penalty box and Salem State will need to continue to rely on [Ryan] Hatch in net. A couple of bounces and this one could go either way."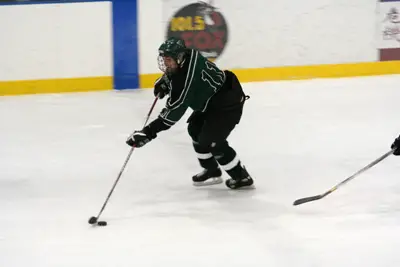 Castleton is the hottest team coming in to the tournament having gone 9-0-1 in their last 10 games, including 6-0-0 at home in that stretch. Justin Fox is a special player that the Spartans will have to keep in check but Castleton would like a chance to win again on the ice in Northfield.
Prediction: Home ice does mean something in this one but not by much — Spartans advance by a 4-2 score.
#5 Southern Maine @ #4 New England College — "I really have no idea on this one," honestly assessed Murphy. "Seriously which team is going to show up for either side? Both teams are very talented when they have their game on and NEC may benefit from playing in what I think is the toughest rink to play at in the conference. The 5-4 [match-up] is always a close and unpredictable game and this one is no different."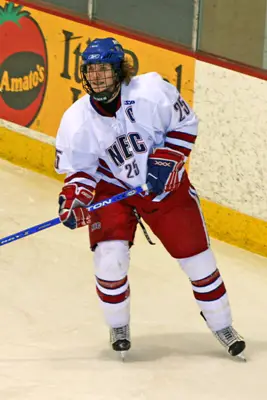 I agree on the 5 vs. 4 in general but like NEC at home with senior leadership that has been there before in these big playoff games. The two teams met just this past weekend at the same venue and despite outshooting the Huskies by a 2-1 margin with over 40 shots on goal, the Pilgrims eked out a 3-2 win.
Prediction: Always tough to beat a time a couple of times in a row but you fight for the home-ice berth for a reason — Pilgrims do it again by a 3-2 score.
NESCAC: The Match-ups
#8 Wesleyan @ #1 Colby — "Anything is possible," offered Murphy on this top vs. bottom match-up. "Colby grabbed the top spot on the last weekend and the trio of Kelley, Fritch and Reber make them go. Wesleyan is going to have to stay out of the box because Colby's power play will kill them. They also need some good goaltending to be sure."
Wesleyan is stumbling into the playoffs having lost four of their last five and having been shutout twice in that span. Surrendering 19 goals in their last five isn't a good omen either. The trio mentioned by coach Murphy is a special group and has been a big part of Colby's success over the past four seasons. They'd like a shot at the NESCAC title and especially at home.
Prediction: The win last week over Norwich was no upset — the Mules are playing very well and carry that over into the quarterfinals with a 5-1 win.
#7 Williams @ #2 Middlebury — "This is one of those special rivalries in the league," noted Murphy. "Middlebury is awfully good on the big sheet and guys like Tom Maldonado will make sure that everything is ready in that locker room for the Panthers. Williams has been playing well lately so they have a chance but will need to get a big effort in goal."
When these two teams played in mid-January at Williams it was a close 2-1 game. Last year in the quarterfinal round at Middlebury the score wasn't as close and this group of seniors still has something left to prove on the ice for the Panthers.
Prediction: Like the home-ice advantage and overall big game experience for Middlebury in this one: Panthers advance by a 5-2 score.
#6 Trinity @ #3 Bowdoin — "Both teams are going to roll four lines and are solid in net," said Murphy. "They can both get up and down the sheet very well but Bowdoin seems to finish on their chances better than Trinity and that may very well be the difference."
Two weeks ago the Bantams hosted Bowdoin and got smoked by a 7-1 score. The pupil (coach Cataruzolo) is going to have to focus his team on doing some things better on the road against his mentor (coach Meagher).
Prediction:Like the strides Trinity has made this year with a young team but not enough firepower to unseat the Polar Bears at home. It's definitely closer this time around but Bowdoin moves on with a 5-1 win.
#5 Conn College @ #4 Amherst — "This is a very interesting game," noted coach Murphy. "It really is a tough match-up since Amherst is a strong team and Conn. has really got it going in the second half and that kid Parker is as good as any goalie in the league and can steal one for his team. It will probably come down to special teams and goaltending — not to be cliché but those things will be the difference and home ice may be a factor."
Ironically in a schedule that teams usually only see each other once in a season, these teams will be facing each other for the third time on Saturday with Amherst holding a 2-0 edge on the strength of 4-1 and 5-3 victories this season.
Conn. has been playing everyone tight down the stretch and is clearly playing their best hockey of the season. Amherst finished the season going 3-3 in their last six games which is a real improvement in that stretch as compared with prior years. This one really is a toss-up and I think an upset in the making.
Prediction: Last season the Lord Jeffs played the spoiler at Wesleyan ending the Cardinals season. This season the Camels play the role of the spoiler in a very tight game that may very well be decided in overtime. Conn. College advances with a 3-2 win.
The end of February is here so there's just two weeks for conference titles and two more for NCAA glory. Everyone has trained all off-season and played the season to get here, the so-called second season where everyone has the same record and players rise to the occasion. One game — that's all that is on any team's radar screen right now.
Drop the puck!