Championship Weekend!
It's here and by most coaches' accounts there should be a heavy presence of local and state law enforcement officials around hosting arenas and nearby towns looking out for those who have outstanding warrants for grand larceny.
It's been happening in college towns and ice arenas all over New England all winter.
The suspects are heavily padded and wear distinctive masks in an effort to keep their identities hidden. They make no bones about robbing opposing offensive players of sure goals and stealing wins for their teams. At this the most critical time of the season, they are bold enough to do it in full sight of thousands of fans both at home and on the road.
Yes, right now it's all about the goaltenders and which team has the hottest netminder coming into the final four pairings for each conference this weekend in Northfield and Waterville.
"It's really all about goaltending and special teams at this time of the year," noted Middlebury head coach Bill Beaney. "Everyone left needs to continue to have that position play well if they want to keep playing. We are lucky in having two guys with big game experience who really haven't lost other than last year's NCAA championship game. The experience is great but they still have to go out and play well."
"It's amazing how much goaltending controls the game now," said Norwich head coach Mike McShane. "Everyone left in the playoffs has had great goaltending and [Ryan] Donovan from UMass-Boston has been a big reason for their success this year. He stood on his head when we beat them in overtime in the regular season so the kids know we can't take anything for granted in getting something on the scoreboard this weekend."
We have already seen surprises in the quarterfinal round and wonder: are there more to be seen this weekend? The ECAC East has the number 1, 4, 6 and 7 seeds remaining in the tournament and NESCAC has the number 1, 2, 4 and 6 seeds remaining. The match-ups are set so let's see if I can improve on my 50% pick rate from last weekend and define the 2007-08 conference champs.
ECAC East
#7 UMass-Boston @ #1 Norwich
The Cadets are hosting again this year — not much of a surprise there as it has become an end of winter ritual for the conference championships to be held in Northfield. When the Cadets have it going in all phases they are as good as anyone in the country so look for Norwich to play aggressive attacking hockey and try to play the game with an early lead.
"We had a close game the first time around even though we outshot them by a 3-1 margin," commented McShane. "Right now we have to play smart and take care of the puck and stay out of the box. They have some very talented players and Peter [Belisle] has got them going good right now. They have nothing to lose so you know they will be loose and we need to step up and play our game. The crowd will be a big help for us and being at home is a factor."
For the upstart Beacons, the trip to the final four is a step this team couldn't have thought possible just a season ago. New blood, a new coach and a hot goaltender has changed all of that and they are not afraid of anyone now having knocked off the defending conference champion last week at Babson.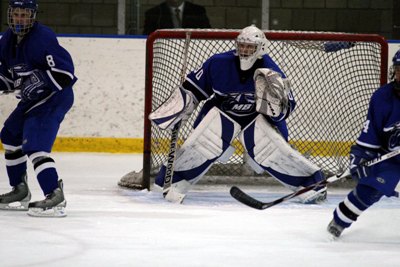 "Having Ryan [Donovan] back there has covered up some of our issues up front but we know we can't get outshot again like we did the last time — their skill players are too good to give opportunities to without seeing it on the scoreboard," stated head coach Peter Belisle.
"We watched the film of the first game yesterday and know we need to try and pressure the puck in their end of the ice and keep it deep — make it more of a puck possession game. We are excited for sure– not just to be there but to play in a big game which means so much to this program. We had a bus full of kids attend the game at Babson last week and it looks like we will have another bus this weekend to support us. We would like to make the trip worth their while, too."
Prediction: Donovan has established himself as one of the best in the league at stopping the puck — he is going to get a chance to prove it again against one of the best offensive teams in the country. Don't see OT this time around but no blowout either. Cadets win it, 5-2, and move to Sunday's championship game.
#6 Salem State vs. #4 New England College
The Pilgrims are no strangers to playing at Norwich in early March either and should the Cadets win the early game, NEC best not get caught looking ahead to playing Sunday or Bill O'Neill's Salem State team will take the opportunity away based on a well tested formula of good goaltending and good special teams.
"New England may have the most talented group up front," commented Norwich coach Mike McShane. "They have an awesome group of Swedes and real skill players like [Mike] Carmody and [Brian] Pouliot."
Add in the goaltender that Southern Maine's coach Jeff Beaney feels is the best in the conference and New England can make things tough on the opposition with their tight team defense.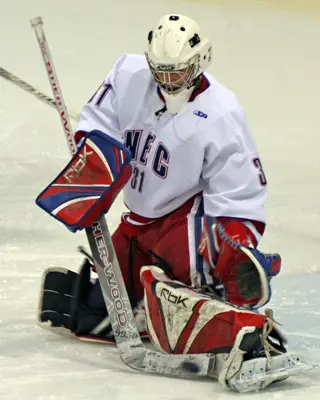 "[Ron] Baia went into a little slump for a few games towards the end," noted Beaney. "But he was solid against us in the regular season and made two huge saves at 1-0 and 1-1 in the playoff game last week that made a big difference in the game. He's as good as anyone when he is on and he was on last week."
For the Vikings, who come into the semifinals having upset the third seeded Castleton club, there shouldn't be any worries about playing on the road. That said, they lost 5-2 at New England on the final weekend of the regular season and gave up an empty-net goal as the game's final tally. The Vikings have relied heavily on Ryan Hatch in goal, who has played all but one game for Salem State, and freshman forward Justin Fox (16 goals, 21 assists, 37 points) who has five power-play goals to go with four game-winning goals this season.
Prediction: The first game saw the overall shots pretty even for both teams but with big momentum swings during the three periods of play. Many of the NEC seniors remember the run to the NCAA tournament just a couple of years ago so experience will be the difference here. The Pilgrims advance to face the Cadets by a 4-1 score.
Championship Game: NEC vs. Norwich
These two teams are more than familiar with each other and their lone regular season contest saw a typical one goal game swing the Cadets' way by a 5-4 score. Baia did not play in that game but he may suffer the same fate as his teammate Aaron Harvey this time around. Norwich is at home and playing for something they lost last year so look for the Cadets to skate with the hardware and a trip to the NCAA's. Cadets win, 4-3.
NESCAC
#6 Trinity @ #1 Colby
It is all about being hot at the right time. When — not for how long — you are playing well.
Trinity has been riding solid defense and great goaltending by Wes Vesprini down the stretch to join the party at Colby, the fourth different school to host the conference championship over the past four years.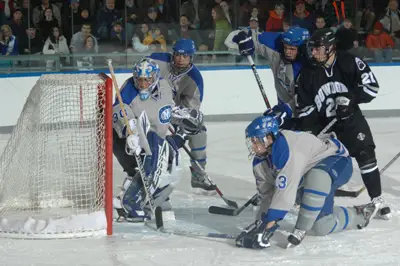 "We need to keep working hard and pressing since our challenge is scoring goals," commented head coach Dave Cataruzolo. "We are playing against a team that is scary with skill players like [TJ] Kelley, [Josh] Reber and [Arthur] Fritch and they have gotten great goaltending from their freshman [Cody] McKinney. They earned the right to play at home and they play very well in that building so we have our work cut out for us for sure."
On Colby side of the ledger, head coach Jim Tortorella notes that every team is 0-0 this weekend and the only game that means anything is on Saturday afternoon.
"In a one-and-done tournament, you can't focus beyond one shift on the ice. You just need to keep perspective, to keep the routine and focus on the here and now — don't let your mind do things that will take you from focusing on the now. Our kids are excited to be playing at home and we will have great support here. All of the teams playing at this time of the year have earned the right to be here so we just need to prepare for Trinity."
Prediction: Vesprini has been hot of late and McKinney has been hot all season. Leading assist man Josh Reber didn't play the first time around the Bantams won 2-1 and he really makes the Colby offense go. The Bantams are goal challenged but will keep it very close. Think this one is a 2-1 game again but the home team moves on to Sunday's title match.
#4 Amherst vs. #2 Middlebury — Yet another match-up where the playoff pairing sees a rematch of a game played within the past two weeks.
Amherst traveled to Middlebury on the final weekend of the regular season and lost to the Panthers by a 4-2 score that included a clinching empty net goal with just eight seconds remaining.
"That game could have gone either way," commented Panther head coach Bill Beaney. "We scored a couple of power-play goals and received some good goaltending and those are the keys to success at this point in the season if you want to keep playing.
"Amherst has a very good team with good goaltending and great special teams so this will be a close game. We are healthy for the fist time in a long time and have everybody ready to go. Sometimes it's easier to play these games away from home — there are fewer distractions. I am expecting a very good game against a strong team and we'll see what happens."
One thing working in Amherst's favor is that they will not be facing the Panthers on the big ice sheet but on the tighter confines at Colby which should help the Lord Jeffs. Cole Anderson got the win in last week's overtime game against Conn. College and he or fellow freshman Jonathan Larose will have to match the big game experience of Middlebury's Ross Cherry or Doug Raeder. The Lord Jeffs converted on two power play opportunities last week and will need to take advantage this week if the Panthers spend any time in the box.
Prediction: Amherst has talent and solid defense backed by very good goaltending. Middlebury has talent and a team chemistry that just seems to rise to the occasion this time of the year. Tom Maldonado leads a special group of seniors to their fourth consecutive championship game by a 3-1 score.
Championship Game: Middlebury vs. Colby
The game in mid-January went Middlebury's way by a 4-1 score. The Mules are 10-3 at home this season and have given up just seven goals in their last seven home games, going 6-1-0 in that stretch. This game should mirror the first in its pace and spirited play with few penalties or mistakes. Goals will come at a premium and one in the extra session will decide it. A 2-1 win for the Panthers is decided on their overall big game experience which is clearly an acquired skill.
It's hard to believe we are at the final weekend for conference play but it has indeed arrived. It has been another phenomenal season for sure with surprises and great hockey top to bottom in both conferences.
This will be the last column of the season before we move to previewing and covering the NCAA tournament over the next couple of weeks. Many thanks to all of the member institutions, the players, the coaches, assistant coaches and sports information directors for their support in helping me keeping you informed on the ECAC East and NESCAC conferences. Your support is much appreciated.
To all the fans, parents and students, I hope you enjoyed your team on the ice this season and are excited about the big games still left to play. There can only be one team that wins its final game and the numbers of eligible teams are dropping dramatically as we move into mid-March. The stakes are high and so too is the level of play. This really is as good as it gets!
Drop the puck!