Joe Finley, North Dakota's 6-7, 245-pound defenseman, has never shied away from fighting, although he has yet to drop the gloves in college as he nears the end of his junior season.
"You have to have a willing combatant," he noted. "I've kind of struggled to find one the past few years."
But then he suddenly remembered the last time another player wanted to fight him. It was his sophomore defensive partner, the 5-8, 165-pound Chay Genoway.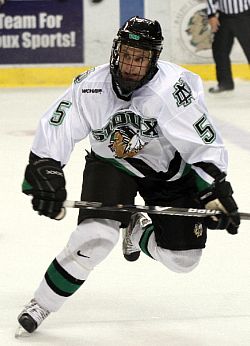 "Actually, in preseason, Chay and I dropped the gloves because we were getting on each other's nerves," recalled Finley, a No. 1 draft choice of the NHL's Washington Capitals. "We didn't end up throwing any bombs."
"It was more of a wrestling match on the ice," Genoway sheepishly admitted.
Opposites, it seems, do attract. Even though Finley and Genoway are polar opposites in appearance and playing style, they're one of the most effective defensive pairs in the WCHA.
On a team that surrenders a mere 1.74 goals per game — first in the nation — Genoway is second among defensemen in conference scoring (18 points) and Finley is sixth (14 points). Finley leads the Sioux with a +26 rating while Genoway is second at +21.
The two weren't paired on defense until UND's regular season was half over. Perhaps not coincidentally, the Sioux are 17-3-1 in the games Finley and Genoway started together. Before that, the team struggled to keep its record above .500.
"We knew that Chay was good on the right side and that Joe was very effective on the left side," said UND coach Dave Hakstol. "We thought that by putting a smaller puck-moving guy on the right side with him, there might be some chemistry. You only find that out by putting guys together."
Hakstol said one reason the pair plays so well together is because of something they have in common: they both like to talk on and off the ice. After UND's tough three-game playoff series against Michigan Tech, the coach spotted the duo discussing Sunday's game long after it ended.
"Those two guys sat in the locker room and talked a lot about their play," he said. "They sit and hash it out. That's their way of trying to improve."
"I think we get along because we do a lot of talking," Genoway said. "I think we're honest with each other, and that's helped us as a pairing. We're able to talk about things. We're not shy guys.
"When we're out on the ice, that's how we communicate," he continued. "The other stuff with other teams, that just goes along with the game. Communicating together is our biggest strength."
"We sit next to each other in the locker room in between periods and at practice," Finley added. "We're always chatting it up about something. It's nice to have a comfort level. We're keeping it light right up until game time."
Finley, the prototypical big defenseman, grabbed the attention of NHL scouts and was drafted by Washington right out of high school. The Edina, Minn., native accelerated his studies to graduate a year early following a season in the USHL with the Sioux Falls, S.D., Stampede.
Although he came to UND as a 17-year-old freshman, Hakstol said Finley's development has been similar to other former Sioux defenseman now playing in the NHL, such Mike Commodore (Ottawa), David Hale (Calgary), Matt Jones (Phoenix), Matt Greene (Edmonton) and Matt Smaby (Tampa Bay).
"If you're going to play defense at UND, you have to have certain abilities," Hakstol said. "You have to protect your end and be efficient at moving the puck out of your end. You then add offense and become more physical.
"Joe's very efficient at moving the puck on most nights," he said "That's one of his strengths. He has very good offensive instincts and he shoots the puck very well. He's adding parts to his game as he develops. That's what development is all about. It's not a race. It's a process of steadily making improvements to your game."
As an offensive defenseman, Hakstol said Genoway's development has been exceptional.
"The offensive side for Chay is natural," Hakstol said. "What's starting to make Chay very effective now is his decision-making. He's deciding when to make a dynamic play or a play to take the team out of trouble. That part of his development is what's accelerated."
Finley began the season paired with senior defenseman Robbie Bina, with whom he'd played the previous season. Genoway started out on defense paired with junior Taylor Chorney for the first seven games of the season.
However, in the first half of the season with the team struggling to win back-to-back games, Hakstol began juggling the defensive pairings. Genoway bounced around between playing forward and defense before being put back on defense full time.
Finley and Genoway first played as a defensive pair Dec. 29. The Sioux defeated New Hampshire 3-1 the previous night and were leading 3-2 in the third period when the Wildcats scored three unanswered goals in just over four minutes. UNH went on to win 7-4.
In UND's next game Jan. 4 at St. Cloud State, the pair started their second game together. The Sioux led 2-0 early in the third period, but gave up three unanswered goals and lost 3-2. Despite the inauspicious start, Hakstol decided to keep Finley and Genoway together.
"That game against UNH was probably 53 of the best minutes we'd played all year," Hakstol explained. "It was the same way in the game against SCSU that we lost. You still have to evaluate the performance, not just the absolute outcome. As a staff, we evaluated their performance and it was positive."
Finley believes the move was good for him, for Genoway and the team.
"When we got switched up, I felt like I didn't skip a beat with Chay," Finley said. "I think the most important thing pairing up with Chay did for us is that it got him off playing forward. It was definitely nice to have him back on the blue line. It allowed us to have some stability. You know who you're playing with night in and night out. You also start developing that chemistry that's going to pay dividends down the stretch."
"When a team in general is not doing really well, mixing it up is just kind of the natural thing to do," Genoway said. "I think that's what happened. Once you start winning, things just kind of fall into place a little bit."
And start winning they did. After the loss to SCSU, the Sioux went undefeated for 18 straight games until Michigan Tech beat them 3-2 in overtime last Saturday. Finley and Genoway played as a defensive pair in 16 of those 18 games.
Genoway suffered an arm injury March 2 at Minnesota Duluth when he was checked from behind. He didn't play in the last regular season series at home against SCSU and was questionable heading into UND's playoff series last weekend against Michigan Tech. He did play, however, and notched three assists.
"I felt fine," he said after playing three games in three days. "Things are coming along great. I hope to be 100 percent pretty quick. If there's going to be an injury, this wasn't a bad one to have."
Genoway, a native of Morden, Man., followed in the footsteps of his brother Colby, a forward at UND from 2002-2005. He played at Shattuck-St. Mary's in Faribault, Minn., which has produced such notable UND players as Zach Parise (New Jersey), Jonathan Toews (Chicago) and junior forward Ryan Duncan, last year's Hobey Baker Award winner. He spent a season in the British Columbia Hockey League with the Vernon Vipers before attending UND.
"With my brother playing here, this is where I always wanted to play," Genoway said. "It was the big dream and goal."
If the pattern holds, this season could be Finley's last at UND before he turns pro. Genoway, who's undrafted, knows that it's difficult for a small defenseman to break into the NHL.
"Obviously, everyone's goal is to play pro hockey, but right now, it seems like a distant goal for me," he noted. "I've got a couple more years here to play. I've got a lot of things to prove and improve on.
"I'm just looking forward to getting better here and, hopefully, winning some championships along the way," he said.