Midway through the second period of the Northeast Regional final, Boston College's hopes of an eighth trip in 11 years to the Frozen Four were dimming. Miami, the number two overall seed, held a 2-0 lead and had forced two straight power plays.
Then 14 seconds changed everything. On a delayed penalty, Matt Price set up Nick Petrecki. Before the crowd noise subsided, the Eagles turned a three-on-three into a three-on-two and Nathan Gerbe scored from the left post. Another 1:44 later, Ben Smith converted Dan Bertram's feed on a two-on-one to give BC a stunning 3-2 lead.
Even after Miami rallied to tie it with a third-period goal and was controlling most of the overtime, Joe Whitney's sprawling highlight-reel goal sent Boston College to yet another Frozen Four.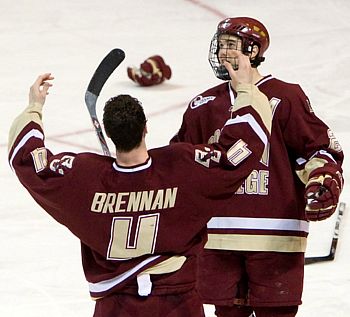 Perhaps it shouldn't have been so surprising. (Full disclosure: in the middle of the second period, this writer began a very different feature titled, "The Last One Bites The Dust.") Hadn't people, including yours truly, been paying attention?
Over the last 11 years, no college hockey team has enjoyed more consistent postseason success. The Eagles have won six Hockey East championships, advanced to the Frozen Four eight times, and the national title game five times, including the last two. The Eagles postseason winning percentage of .786 during that stretch tops all college hockey.
(Here are the top five teams in that statistic, including Sunday's games.)
Boston College: 55-15, .786
Michigan: 52-18, .743
Maine: 37-14, .725
Minnesota: 40-21, .656
North Dakota: 45-24, .652
In the postseason, success breeds success. There's a confidence and comfort level even when the going gets tough such as in this game's second period and overtime.
"This is the best team that I've had as far as making the most of what we have, the karma that exists in the room, and just the confidence level," BC coach Jerry York says. "When you start going to these Frozen Fours, you build up a pedigree and you feel like you belong."
A junior like Andrew Orpik, whose older brother Brooks played three years at BC, can now boast of his family being six-for-six in getting to the Frozen Four.
"We know the tradition," senior captain Mike Brennan says. "We understand the tradition. Marty Reasoner. Brian Gionta. Brooks Orpik."
Veteran leaders like Brennan pass the tradition and pedigree on to freshmen like Whitney, who first saw it from the stands in 1998 when Reasoner and Gionta took Michigan into overtime before falling.
"They've been there before," Whitney says. "They know how to win. They want to pass it down to the freshmen and sophomores and keep this tradition going."
Arguably only one thing remains for this postseason success to become a true BC Era: a few more national championships. Of those five trips to the title game, only 2001 finished with a BC happy ending. The Eagles have had a few more "close but no cigar" finishes than they'd like, starting with the 1998 overtime heartbreaker to Michigan up to last year's final-minute loss to Michigan State.
"We've won a lot of big games to get to these Frozen Fours and just come up short," York says. "If we get back [to the title game] again, I'll be ecstatic and hope we get some puck luck this time."
Will the Eagles complete their unfinished business and solidify their claim a BC Era?
"The team chemistry is there," Brennan says. "We'll be ready."