If anyone forgot that North Dakota forward Ryan Duncan won the Hobey Baker Memorial Award last season, he served notice during the NCAA Midwest Regional in Madison that he's still around and a force to be reckoned with.
In UND's 5-1 victory over Princeton, the 5-6, 159-pound junior notched his first career hat trick, scoring the game-winning goal with his quick, deadly-accurate wrist shot from just below the right circle.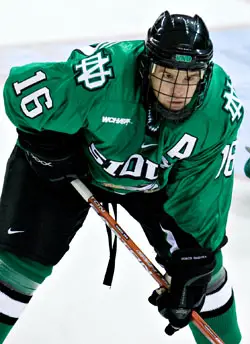 Trailing Wisconsin 2-1 in the third period, Duncan rifled a drop pass from linemate T.J. Oshie into the far corner under the crossbar to tie the game. The Fighting Sioux went on to defeat the Badgers 3-2 in overtime, earning their fourth consecutive trip to the Frozen Four.
For Duncan, 22, his 18 goals and 22 assists thus far this season have been a drop from the previous season, in which he recorded 31 goals and 26 assists. That performance earned the Calgary, Alb., native the Hobey Baker, making him the second UND player to earn the honor since Tony Hrkac did it in 1987 with an NCAA-record 116 points.
Although big things were expected of Duncan this season playing on a veteran Sioux team loaded with talent, he considers his performance secondary to the team's success. He visited with USCHO about what winning the award meant to him, his season as a returning Hobey winner and his plans for the future.
USCHO: Last year at this time, you knew that you were one of three candidates in contention for the Hobey Baker Award. Do you feel as if there's less pressure on you heading into this year's Frozen Four?
Duncan: I don't think it's that big of difference. I think people and the media kind of blow that up, that it's a distraction. That was just something that was a bonus to me, something extra. The only thing that was really different was a little extra media attention, a couple extra interviews. But that was not a burden at all to me. It was a special moment for me and the whole process of the Hobey Baker was real enjoyable. It won't be a distraction for the guys going through it now (Michigan's Kevin Porter, Boston College's Nate Gerbe and Miami's Ryan Jones). They'll just go out there and play their game.
USCHO: Last year, after UND was defeated in the first round of the Frozen Four by Boston College and the team went back to Grand Forks without you, what was it like when you got home after winning the Hobey and all your teammates showed up at the airport to welcome you?
Duncan: That was probably the most special thing for me, actually. It was unfortunate that we couldn't all be there as a team to enjoy it because, in my opinion, it was a huge team award. They had a lot to contribute to that award. When I came back, just to see those guys waiting for me, it wasn't something I expected or I hoped would happen. Just to see them meeting me there, that's the part that meant the most to me. Playing this game, you remember the wins and the losses, but it's the time you spend in the locker room with the guys and the friendships you build that are the things you'll carry with you the rest of your life.
USCHO: Your father, Bob, played at UND and you've credited him with helping your development in hockey. Watching his reaction when you were named the Hobey winner, it was obvious that he was quite emotional about it. What has he said to you about the event since it happened?
Duncan: His reaction was the same as mine and the rest of the Fighting Sioux nation. Everybody was pretty surprised. I don't think many people thought I had a shot. The other two guys in the final three with me (forward Eric Ehn of the Air Force Academy and goalie David Brown of Notre Dame) had tremendous resumes. My father and I have talked about it a little bit. It still hasn't sunk in for me, at least. He spoke to me in the off season and said, 'You know, that's a pretty big deal.' I just try to concentrate on the task at hand, but he tells me that it's something I'm going to enjoy and look back on and be proud of. I know he's proud of me and he should be proud of himself because he had a lot to do with it. It's something that, hopefully, when my hockey career is over, I'll be able to enjoy it a lot more than I do now and realize what it really means.
USCHO: What does it mean to you to be one of only two UND players to win the Hobey, knowing that the last Sioux player to win it 20 years ago was Tony Hrkac?
Duncan: It's pretty unbelievable because I think it was just the right set of circumstances for me. If you look at (T.J.) Oshie and Phil (Lamoureux) this year, they had tremendous years. For some reason, they were counted out. They weren't picked for the final three. It just comes down to the final decision of the committee at the time and what they're feeling and what the other guys around the country are doing. Look at the guys who are up for the Hobey Baker this year. You've got Kevin Porter and Nathan Gerbe with over 60 points going into it. I finished with 57 last year. It might be a little different if I was putting up those numbers this year. I might not have as good of a chance. It's just the circumstances and the situation. It was definitely a great honor for me.
USCHO: As one of the few players to return to college hockey after winning the Hobey, did you feel as if there was extra pressure to duplicate or improve upon your performance from the previous season?
Duncan: I didn't feel any extra pressure. You come back to a team with Oshie, Lamoureux and (Taylor) Chorney and all those guys who come into the season with expectations on them as well. I think there were more expectations on us as a team. The only pressure on me was the pressure I put on myself. It had nothing to do with the outside pressure. Obviously, there was going to be pressure on me coming back. I knew that. I just wanted to make sure that I came out and contributed as much as I could. I knew it wasn't very likely that I'd have the same offensive statistics that I did last year, but I'm just trying to contribute any way I can and hopefully develop as a hockey player. If we're winning, it doesn't really matter what I'm doing.
USCHO: Throughout the season, it appeared that opposing teams made you the object of extra attention. Did you expect that? How did you deal with it?
Duncan: That's something I've had to deal with before. So, yeah, I kind of expected it. Even last year when it was the line with me, Jonathan (Toews) and Oshie, they'd put their top defensive unit against us all the time. That was added attention on us. It's something that wasn't new. It was something I expected. Hopefully, with our team now, when we're playing our game, if they shut me down, they're going to have to deal with six or seven other guys. That's something I've had to deal with and I don't think it was an issue this year.
USCHO: After UND made it to the Frozen Four last year and you won the Hobey, some were surprised that you didn't turn pro, even though you had the opportunity and said it was your dream to do so. Are you glad you came back for your junior season?
Duncan: Yeah, no doubt. The NHL is always going to be there. Some people may say that my stock was never going to be higher than it was last year, but that's fine. Money's one thing. The NHL's always going to be there and, hopefully, I'll prove that I developed as a player enough this year and I'll be able to continue on, whether it's this year or next year. Hopefully I get to that point where I'll still have an opportunity. Even if I'd turned pro last year, if I didn't play good enough this year, I wouldn't have had the opportunity to play in the NHL anyway. I want to keep getting better as a player and hopefully I can have a long career whenever I decide to go pro.
USCHO: So you're not ruling out the possibility of another year at UND?
Duncan: No, I haven't made a decision yet. Like I said, my stock was probably higher last year, so who knows if there's any interest in me now. That's something I'll look at with my family and friends after the season ends and then I'll make a decision.
USCHO: Did the pact you made with Oshie, Chorney and Joe Finley to stay at UND rather than turn pro make it easier for you to come back this season?
Duncan: I think it's just individual circumstances. It was definitely something special to know that you're going to be coming back to play with great players like T.J. Oshie, Taylor Chorney and Joe Finley and all those guys who came back. It definitely had an effect on my decision because you want to come back and be part of a group like that. There's going to be great players playing every year here at the University of North Dakota. Coming back, I wanted to do what was best for me with schooling and also my hockey career.
USCHO: Looking back on the past year, what has it been like to go through an entire season as the Hobey winner? What advice would you give to this year's winner?
Duncan: It's been unbelievable. To this year's winner, just enjoy the whole process. It's unbelievable, the whole thing. It's very unique. It's a once-in-a-lifetime opportunity. I thoroughly enjoyed how everybody treated me and how supportive everybody's been. Coming back to a community like Grand Forks, they treat you pretty well. I wish the guy who ends up winning it best of luck. All three of those guys who are up for it have had tremendous careers and they've had great years. They're going to do a great job representing the award and I wish them the best of luck.