Michigan vs. Notre Dame
Thursday, 7 p.m. MT, Pepsi Center, Denver
Michigan Wolverines
Record: 33-5-4, 20-4-4 CCHA (first)
Seed: No. 1 overall, No. 1 East
Road to Frozen Four: Beat Niagara 5-1; beat Clarkson 2-0
2007 NCAA tournament: Lost in regional semifinal
It's hard to think of the Wolverines as anybody's Cinderella, but given the expectations Michigan had coming into this season, it's not so difficult to imagine that glass slipper.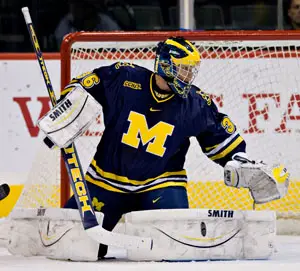 Starting the season with a dozen freshmen and two seniors on the roster and a junior goaltender who had not yet lived up to expectations, the team that had never finished lower than tied for second in the CCHA league standings since the 1989-90 season was picked fourth in preseason polls by both the league coaches and media.
The Wolverines were expected to rebuild this year, not to contend.
"We've had a good year," said UM associate head coach Mel Pearson, taking a page from head coach Red Berenson's big book of understatements.
"At the start of the year with all the freshmen … we weren't quite sure what to expect out of this team, but we were led by Kevin Porter and Chad Kolarik, two seniors who came back to Michigan to make a difference and they have this year."
Porter and Kolarik set out immediately to build a team in August with activities scheduled to welcome the many new faces, and in the process the two helped build a squad that amassed 33 wins with two season streaks of 10 or more wins.
Five of the Michigan newcomers, all forwards, have registered 10 or more goals: Louie Caporusso (12-9–21); Carl Hagelin (10-10–20); Max Pacioretty (15-23–38); Aaron Palushaj (10-31–41); and Matt Rust (11-10–21).
Given the number of freshmen who started the year with Michigan — defenseman Kevin Quick was dismissed from the team at midseason — everyone knew that the rookies would have to mature fast and contribute. What they didn't know, though, was how coachable the youngsters would be.
"Throughout the entire year, they've been unbelievable," said Porter, the team captain. "They come to the rink, they work hard, they keep their mouths shut, they do what they're told."
The freshmen weren't the only coachable kids on this year's Michigan roster. Junior goaltender Billy Sauer (1.89 GAA, .927 SV%) went from having the 52nd-best goals-against average and 51st-best save percentage nationally a year ago to fourth and ninth in those categories this year, respectively.
Sauer, who came into Ann Arbor as a 17-year-old freshman two years ago, has benefited from the steady tutelage this year of former Michigan goaltender Josh Blackburn.
"We're very fortunate that Josh is in the area and was able to help us come out with Billy Sauer," said Pearson. "Just having a goalie who's gone through some of the experiences that Billy has and being able to talk to someone about that has been huge for Billy Sauer and I think Billy would echo my comments on that."
Sauer's solid play — he allowed just one goal total in two games against Niagara and Clarkson in the NCAA East regional — gave the young Wolverine blueline time to mature early in the season. With the exception of junior Mark Mitera (2-21–23), the UM defense is all freshman and sophomores.
"Mark has done an excellent job," said Pearson. "Kevin and Chad are forwards and have done a nice job with our forwards, but Mark has been our leader on defense and he took those four young freshmen under his wing and did a real nice job with them."
Excellent is a word that can be used to describe Porter (33-29–62) and Kolarik (28-26–54), who have provided the best one-two punch in college hockey this season, and the trio of Porter, Kolarik and Pacioretty has combined for 76 goals and 78 assists this year, the most productive line in men's Division I college hockey. Michigan's offense is second-best in the nation, averaging 3.95 goals per game.
"We've been fortunate to have good secondary scoring this year on the team," said Pearson. "We feel we have a number of players given the opportunity, given the chance, who can finish. You can't really shut down any one line.
"We know at this time of year that goals are precious. You're going to get them from different sources, not just your big guns."
Michigan's defense (2.00) is fourth-best nationally. "The last six games we've played very well defensively," said Pearson. "We feel we're playing the best we have all year defensively. We're in a situation right now where we think we're peaking at the right time."
And while a team in the midst of its 18th consecutive NCAA tournament appearance and fourth Frozen Four appearance in the last 10 years may not seem like fairy-tale material, the trip to Denver is magical for this Michigan team.
"My first three years we obviously didn't make it [to the Frozen Four]," said Porter. "This year's been pretty special to actually make it to the Frozen Four, to win the CCHA league and playoffs, to win the Showcase and the GLI — it's just been a tremendous year.
"I don't think anyone would have thought we'd be where we are now, with two seniors and 11 freshmen, but we've played well all year and here we are going to Denver."
Notre Dame Fighting Irish
Record: 26-15-4, 15-9-4 CCHA (fourth)
Seed: No. 13 overall, No. 4 West
Road to Frozen Four: Beat New Hampshire, 7-3; beat Michigan State, 3-1
2007 NCAA tournament: Lost in regional final
Apparently, a fourth-place finish for the regular season in the CCHA is something of a charm. Last year, Michigan State finished behind Notre Dame, Michigan and Miami in the league standings and went on to become the first CCHA team to capture a national championship since Michigan won its ninth NCAA title in 1998.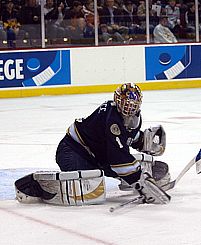 This year, the Fighting Irish are attempting to become the second consecutive fourth-place team from the CCHA to capture the crown in their first chance to win a national championship in Notre Dame's 40 long years of hockey. It's also ND's third trip to the NCAA tournament overall, and its second consecutive bid under the stewardship of third-year head coach Jeff Jackson.
And given the Irish's No. 13 overall seed in the NCAA tournament two weeks ago, Jackson is well aware that his team is living something of a charmed life.
"Going into the regional tournament," said Jackson, "I think only within our locker room were the expectations high."
The trip to Denver went through nearby Colorado Springs for the Irish, who upset the No. 1 seed in the bracket, New Hampshire, by the improbable score of 7-3. Then Notre Dame faced CCHA rival and defending national champions, the Michigan State Spartans, in the tournament final and beat them 3-1.
"The Michigan State game, we knew it was going to be difficult with Jeff Lerg in goal and the defensive style that they play exceptionally well, that it was going to be difficult to score many goals," said Jackson, "and we were just fortunate to be able to respond at the end of the game to score two late goals, and here we are."
Goal-scoring was the issue for the Irish going into the regional, as Notre Dame had stumbled offensively in the second half of the season after finishing December as one of the top five offensive teams in the country. In their last 11 regular-season games, the Irish netted two or fewer goals; in the CCHA championship tournament in Detroit, Notre Dame mustered just two goals in two games for two 2-1 losses.
A week and 10 goals later, the Irish were Denver-bound.
"Confidence is a tricky thing," said Jackson. "Coaches have a difficult time in dealing with it. [After midseason] I tried a lot of different things to make the guys just loosen up a little bit … because they put pressure on themselves.
"I think it became a collective thing, too. It just kind of went across our whole team. We had inconsistency throughout our lineup as far as scoring goals. It impacted our power play, it impacted our five-on-five play, but the one positive thing for me though is that through that whole process is that we didn't lose sight of playing well in our own end and do as well as we could to potentially win games two to one.
"I think that throughout that process we could have broken down and started cheating and taking shortcuts and all of a sudden we're losing 6-3 as opposed to 2-1. I think it made us a little more respectful of the defensive end of the ice and in the process we've started to be able to take that offensive game from our defensive game and be able to transition it."
That attention to defense has paid off for the Irish, who have the fifth-lowest goals-against average nationally as a team (2.04) in front of a goaltender who has received little attention this season, junior Jordan Pearce (1.95 GAA, .917 SV%), who backed up Hobey Baker finalist David Brown for two years.
Senior captain Mark Van Guilder, who scored the game-winner against MSU in the West Regional with 5:54 to go in regulation, said that Pearce hasn't been bothered that no one has noticed his career season.
"He's been huge for us, and it's really been special what he's been able to do this year," said Van Guilder. "This team's so confident in him and his ability and I think that's all that really matters to him."
Van Guilder (12-17–29) is one of four active forwards with 10 or more goals for the Irish, a list that also includes sophomore Ryan Thang (17-13–30), junior Christian Hanson (13-9–22) and freshman Ben Ryan (10-16–26). Their leading scorer, junior Erik Condra (15-23–38), is out with an injury. Freshman defenseman Ian Cole (8-10–18) has four goals and one assist in seven postseason games. The Irish offense is 19th nationally, averaging 2.89 goals per game.
Notre Dame's power play operates at 15.4 percent for 39th-best in the nation, but the ND PK is second (89.6).
"I'm excited about this opportunity, I know our team will be excited about it, but I always say that the most important thing is to try to put yourself in the position to win a championship," said Jackson.
To Van Guilder and his classmates, who won five games in their rookie season, being in this position is a bit surreal.
"I've been asked a couple of times, 'Would you ever think this is possible freshman year?' Honestly, I just wanted to win. After only winning five games … I just wanted to start winning some hockey games.
"The Frozen Four was probably the furthest thing from my mind."