Mike Brennan realized he wasn't going to morph into the second coming of Bobby Orr or Ray Bourque when he accepted a scholarship to Boston College four years ago.
A senior defenseman and the Eagles' captain this season, Brennan has played in all 166 games in his career but has scored only seven goals and assisted on 35. But the fact that he's developed into a solid "defensive" defenseman is a major reason why Boston College is playing in its third consecutive Frozen Four this week.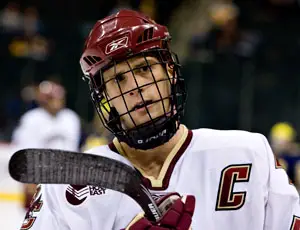 "I know I don't score a lot of points and my name doesn't appear on the stat sheet every game," said Brennan. "But you have to bring something to the table. In my case, I feel I play with a bit of an edge and I compete extremely hard. I play with a lot of desire and try to be as consistent as possible."
Brennan, admittedly, was "too" consistent each of the last two years when it came to being penalized.
He was assessed 88 penalty minutes as a junior and 87 as a sophomore. But in 42 games this season, he's reduced his penalty minutes to 50. Not surprisingly, with Brennan on the ice more than in the past, BC (23-11-8) captured both the Hockey East tournament and Northeast Regional championships.
"I took too many penalties each of the last two years and that hurt the team," said Brennan. "For me, it was a matter of finding a happy medium … something like drawing a line in the sand (or ice, as the case may be) and not crossing it."
Brennan and his teammates would like to cross a seemingly impenetrable barrier this week and win the national championship — something that's eluded them each of the last two seasons.
Wisconsin edged BC, 3-2, in the 2006 finals and Michigan State scored two late goals a year ago and won, 3-1.
"We're really excited to be going back … I think it's something like eight times in the last 11 years (that BC has played in the Frozen Four)," said Brennan. "Every year that's one of our goals but you never know if you're going to get there.
"Our team is extremely focused. We have as good a shot as anybody to come away with (the championship)."
Brennan, admittedly, has been focused this season on his role as team captain, an honor he shares with former BC greats like Marty Reasoner, Brooks Orpik and Brian Gionta.
"I think you try to set an example for the rest of the guys, especially the young guys," said Brennan. "I try to be as consistent as possible with every one of my teammates. I treat them all the same.
"You come down on them when you have to. But you don't want to be too firm all the time or they shut you out. There's a lot that goes into it but there are a lot of guys on this team that have taken a leadership role, so you don't necessarily need to have a letter on your sweater to be a leader on this team."
The leadership manifested by Brennan & Co. arguably was on display in the Northeast Regional.
Miami (Ohio) bolted to a 2-0 lead in the semifinals before BC rallied for a 4-3 victory in overtime.
Then, in a championship game for the ages, BC spotted New Hampshire a 4-1 lead and rallied for a 5-4 victory — in a third overtime.
"There's always that sense of urgency," said Brennan. "This team has been down a few times but we just keep battling. Some people say this isn't the most talented group of BC players that we've had. But it's definitely one of the hardest-working teams.
"We never give up and we never let down. We know that the 24 guys in that room, when they hit the ice, they're going to try as hard as they can until the (final) buzzer sounds. If it's a loss, it's a loss. But luckily we've been coming from behind and winning.
"Hopefully," continued Brennan, "we won't have to do it again."
BC's semifinal opponent is North Dakota. For starters, the Fighting Sioux boast one of the very best goalies in J.P. Lamoureux, who leads the nation in both goals-against average (1.63) and save percentage (.935).
Plus there's a matter of unfinished business.
When North Dakota visited Boston College on Oct. 19, the game was called after two periods with the teams locked in a scoreless tie due to poor ice conditions and a fog that enveloped Conte Forum.
"We didn't get to finish our 0-0 game because it got fogged out," recalled Brennan. "We're excited to have an opportunity to play a full 60 minutes against this team and wee what they're bringing to the table.
"We know they're going to be quick, fast and physical and it's always a good game."
Brennan has played a rinkful of "good games" for iconic coach Jerry York, who annexed his 800th career victory when BC beat Minnesota, 5-2, on March 29.
"It took a little while because we had a lot of ties," said Brennan. "But that's one of the things we wanted to do for him as a team. He's been in this game for such a long time and it's incredible he has that many wins. Hopefully, we can keep pushing forward and take the (national) title.
"One thing Coach always stresses is being in the present. Whenever a big game comes up, he just says we prepare the same way and go out there and try to hang banners and win championships. That's one thing we stress at BC.
"We want to chase championships," continued Brennan, "and bring home some hardware."