For his efforts in leading the Wolverines of the University of Michigan to both the CCHA regular season and tournament titles, Gordon "Red" Berenson has been chosen winner of the 2008 Spencer Penrose Award as Division I Men's Coach of the Year. Michigan went 33-6-4, ending the regular season at No. 1 in the USCHO.com/CSTV Division I men's poll and as the top seed in the NCAA tournament.
Making the accomplishment even more impressive was the fact that Michigan regularly skated as many as ten freshmen in a game.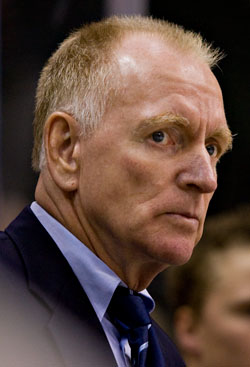 The Wolverines won the NCAA East Regional with victories over Niagara (5-1) and Clarkson (2-0) to advance to the NCAA Frozen Four in Denver. There, the season ended with a 5-4 overtime loss to Notre Dame in the semifinals. Michigan captain Kevin Porter was presented the Hobey Baker Award as the nation's best player.
This is the first national Coach of the Year award for Berenson who has compiled a career mark of 644-298-68 in 24 seasons at Michigan. His 644 wins rank him eighth all-time among all NCAA coaches.
The 2007-08 edition of the Wolverines qualified for the NCAA Tournament for a record 18th consecutive year. The CCHA regular season and tournament titles were the 10th and 8th, respectively for Berenson.
A native of Regina, Saskatchewan, Berenson was a two-time All-American and a captain at Michigan, graduating in 1962. He followed his college exploits with a 17-year NHL career in which he scored 261 goals and had 397 assists, playing 987 games for Montreal, New York, Detroit, and St. Louis. He once scored six goals in a single game against Philadelphia, four of the goals coming in a nine-minute span.
Before starting his college coaching career at Michigan in 1984, Berenson coached briefly in the NHL, earning Coach of the Year honors with St. Louis in 1981. His contributions to the game were recognized most notably when USA Hockey and the National Hockey League presented him the Lester Patrick Trophy in 2006.
The runners-up for this year's AHCA Men's Division I Coach of the Year award were Guy Gadowsky of Princeton University and Jerry York of Boston College.
The Spencer Penrose Award is named in memory of the Colorado Springs benefactor who built the Broadmoor Hotel Complex, site of the first ten NCAA championship hockey tournaments. It will be presented at the AHCA Coach of the Year Banquet in Naples, Florida, on Saturday evening, April 26.