Offense
The Crimson parted ways with eight seniors over the summer, six of whom were forwards taking frequent and regular shifts. Overall, the Cantab roster (short for Cantabridgian, a.k.a. Cambridge native, somehow) is 52 goals and 68 assists short of where it wrapped up last year. That's more than half its goal production out the door, and 45 percent of its overall points.
This could pose a problem.
The Crimson finished in the middle of the pack in league goals, and fourth in the ECAC in overall goals in 2007-08. Returning scorers include third-year Rogers (13-19-32) and soph Michael Biega (9-7-16), but they are the only veterans who topped five goals last time out. For an offense that earns its living on smart, crisp plays and disciplined positioning and route-running, indoctrinating the youth will have to be a top priority for Ted Donato and his staff.
"There's plenty of reason for optimism with the guys we have returning," said the fifth-year bench boss and Harvard alumnus, "but there's certainly the need for adjustment. There's room for a lot of growth and we have the potential to be right there when the dust settles at the end of the season."
Rogers and third-year defenseman Alex Biega will be expected to ignite the offense this winter, but Donato also looks to sophomore forward Matt McCollem as a potential game-changer.
"He got off to a slow start [last year], but in the last third or half of the season he was superb. He's got the physical tools that make him very difficult to stop when he's on his game," said Coach.
Among the freshmen, Tampa Bay pick Alex Killorn out of Deerfield Prep received a nod from Donato as a player to watch.
"We hope that everyone will come in and have an impact," he began, but Killorn "is a very talented guy, who could step in and have an immediate impact."
The six-foot, 170-pound 19-year-old went 77th in the 2007 entry draft, and was a member of the Quebec Under-17 team in 2006.
Defense
MacDonald and Christian (who is expected to return to the program next season) earned a lot of ice time with their dependable play last year, and any coach will tell you that a reliable rearguard is worth 20 unpredictable blueline snipers.
That said, Biega and McCafferty each put up a lot of assists (19 and 14, respectively) last season in 30-plus games apiece. Junior Chad Morin and surprise-success Ian Tallett played their way into regular rotation, and former blue-chip recruit Chris Huxley should come into camp with something to prove after Tallett bumped the sophomore out of the lineup by season's end.
Local Peter Starrett (STAIR-it, for the record) is already measured at six-three, 212 pounds, and that's before Harvard's strength team gets its hands on him. The Catholic Memorial player turned 19 in April, and will be challenged by incoming classmate Ryan Grimshaw, a six-footer out of the National Team Development Program in Ann Arbor, Mich.
Goaltending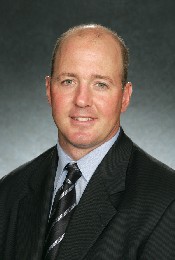 "No question, we have some questions in net," stated Donato. "We'll have to be realistic [about that] early."
With Kyle Richter gone for the year (also expected to return for 2009-10), the available options in goal played fewer minutes last year than nobody at all: Harvard played with an empty net in 2007-08 more than it did with either sophomore Ryan Carroll or junior John Riley between the pipes.
Big six-foot-three, 195-pound Matt Hoyle will join the fray after playing with Indiana of the USHL last season. The 18-year-old was also a divisional Rookie of the Year in the Ontario Provincial league in 2007.
Outlook
Let's be honest, Harvard would be sitting much prettier had Richter stuck around. You can't just replace a Dryden Award-winner with someone equal to that task (unless you're Cornell). The team went from battle-tested to green overnight, and even the defense — once thought to be remarkably deep — is now a bit of an unknown quantity.
"We're big on talent, but we're going to be young," summed Donato. "I don't think we're going to make a lot of [extra] adjustments early … but we're going to have to be tight."
The coach was speaking about his defense in that quote, but it seems pretty accurate across the board right now. It's a team with top-four aspirations, but realistically, home ice in the first round should be considered an acceptable achievement.