After winning the MacNaughton Cup last season and featuring the league's Player and Rookie of the Year in goaltender Richard Bachman, the Colorado College Tigers were unanimously picked to repeat as champions.
And why not? Out of all the teams, the Tigers have the fewest questions. They return most of their offensive and defensive cores and the only question in net is whether Bachman will suffer a sophomore slump or not.
"The key to our success obviously is Richard Bachman and if he's composed to put together the kind of numbers he put up last year," said coach Scott Owens, noting that the question is, "Is he in his sophomore campaign going to be able to come back and give us that kind of a year as well?"
Up Front
Besides losing its sniper in the slot, Jimmy Kilpatrick, CC returns quite possibly the most potent line in college hockey — if Owens decides to keep it together — in senior Chad Rau, junior Bill Sweatt and junior Mike Testwuide.
Out of those three, Rau will have to be the one to get things started. However, as everyone knows, teams are not built around one man alone.
"Chad Rau is very key for us, but I think it's going to be important that we diversify our scoring a little bit, spread it out where guys like [Scott] McCulloch, [Eric] Walsky, Sweatt, [and Andreas] Vlassopoulos are able to chime in with good years offensively for us and take some of the scoring pressure off of Chad Rau," said Owens.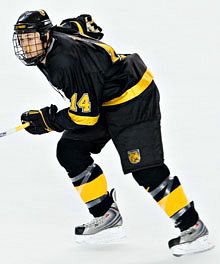 The Tigers won't have to rely much on their freshmen for offense this year, but watch out for David Civitarese, who looked sharp in their exhibition opener.
On the Blue Line
If CC has a question in the starting lineup, it will be the following:
How do the Tigers replace Jack Hillen, who put up 37 points last year (6g, 31a) and was a valuable defensive force?
Obviously, they don't, but they have a few junior defensemen who will have to pick up the slack.
"Brian Connelly and Nate Prosser are going to be real key for us as junior defensemen now and will be logging a lot of the minutes that are going to have to be picked up with Jack Hillen being gone," said Owens.
Along with Connelly and Prosser, the Tigers have juniors Jake Gannon and Kris Fredheim to log a lot of minutes. Sophomore Ryan Lowery will also undoubtedly get a bigger role this season.
In the Crease
In net, CC can be summed up in two words: Richard Bachman.
Okay, it's not quite that easy, but easy enough.
"With his talent and the confidence he's got from his accomplishments last year, we're going to try and ride Richard as much as we can," said Owens.
"Obviously if he can come close to what he did last year, it'll be a big plus for us."
Still, there is a thought that Owens maybe rode Bachman too much last year, which could explain why CC couldn't get out of its own "home" regional. So look for senior Drew O'Connell to get a few starts sprinkled here and there throughout the season. If Bachman falters, he's an able substitute.