Few coaches, facing a winner-goes-to-the-NCAA tournament-loser-goes-home-game, would decide to start a goalie who had barely played in the months leading up to the game. Too much risk, too much second guessing, would be possible. Coaches are generally a conservative lot, and the conservative line is, you go with the guy who got you there.
However, Air Force Coach Frank Serratore isn't every coach, and the goaltender in question, Andrew Volkening, isn't every goalie. During his freshman year, Volkening had struggled at times. As the 2006-2007 Atlantic Hockey playoffs started, Ben Worker was firmly entrenched as Air Force's top goalie.
"As Ben was playing well and winning games for us, 'Volks' was slowly starting to dominate in practice and we could see that, but the team had kind of become Ben's team," says Serratore. "We played Holy Cross in the playoffs, and Ben shut them out, and we went to the Atlantic Conference semifinals and played Sacred Heart, the number one seed at the time, and we won that game in overtime, but Ben did not play well, and we probably should have lost that game. We got lucky.
"Now we're playing Army for the championship and I remember Mike Corbett coming in and saying, 'We have to go with the young guy.' I remember asking, 'Are you sure?' He says, 'We have to. Ben struggled. We can't play the championship game with a struggling goalie. We have to play that card.' It was the toughest decision I've ever had to make, because here's a kid that hasn't played for a long time, and we're throwing him into the biggest game of the year, the biggest game in program history: we're playing the league championship game against our rival service academy.
"Volks has a thing where he doesn't lead the team on the ice, he comes on after the team. So we're playing Army in the championship game and actually Ben Worker led the team on the ice and I saw the Army assistants down one end of the ice watching every move Ben made. The benches are right next to each other in Rochester, and they announce the starting lineups, and Volkening skated out to the blue line and I remember glancing at the Army bench and Brian Riley turns to his assistants and both the assistants threw their hands up in the air and shaking their heads like 'We didn't know, we didn't know!'" Serratore laughs.
Volkening, for his part, took the sudden goalie change in stride. "That was definitely a surprise," he says. "As a freshman, I didn't feel more pressure. I just wanted to do my part and the team took care of me pretty well."
Volkening led the team to a 6-1 triumph in the Army game, and, along with his teammates, had the Minnesota Golden Gophers on the ropes in the NCAA playoffs at the Pepsi Center in Denver, up by two goals in the third period, before falling 4-3.
"I was just kind of really nervous," says Volkening. "That was the biggest crowd I'd ever played in front of and that was the most marbles I'd ever played for. Looking back on it, I'm disappointed it turned out the way it did, especially how we had them in the third period. That's something I'll cherish for the rest of my days, playing the Gophers in Denver in front of what was basically a home crowd."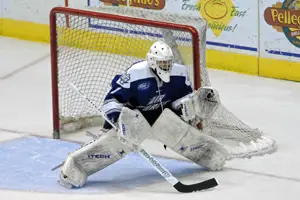 Volkening started his hockey career early, at the age of three, but it wasn't till he was eight that he first donned the goalie pads, after repeatedly begging his parents to allow him to play goal.
Volkening took to his new position quickly, and landed in a variety of programs as he got older.
"I was actually all over the place," Volkening says. "When I was a sophomore in high school in Canada, I played prep school hockey in Canada and a little bit of Junior B up in Alberta, then came back to the Wisconsin area and played Triple A for a bit, and played juniors in Missouri and Alaska, just kind of all over the place. This is actually the first time I've been in one place for more than one year in a row," he laughs.
Volkening first attracted Serratore's attention when he was playing for the Wasila Spirit in the North American Hockey League.
"It's kind of an interesting story," drawls Serratore. "I was in Texas and I was scouting a defenseman for Texas, and I was watching Texas play against Wasilla, and Texas was so much better than Wasilla, they were just pounding them. The shots after the first period were like 18-3. The second period, halfway through, the shots are like 11-1, and I'm getting mad because the defenseman I wanted to scout, I haven't even seen him skate backwards yet because they've been in the offensive zone just pounding pucks at the net. The brilliant scout that I am, towards the end of the second period, the light goes on and I think, 'You know, this goalie is pretty damn good, and I started watching him.'"
After the game, Serratore introduced himself to Volkening and discussed the possibility of Volkening playing at Air Force. Volkening made a trip to Colorado Springs, and shortly thereafter committed.
"I think the thing about Air Force is the whole package deal, the whole career, and Frank sells it really well," says Volkening. "He has great passion and he's a guy I really wanted to play for."
Volkening had a rocky start during his freshman year, and didn't play a game for the Falcons between November and February. Instead of sulking, Volkening kept working hard in practice, and feels the experience greatly helped his play.
"I know when I first came here I was really worried about making mistakes and that really affected my play," says Volkening. "I was kind of inhibited by that fear of making mistakes because I wanted to play, even as a freshman and competing with three other goalies. Once he (Serratore) kind of stopped playing me, I just stopped worrying about making mistakes and just started trying to stop the puck, and to be honest with you I think that for my development that was the best thing that could happen to me."
Volkening and his teammates returned strong for the 2007-2008 season, and Volkening, for one, wasn't worried about the dreaded Sophomore Slump.
"I didn't even think of anything like a sophomore slump because I didn't feel I was dominant enough my freshman year to have something like that," says Volkening. "Going into my sophomore year, I felt I had a lot to prove, and that's basically the way I still look at it."
Volkening went 21-11-6 his sophomore year while starting every game and helped the Falcons repeat as Atlantic Hockey champions, despite losing star forward Eric Ehn late in the year to injury. Again, the Falcons advanced to the NCAA tournament, and again they had a top seed on the ropes before losing, this time against Miami.
"It seems like two years in a row where we had a top team right where we wanted them in the big show and for whatever reason we couldn't put it away, and that's pretty frustrating," says Volkening. "As a team, we're still proud of what we were able to do."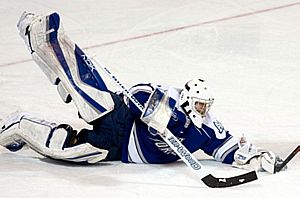 As a player, one of the things that stands out about Volkening is his size. The goalie stands 6'2″ and takes up a lot of room in the net. Teammate Mike Mayra, a defenseman, believes Volkening is quite agile for his size.
"He's pretty athletic. Sometimes the bigger guys aren't the most athletic, but he's definitely an exception to that. He's done a good job of maintaining his physical fitness and working hard at the gym. He's just got a natural athleticism to him that helps a lot.He does a great job of coming out and challenging the puck carrier and taking on the angle so you really don't have much to shoot at when you come in on him. He's good at controlling the rebounds, which makes it much easier for the defense to do our job."
As the 2008-2009 season starts, Volkening and the Falcons find themselves in the unusual position of being favored to win their league. However, the team is focused, and still feels they have something to prove.
"We absolutely have a target on our backs," says Mayra. "The last few years, we haven't been very well respected, as far as the pre-season rankings go, and we have felt we had something to prove. This year, we not only came out number one, we still came out with attitude that we still have something to prove and it's not just a fluke. We're here to play every night every weekend for the rest of the year into the NCAA tournament."
"We're not the underdog," says Volkening. "I think we have to get in the mindset that every game, whether it's DU, CC, or AIC, every weekend it's going to be a hard game, and require a lot of effort, our 'A' game."
With Volkening in net, the Falcons feel very confident, and have started the season strong at 4-0, with convincing wins over Sacred Heart and Bemidji State.
"He has proved himself to be one of the nation's best goalies and I think having him back there is a huge asset and allows everyone to play a better game all-in-all," says Mayra.
Serratore agrees with that assessment.
"That's what good goaltenders do," states Serratore. "Any great goaltender gives your team a chance to win every night, and that's what separates them from the also-rans. You can't play this game with your eyes in the rear-view mirror, and when you have bad goaltending, you play too cautiously and you're afraid to make a play that might cause a goal. A great goalie enables your team to play free, free of distractions, free of fear of failure, free of fear of making mistakes. That's a team that's playing to win as opposed to not to lose."