Scott: Jim, another week of hockey is in the books. And in honor of the late Ned Harkness, who presided over the only perfect season in the history of Division I men's hockey — 1970 NCAA champion Cornell, which went 29-0-0 — it's time to look at the teams with a chance to duplicate that feat. Right now, five squads are without a loss or a tie to mar their records, but three of those have played just one game — late-starting Harvard, Princeton and Yale — and another is none other than Cornell itself, which hasn't played at all. That leaves No. 14 Air Force, with its sterling 8-0-0 record. The Falcons, out of Atlantic Hockey, haven't played a "Big Four" conference opponent yet, but they did put a serious beatdown on perennial CHA contender Bemidji State a few weeks back, winning 6-2 and 6-0. Your thoughts on the Falcons?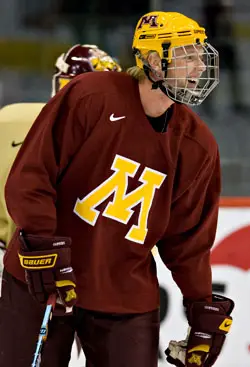 Jim: I don't care which conference Air Force plays in, this is an impressive start by an excellent team. The Falcons are scoring at a record setting and boast three of the top four scorers in the country in Jacques Lamoureux (first with 19 points), Brent Olsen (second, 17 points) and Josh Frider (t-fourth, 12 points). At the same time, they not surrendering much defensively and goaltender Andrew Volkening, who proved his ability on a big stage during last year's NCAA tournament, boasts a stingy 1.49 goals against average and .935 save percentage. I think it's legitimate that Air Force could run its record to 12-0-0 and be one of the top teams in the nation when it takes on Colorado College at home and Denver on the road on Thanksgiving weekend. Am I the only one who sees some sort of movie script here?
Scott: Well, let's say we were to imagine the Falcons going into CC and DU unbeaten and coming out with a sweep. That would be an underdog story anyone could enjoy — except Tigers and Pioneers fans, of course. As for a movie, Miracle is already taken, so Hollywood will have to look elsewhere for a title. Seriously, if the Falcons keep it up we'll need to dust off the comparisons to the 1999-2000 Niagara team that won 30 games and beat New Hampshire in the NCAAs. Stepping back to the here and now, but keeping with the movie theme, let's hand out some awards for starring roles in a featured game or series. And speaking of CC, I'm giving my props to goaltender Richard Bachman, who almost singlehandedly delivered three points for the Tigers last weekend by making 84 saves against Denver. What a frustrating experience for the Pioneers, who outshot the Tigers handily in both games and came out without a win.
Jim: Bachman's numbers certainly were impressive last weekend. He and his team were fortunate to come out of the weekend with three points. Northeastern's Brad Thiessen wasn't as fortunate, making 33 saves in a 3-2 loss at New Hampshire on Friday night before coming home and putting up 43 saves to settle for a tie on Saturday night against the Wildcats. Thiessen currently leads the nation in saves with 254 in just eight games. This weekend, though, was the first time his club came out on the sour end of the results, having entered the weekend with a 5-0-1 record. How about non-dufflebags that have impressed you thus far? I've mentioned Air Force's big trio. Who else has opened your eyes at this point?
Scott: I have to go with a guy I've seen a lot this year, and that's Minnesota captain Ryan Stoa. He has six goals in six games, one of a handful of players averaging a goal per contest, and the difference he's made in the Gopher offense is striking. Stoa missed almost all of last season thanks to injury, and although he hadn't been a big scorer in his first two years as a collegian, the sense was that he was ready for a breakout when he got hurt. Now he's putting pucks in nets at a furious clip, and there's no way Minnesota is atop the WCHA standings without him. On another front, would you care to comment on Massachusetts' eruption against Providence? When I saw Friday's score I thought there must have been a misprint. Nine goals in a Hockey East game?
Jim: UMass' performance can be classified as nothing but an offensive explosion. They manhandled the Friars, which to me says two things, both pretty obvious. One, UMass can score in bunches, which is the sign of an excellent team. The late Shawn Walsh from Maine used to make that one of his team's objectives every game — to score three times in less than two minutes. Two, Providence needs a little bit of a confidence boost, and soon. Friday night, the Minutemen scored three goals in less than six minutes in the first period and four goals in less than 12 minutes in the second. Saturday it was three goals in an eight-minute span that sealed the deal. Providence wasn't the only team exploding either — 14 teams scored five or more goals this weekend, including Boston University's seven-spot at Vermont on Saturday and Air Force's eight on Saturday against Bentley. Is offense finally coming back to college hockey?
Scott: More offense? I hope so, but I wouldn't put much money on it. I don't know if there's been a meaningful analysis of the new season's scoring yet, but I think the rule changes are helping offenses mostly by causing more power plays. If so, a lot of that will go away once the players adapt to the tighter calls. I do fondly remember when 5-4 games weren't idiosyncrasies, but I'm afraid those times are gone unless dramatic action is taken. And when I say "dramatic," I don't mean quicker whistles — I mean things like bigger nets. Mind you, I'm not recommending any such thing, just saying that that's what it would take to bring back the offenses of old.
Jim: I agree. I remember the mid-'90s when a goaltender with a 3.00 goals against average was considered excellent. One that comes to mind was current Edmonton Oiler Dwayne Roloson, who in his senior season was an all-American with a 2.76 goals against average. A year ago, that would've ranked him 45th in the nation. I doubt that we'll ever see the 100-point scorer that we did in Paul Kariya in 1992-93. Going back to another Shawn Walsh quote, he always said the first team to four wins. This season aside, I was beginning to believe the first team to two had a darn good chance and the first team to three was a virtual lock. Honestly, I'm not sure if there's a way to change it without, as you suggest, altering the game. I'm okay with low-scoring hockey, as long as some explosions like UMass and BU had last weekend get dropped in every now and again. One solution could be to have Boston College and North Dakota face off in every single college hockey game … Okay, now I'm getting a bit loopy so I'll stop there. Until next time …