Ladies and gentlemen, welcome to 2009. If you look to the port side of the aircraft, you will see the collapse of Western capitalism as we know it … over the right wing, you'll note the rising tide that serves as an unmistakable bellwether of global warming and the gradual-yet-unabated decay of our planet.
Fortunately, we're skipping right over all of that, and will be touching down in Midseason Hockeytown in a matter of minutes. We know you have a variety of distressingly consuming hobbies, and we appreciate that you've chosen College Hockey as your distraction today.
Travel Tales
Still waiting for Delta to find and return your bags from December '06? The bench at the St. Louis airport leave your spine permanently wrenched after that 14-hour layover?
Your teams aren't immune from the fist-clenching, molar-grinding frustrations of holiday travel either … they're just better at hockey than you are.
For starters, Dartmouth's Scandinavian tour was a grand success — more about that later — but the Big Green endured some Big Boredom waiting out a 36-hour (you read that right, a day and a half) delay before finally bidding Europe adieu.
Captain Rob Pritchard's equipment found its own little Bermuda Triangle somewhere along the way, and was only recently rediscovered … but not before Pritchard had to play four games with a mish-mash of assorted gear and apparel.
He wasn't the only player affected by wandering shin pads, but he was hit the hardest, according to coach Bob Gaudet.
Harvard assistant coach Sean McCann hoped to join the Crimson in Madison, Wis., for its Badger Showdown opener on Dec. 27. And he did … but his cab ride from the airport was a bit longer than he'd anticipated.
His flight into Dane County Regional Airport was canceled, and his best remaining alternative was to fly into Milwaukee instead. But upon arrival, he discovered that there were no rental cars available, so he had to hire a cab to make the roughly 80-mile, one-and-a-half-hour trip to the arena.
He arrived just in the nick of time — but lighter in the wallet by $125. Fortunately he now has a very close cab-driving acquaintance in the area, should he ever need a place to crash for the night.
Finally, the Colgate Raiders take the prize for Holiday From Hell. On their way back from Denver via Chicago at the end of November, the team had to be re-booked on four separate flights to La Guardia in New York City after their original flight from Chicago to Albany was canceled.
Sports Information Director John Gilger was on the last of the four trips, departing O'Hare International at 12:35 a.m. and arriving in NYC at 2:40. The team then bussed back to Hamilton, arriving at 9 in the morning.
Three Raiders suffered doubly after that, having a heck of a time getting to the Sunshine State from British Columbia. To quote Gilger from a Dec. 30th email:
"One player made it to our Florida Tournament with his equipment, but no clothes; our backup goalie [Alex Evin] got his clothes, but his equipment was lost (he didn't dress the last two games and is still awaiting his equipment now). Third B.C. guy got stuck in Atlanta for Christmas; he couldn't get out of there until December 26 and arrived in Fort Myers at 11:30 p.m. the night before our game with Maine. He arrived with equipment, but no clothes. His parents beat him to Florida from Vancouver and Ethan [Cox] had to wear father's clothes to get back home."
Vancouver to Fort Myers constitutes between six-and-a-half to seven hours in the air alone, not to mention layovers. These were not good days for the B.C. Three; think about them the next time your plane is delayed 10 minutes.
Euro Trip
I had to do it. I did. It was a classic movie on par with American Pie or Super Troopers, which is of course to say that it was delightfully lewd and quotable. Plus, it had possibly the best cameo appearance in cinematic history. (That's Matt Damon, if you couldn't tell. He also sang a top-notch song from the "written-for-a-movie" category, "Scotty Doesn't Know." I'm not going to link it — it's, um, a tad racy — but I will refer to it lest you desire to find it on your own.)
That may have been my longest aside yet. In any case, Dartmouth — epic delay aside — had a grand old time in Denmark and Sweden last month, going 3-0-1 against some top junior teams out there. With the trip 10 years in the making, Gaudet may have threatened a good time for all or else.
"It was really good hockey. We played good teams, we even practiced outdoors a couple of times," said the seasoned coach.
The Big Green also took in a pro game in Stockholm, and enjoyed its own little pack of supporters.
"We had an alumni group that traveled separately. I saw a couple of old teammates of mine … and [the alumni] got to practice a bit with our guys. It was a really good bonding experience for our team," he surmised.
Once the Green finally returned to American soil, however, it was right back to business. Dartmouth edged Army and Bemidji State to defend its home ice in the Ledyard Bank Classic, but took a tumble in a 6-0 loss to Quinnipiac last Saturday.
"It's very easy to say we didn't play very well, but that's disrespectful," said Gaudet, who praised QU, cryptically remarking that "they play a different kind of game."
The Hanoverians popped right back up though, startling No. 7 Princeton 4-0 in Sunday's afternoon match.
"What I liked is that we came back the following afternoon on a short turnaround and played a solid game," said the coach.
At 9-5-0, Dartmouth is making waves. The team climbed the polls to No. 15 this week, despite losing its rock-solid goalie and plenty of offense from last season. Expected by many to play down to its youthful inexperience, the squad has instead taken opposing defenses to the woodshed with three goals a game.
Eight of the Green's nine wins have been four-goal efforts or better. The defense is imperfect, but rookie Jody O'Neill is doing well in the crease, holding Dartmouth's goals-against average below 2.5 so far.
"Our goal when we start the season is to win a league championship," said Gaudet of his mindset this year. "And people can say that's realistic or that's not realistic … but I want to make sure our guys push, and I don't want them to think their coach is settling. We expect to be successful."
So far, Coach, so good.
Snapshots
• Raiders Austin Smith and David McIntyre have been, as we used to say, en fuego of late. McIntyre still leads the team with 22 points, but the freshman Smith is hot on his tail with 21. After scoring six points (three goals, three helpers) in his first nine games, Smith has exploded for eight goals and seven assists over his past ten. McIntyre has done his best to keep up, accumulating a ten-game scoring streak with 15 points of his own (seven goals, eight assists) over that stretch.
• Dartmouth inflicted upon Princeton its second home shutout loss of the season, following up the early 1-0 defeat at the hands of Cornell. The Tigers have scored better than 3.7 goals per game in their remaining 14 games. Tangentially, the Stripes currently sport the fourth-best defense in the nation, allowing 1.69 goals per outing.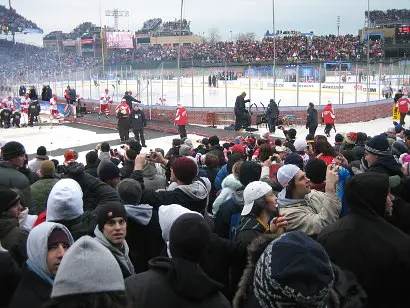 • Yale sophomore Broc Little leads the country with four shorthanded goals and has already tied the school record for SHG in a season (matching Andy Weidenbach, 2004-05). Little didn't pot a shorty as a freshman, but has scored all four this season in his last seven games. His 15 points lead the Bulldogs, and he will tie Weidenbach for Yale's record for career shorthanded goals with his next one.
• Not everyone was left for dead by holiday travel this season, as the Union Dutchmen were elated to be on hand for the Winter Classic at Wrigley Field last week in Chicago. In the picture from left to right are Kelly Zajac (looking toward the camera in the black toque, as the Canadians would say), Jason Walters, and Adam Presizniuk, both wearing white baseball caps. According to Sports Info guy Kevin Zalaznik, Walters and the Prez were at that moment too busy trying to photograph actor Vince Vaughn to pay attention to the actual event.