Is Morrisville Out Of The SUNYAC?
Yes and no.
When Morrisville started their move from a two year school to a four year institution three years ago, they had to go through an NCAA provisional period that lasts three to four years depending on how well they are able to follow the rules. During that provisional period, they are not officially considered an NCAA team, and thus cannot compete in the NCAA playoffs.
"We were not formally in the SUNYAC until we were full NCAA members," Morrisville Athletic Director Greg Carroll said. "We went to them three years ago to allow us to be a scheduling partner during the [NCAA] provisional period. We were moving towards membership.
"It was a great opportunity and experience for us. Over the course of the last three years, the landscape of the conferences changed. It afforded us an opportunity to assess where we wanted to be. It allowed us to look at other conferences. We decided to apply to the NEAC [North Eastern Athletic Conference]."
Thus, Morrisville notified the SUNYAC a few months ago they were going to follow the path taken by SUNYIT the year before. The Mustangs, like SUNYIT, were struggling to compete with the more established, larger, and better funded SUNYAC schools.
Just this season, the women's basketball team lost to New Paltz by scores of 82-29 and 76-13. Games against other strong opponents have only been slightly better. Women's soccer have lost conference games by such scores as 15-0, 13-0, and 12-0, in a winless league season. Though the men's games have been closer, it didn't translate to wins. The soccer team went 1-9 in SUNYAC and the basketball team is currently 0-8. Last year, both lacrosse teams went winless in the SUNYAC, getting drubbed in most of the games.
"As far as our school is concerned and where we are as far as a four year institution and NCAA competition, as an athletic department, the NEAC looks like a better fit overall for us," Morrisville hockey coach Brian Grady said.
There's just one problem. Well four problems. What about the sports that the NEAC does not sponsor — football, wrestling, field hockey, and ice hockey?
Football and wrestling are not sponsored by the SUNYAC either, so they already were in other conferences, the New Jersey Athletic Conference and an independent, respectively.
So, where does that leave field and ice hockey? Especially since the SUNYAC by-laws have always stated it's all or nothing when it comes to SUNYAC membership?
"We're in the process to allow specific sports as associate members," SUNYAC commissioner Dr. Patrick R. Damore said. "They must be part of the SUNY system. The decision to allow this has been passed, just not the specifics. I think it's good. Where they can help the conference, it will receive consideration."
And therein lies an interesting motivation. Morrisville represents the magical seventh member in field hockey, providing the SUNYAC an automatic bid into the NCAA playoffs. The other field hockey playing schools didn't want to lose Morrisville.
As for ice hockey, they had no place to go. They could have considered the ECAC West, which ironically would have given that league the all important seventh member. However, Morrisville could have found itself in the situation Lebanon Valley is struggling with.
"Coach Grady and I did have that conversation whether we wanted to explore the ECAC instead of the SUNYAC," Carroll said. "We're a better fit in the SUNYAC. We're a state school. Geographically, it works better. The competition has been good for us. And they've been very good to us."
"I was hired under the assumption we are going to be a SUNYAC team, and that's what I tell our recruits," Grady said. "We haven't wavered from that. We're proud we can compete in the SUNYAC. We're excited about becoming an auxiliary member and representing our school in the SUNYAC."
"In hockey, they are good members and all the coaches get along, so they welcome it," Damore said.
"Hockey is very unique [in the SUNYAC]," Plattsburgh coach Bob Emery said. "They're a welcomed addition by all hockey coaches in the league. Their coach is working hard, and they will be improving."
Thus, Morrisville will be applying for associate member status in the SUNYAC for field and ice hockey as soon as the specific wording is worked out in the by-laws.
What makes this interesting, and could potentially be very helpful for Division III hockey, is it opens the door for other SUNY schools not quite ready for the SUNYAC but wanting to start a hockey team. If the oft rumored rink at SUNYIT ever gets built and a team is formed, they will now have a suitable home.
Also, if Canton winds up applying to the NCAA after the moratorium is lifted, they, too, could send their hockey team to the SUNYAC while the rest of their sports program could go to a conference like the NEAC. Ironically, if all this were to happen, the hockey league could be larger than the "regular" SUNYAC sports.
One concern is the rule a school must be active members of the NCAA for two years before they can become an associate SUNYAC member, which means Morrisville would have to wait for another two years before they become eligible for conference tournament play.
"Ice hockey and field hockey have been kept on the schedule for the next two years, through 2011," Damore said. "Afterwards, they will be eligible for associate membership."
However, Carroll plans to ask for a waiver in order to speed the process along.
"Prior to last month, the SUNYAC had nothing in their by-laws to accommodate partial membership," Carroll said. "They just passed the motion to allow associate membership."
And that is very good news for college hockey.
"I think they are doing to be a good school," Damore said. "Greg Carroll is doing a great job there running the athletics department. I think they will be contenders soon."
Based on this past weekend, Morrisville has definitely shown they can compete with other hockey teams in the SUNYAC. The process to prove themselves started out with a stunning — and wild — 7-5 victory over Geneseo on the road.
Morrisville scored a goal in the first period and then four straight in the second to open a 5-0 lead that had other rinks buzzing with disbelief. Geneseo then tallied twice within 15 seconds in the last 23 seconds of the period.
"Great game," Grady said. "It came down to goaltending. Our sophomore, Caylin Relkoff, was outstanding. We played very well in the first period, then we took advantage of our power plays and Geneseo's over aggressiveness. Then, Geneseo got two quick ones at the end of the second. I read the team the riot act."
It didn't initially help. Jonathan Redlick scored twice early in the third to cut the lead to 5-4 before Morrisville's Bobby Cass got a breakaway tally. Kevin Galan made it 6-5, but an empty netter sealed the win.
Keith Williams, Andrew Alarie, and Cass each got a pair of goals. Relkoff made 35 saves.
Was this win more satisfying than the dramatic tie against Oswego?
"Very similar emotions," Grady said. "Obviously, it's great when you win a game. Confidence wise, I think the Oswego game was a turning point for us. It showed we can compete with the upper echelon teams."
The next night, they lost to Brockport, 3-2, but not before giving the Golden Eagles a scare by scoring first and having Relkoff keeping them in the game, making 48 saves.
"It was a good game," Grady said. "We certainly have our work cut out for us in every game. We played a rested team. Credit Brockport, they work hard and keep it simple. They shoot from everywhere. We had a chance right at the buzzer, but it wasn't to be."
Morrisville now faces the tough North Country trip, and this time there will be no sneaking up on anyone.
"They just don't stop working no matter what the score is or what time of the game it is," Potsdam coach Aaron Saul said. "They never stop moving their feet. Their power play looked like it was doing pretty well this weekend, and they are very good in the net. They are a young team that just needs some confidence. We knew they were going to beat somebody soon. We're going to be ready for them on Friday."
"The hardest part of coaching is coaching the games you are supposed to win," Emery said. "If you don't give full effort and emotion, Morrisville will beat you. Talent can be beaten by emotion."
"Two very skilled teams," Grady said of this weekend. "I look at Friday's game at Potsdam, and they seem to be a sleeping giant you don't want to wake up. They're very talented offensively, and they are just waiting to breakout. We saw that the last time we played them. We're going to try to force them to play a game they don't want to play. As for Plattsburgh, you shouldn't be playing competitive hockey if you can't get up for a game against the No, 1 team in the country."
Morrisville may still have a ways to go, but they are making strides which proves keeping their hockey team in the SUNYAC is the right move.
"I couldn't be happier with the progress they are making," Carroll said. "I couldn't ask for anyone better to captain our ship than Brian [Grady]. We just got to grow up, and by that I mean we have to turn our freshmen and sophomores into juniors and seniors. Right now, we're in year three."
SUNYAC Short Shots
Potsdam's Scott Voisin got a hat trick and Buffalo State's Kevin Kozlowski scored a pair in a wild back and forth 6-6 tie … In that game, both teams scored four power-play goals as five of the six second period tallies were with the man advantage … Bryan Hince made 28 saves as Plattsburgh beat Fredonia, 4-2, with the last goal on an empty net … Eric Satim got a hat trick, all on the power play, as the Cardinals pounded Buffalo State, 8-0, with Hince making 27 saves.
Colin MacLennan scored a third period shorthanded goal while two men down for a Potsdam 2-1 lead, but Fredonia's Andrew Hess scored on a power play with 4:22 left for a 2-2 tie, despite the Blue Devils 9-2 shot advantage in overtime … MacLennan has all of Potsdam's shorthanded goals this year with three … Ryan Ellis scored twice and Tim Potter made 23 saves in Oswego's 5-2 win over Cortland … Joey Wilson scored twice in the second period to lead Plattsburgh over Middlebury, 4-1 … Nick Catanzaro and Joey Christiano each got a pair of goals as Cortland pounded Lebanon Valley, 11-3.
Game of the Week
Once again, we potentially have a game between two teams currently tied and out of the playoff spots when Fredonia travels to Cortland. But first, Fredonia has to face Oswego.
"Oswego is always such an explosive team," Meredith said. "We just try not to give up odd man rushes. This is Division III college hockey. Teams still have to beat you. As long as you don't work to beat yourself, you're going to be right there. A goal here, a bounce there. And the next night we got Cortland. They are a strong team. They come at you pretty straight."
However, that's not the game of the week. Instead, it's going to be the battle of Rochester, which once again means something. After the stunning loss to Morrisville, Geneseo is just one point ahead of a resurgent Brockport team for third place. This game in Brockport is not just for position, but to try and strengthen a home playoff spot for the play-in round. It also might decide which team still has a shot at chasing down Oswego for second place.
"The attitude of our players is one of excitement," Brockport coach Brian Dickinson said. "They are really starting to get a feel for the special-ness of this season. They can easily get up for a Geneseo game, but knowing they will be coming in well prepared for us after what happened last time, makes our guys even more ready."
The campus of Brockport has not anticipated a game like this in a long time.
"It's been pretty neat knowing that the school is riding a nine game unbeaten streak, the longest in our school history, and now we have a chance to host a playoff game," Dickinson said. "In the past, we're always beating ourselves up just trying to make the playoffs. Now, we can do better than that."
Special promotions are being held for this game including a green shirt giveaway for the first 500 fans, as they attempt a "greenout." It would be great to see a huge partisan crowd in the Tuttle North Ice Arena.
"Everybody is excited to jump on board to support the guys the best they can," Dickinson said. "There's a lot of buzz around campus."
On The Periphery
I finally went to Wings Mecca.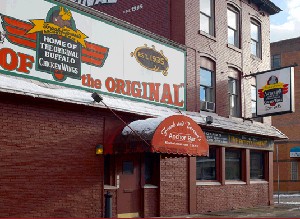 In all my years living in Western New York, I have never been to the Anchor Bar, the creators of the Buffalo Chicken Wings. This past weekend while hanging out in Buffalo, I finally made my pilgrimage.
I don't admit to any preconceived notions of what it would be like, but I must say I was surprised how nondescript the building was (though it did have a prominent sign) and the small size of the inside. Even more surprising when I walked in was to discover they were closing at midnight, just 15 minutes from the time I entered.
It still appears to be a family run business, and they really don't consider themselves a bar. So, they shutdown at midnight in the winter, 1:00 a.m. in the summer months. They were willing to give us takeout, and while waiting for the order, I enjoyed the unusual décor, mostly of license plates and motorcycles. Yes, motorcycles. They had a number of them as well as mopeds on ledges high up on the walls.
As for the wings, many people have said there are now better wings elsewhere. I would have to agree. But, they are still good, quite meaty, and let's face it, if it weren't for the Anchor Bar, there would be no wings, never mind better ones. So, every Buffalo chicken wing lover should pay homage to the Anchor Bar by checking out the place. Even American presidents have done so.