It's February!
If you canvas most coaches, you probably would hear them respond that their "hockey groundhog" hopefully saw its shadow on the ice and that there are six more weeks of the season for their respective teams.
With only three more weeks in the regular season, points are critical and teams starting to play to their full potential on a consistent basis is what each coach wants to see every night for the rest of the season. Essentially, the playoffs have begun as every game has implications on the standings and seedings. Things are tight in the conference races and no team is taking anything for granted in any game remaining on the schedule.
When you look at the composite schedule at any point in the season, there are games that just jump out at you as being a big game. Whether it's the match-up or rivalry that has created the aura around the game, expectations are high for the level of competition and an opportunity to see something special.
One such rivalry game that exists is the annual match-up in Vermont when Middlebury and Norwich face-off. This is one of the more intense rivalries for a number of reasons, including the success of the respective programs, diversity of schools, and — of course — the in-state rivalry that has been built over decades of play.
The two teams face-off on Saturday night in Northfield and the anticipation is palpable with an important two points for both teams currently in first place in their respective conference. That said, a critical match-up on Friday night finds the Cadets hosting a very strong Williams team in what should prove to be an excellent game before the more highly-touted affair!
You can't look past anyone in February and no team has anything locked up at this point in the season. The match-ups are getting more interesting and the importance of every game is becoming more critical as the number of contests on the schedule dwindles over the next few weekends.
Ephs Getting an 'A'
"We have been on a pretty good run," commented Williams head coach Bill Kangas. "We had won four straight until facing Plattsburgh on Monday night but will take some positives out of playing the No. 1 team in the country."
Williams has been pretty consistent all season and currently resides in third place just one point behind league leading Amherst and Middlebury. Their recent four game winning streak showcased some key assets that will help the Ephs continue their success in February and challenge for the top of the league standings.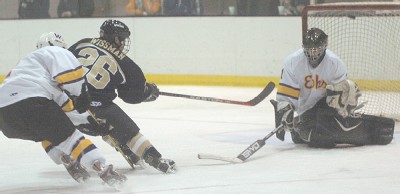 Freshman goalie Ryan Purdy has been on a hot streak going 6-1-0 in his eight games while posting an 1.94 goals against average and very high .939 save percentage. His only loss came in the team's visit to Plattsburgh on Monday night and the team is anxious to rebound in Vermont this weekend against Norwich and St. Michael's.
"We have confidence in both Ryan and Marc [Pulde] who both played well this year," said Kangas. "It has been great to see them push each other and work hard everyday in practice wanting to get playing time and based on how both have played this year the team has confidence in both to get the job done."
This Williams team has a lot of grit and energy focused on playing the full 60 minutes every night. Last Friday's game against Trinity highlighted that full effort in a game that still has the Bantams coach shaking his head.
"They are a very good club," stated Trinity head coach Dave Cataruzolo. "We had a lead going into the third period and they just kept coming at us. They tied it and we had a number of chances that we couldn't cash-in before they took advantage of a mistake we made and scored a shorthanded goal with just about 40 seconds remaining in the game — it was a back breaker to lose that way. But give them credit they took advantage and took a hard earned win."
The shorthanded hero for Williams, Matt Masucci, currently leads the team in scoring with six goals and nine assists totaling 15 points. Overall, Williams has 16 different players who have scored this season and has shown great balance among their forwards offensively. One challenge will be the adjustment to losing junior Alex Smigelski to injury for the past couple of games. Smigelski is currently second on the team in scoring and any long-term loss will require other players to step up their production.
One player who has made the most of his production is senior Brett Haraguchi who is tied for third on the team in points and has four game-winning goals to his credit out of his total production of seven so far this season.
"I really like the chemistry and the leadership on this team," observed Kangas. "We are excited about the remaining part of the season and want to keep getting better — Friday night at Norwich gives us a chance to match-up with a very good team and show where we are in our progress."
One area that could help the Ephs down the stretch is an improved power play. Currently clicking at only 12%, the offense would get a boost if just a few more goals came with the man advantage.
"It is something we are working on a lot in practice," Kangas said. "It certainly would help if we more effective in those situations but if we continue to generate chances we will be better."
While most fans in Vermont are looking to Saturday night, Williams is hoping to take advantage of Norwich looking ahead on Friday night — not something coach McShane is likely to let happen so Friday's game should be a great take for the fans.
Cadets Modifying Maneuvers
"I thought Williams looked pretty good," noted Norwich head coach when describing his attendance at the Plattsburgh-Williams game on Monday evening. "They played pretty well against a very strong Plattsburgh team and until they gave up a couple of power-play goals late it was close. Playing three games in four nights was probably tough to do but they are a good club and we will have to be ready for them on Friday night."
So much for Williams sneaking into Norwich unnoticed in advance of the big game against Middlebury on Saturday. Norwich has already begun their drive for the top seed in the ECAC East and has recently changed a few players around in order to boost the offense a bit down the stretch.
Sophomore Greg Eskedjian has been moved to forward from his defensive position and has already paid dividends up front for the Cadets. In his first three games as a forward, Eskedjian already has two goals and has helped Norwich get a little more balanced production from their offense.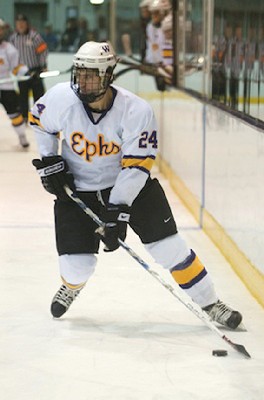 "Sometimes you get a little lucky and things just work out," stated coach McShane. "You know we looked at Greg and saw good speed and a nice pair of hands and thought he could help us up front while we also shuffled some things around with someone we wanted to get more ice time on defense. Greg also brings that strong defense to his role as a forward so it was the best of both worlds and so far it has really helped that line get going in the past couple of weeks."
Another area of improvement for the Cadets has been the power-play unit. They are scoring at a 25% success rate and while many will attribute that success to sniper and leading scorer Nikita Kashirsky (12 goals, 10 assists, 22 points), their coach sees it a little differently.
"I really thought that this was an area we would struggle based on the players we lost from last year," McShane said. "We have always been blessed with some pretty talented people up front to make the power play go but I actually think this year we are better and it's because of the guys at the top of the unit in the zone. Eric [Tallent] and Tyler [Stitt] have been great in moving the puck around and making plays on the power play and that has been a difference maker for us."
In fact it was Tallent's goal (assisted by Stitt) that earned the Cadets a hard fought tie against rival New England College last week, which also included assists for each of the defensemen on Eskedjian's power-play goal in the second period.
Overall, the Cadets have been solid from the blueline back including the strong play of junior goaltender Ryan Kligensmith. A bit more scoring from the offense and this team could capture the recipe that brought them the league title and an NCAA berth last season.
Just three weeks remain and every game counts — nobody should be circling any game on the calendar except the one they play next. And, if the last two seasons are any indication, things are tight and are only likely to get tighter right down to the last weekend.
If you want to see some good hockey, hit any arena where these teams are playing as every team is now fully immersed in playoff-like action. It doesn't get much better than this — really!
Drop the puck!