Things are really heating up as the final two weekends are upon us. Only four regular season games remain on the schedule–that's eight points up for grabs and with things so tight in the standings, a bit of a stumble on the weekend or a strong couple games can make the difference in making the playoffs in the NESCAC conference and being a host team in the first round on the ECAC East side of the fence.
"You really can only keep your guys focused on what they can control," said Connecticut College head coach Jim Ward. "We can't play the games for anyone else so we have to focus on what we have on Friday and then we can worry about Saturday on Saturday.
"We have been playing pretty well for the last month so it would be nice to keep it going right into the playoffs and maybe sneak into one of the home-ice slots. We had a bit of a sluggish start so it's going to be tough with who is front of us but we are striving for that goal and there are still enough games to get there."
Coach Ward's comments echo many of his peers and their collective challenge is one of keeping focus on the task at hand . . . one game at a time.
For some teams, a little scoreboard watching will be in order especially after a less than desirable result, while for others a chance for some breathing room or holding a critical tiebreaker will be part of what the last two weeks of the regular season brings to the forefront.
All of the match-ups are key and there are absolutely no easy wins on the slate anywhere–take someone too lightly and you may find yourself short two important points in the standings.
So this week let's check out two teams near the top of the standings that are both looking at things a little differently coming into the final critical games of the regular season.
Amherst's Airtight Defense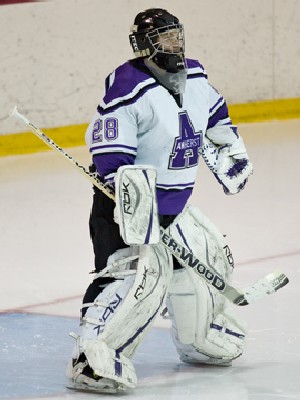 "Absolutely, it's a great thing to have not one but two guys that can play at this level in goal," stated Amherst head coach Jack Arena. "Both Cole [Anderson] and Jonathan [LaRose] have been spectacular this season and the rotation is working really well. It is nice to only have your goaltender worry about staying sharp for one game every weekend as they both seem very fresh and ready to go."
Ready to go may be the understatement of the year for the team that leads the nation in scoring defense and has surrendered just 22 goals in 15 league contests so far this season. In fact, both goaltenders have goals against averages way below 2.00 and save percentage numbers over .945. That is just unbelievable.
"We have really lucked out with both of them here," noted Arena. "It's special that they play so well together and that the team has complete confidence in either guy in the net no matter where we play. I guess it's true that we are just sticking with what got us to this point in the season and not really looking at match-ups for either of our two goaltenders."
Earlier this season, Arena thought about playing the match-up game in a contest against a particular opponent but it would have switched the consistent rotation that has been in play all season. A friendly reminder from an assistant coach kind of put perspective on the entire situation when he said to Arena:
"Coach, your worried about a match-up and choice between the number one and number three ranked goalies in the country?"
Enough said. The rotation stuck and LaRose took his usual turn and was nothing short of outstanding in a win over Castleton.
Amherst is currently tied at the top of the standings with traditional league power Middlebury but the Lord Jeffs aren't taking a back seat to anyone. While their goaltending and defense get most of the attention, the offense and special teams have been more than good enough to foster the success seen in the win column.
"It would be great if we could score a few more goals," laughed Arena. "We have given up just one a few times this season and not won so having a few pucks find the back of the net around this time of the year when things get tight would be very big."
The power play is on fire, clicking at over 27%, led by senior defenseman Jeff Landers and his team-high seven goals, 21 assists, and 28 points after a relatively slow first half of the season.
"Jeff has had just an outstanding year for us," Arena said. "He moves the puck incredibly well and makes great decisions. He actually is very cerebral and does things to set-up the defenders so he can execute the play he wants to make–it is special to watch."
Arena noted that teams are paying attention to his star defenseman and that especially on the power play some squads have been burned by trying to keep him away from the puck by utilizing a shadow. Such tactics create a 4-on-3 advantage which Amherst has exploited and many times with Landers involved in the scoring anyway.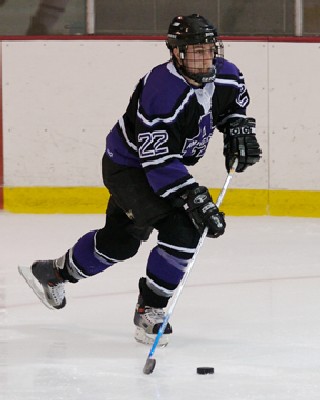 "Last week against Colby it was Jeff's show as he finished with two goals and two assists for four points," recited Arena. "He played a part in all of our scoring that game and that is just the level he is playing at right now. He is seeing a lot of ice time and he is producing for us every game."
While the Lord Jeffs do have some scoring balance up front, Arena would like to see some of his veteran leadership get on the score sheet more at the right time of the year. Joel Covelli has struggled finding the net this season with only one goal to his credit, despite playing well and contributing in other aspects of his game.
"I told Joel he still has a chance to score some of the biggest goals of the season for us," said Arena. "That is really true for anybody right now and as goals become tougher to find in the playoffs, you look to the guys with experience that have been there before to lead the way."
Amherst will want to stay focused on their final road trip of the season. With an unbalanced schedule that includes just nine home games and 15 on the road (including holiday tournaments), the Lord Jeffs are used to being road warriors and hope they can play two more strong games away from home to set-up a great final weekend in their barn.
"I don't know that it has ever happened that two teams tied for first played each other in the final weekend to be the top seed and win the regular season," noted Arena. "It would be a lot of fun if we can get through this weekend and they [Middlebury] could match us for a winner take all game next Friday but that isn't even on our minds right now as we know St. Anselm's and New England College can both play great hockey and beat us if we don't pay attention to the game at hand. We are just focused on Friday night right now and we'll worry about next week, next week."
As a fan, you can't help but want to see the match-up and have it mean something right at the end of the season–those types of games are special in the regular season. For now, the goalie rotation is set, the special teams are playing great and their offensive/defensive leader is really helping his team in the locker room and on the ice. Sounds like a winning combination that may take Amherst far into March.
Pilgrims Progress
For the New England College Pilgrims, this weekend brings match-ups with a hungry Hamilton team looking to make the playoffs for the first time in three seasons as well as the aforementioned Amherst team that has shut down many a potent offense this season.
"We are a little healthier right now," said head coach Tom Carroll. "There are no excuses since everyone has to deal with the injury and flu bug at some point in the season. That would also be a bit disrespectful to the teams that have beaten us that really have played well as the level of competition is so close among all of the teams. We are dealing with all of the same things and just need to find ways to be more consistent and get some positive results in these final games."
One of the Pilgrims most consistent performers this season has been junior forward Mark Ehl (8-13-21) who leads the team in goals and points despite getting lots of attention from the opposition each and every game.
"Mark has been a very good player ever since he arrived here so it's really no surprise that he is approaching the 100 point mark in his junior year–he has been very productive. That said we have struggled a bit to find that dynamic combination with him this season in matching him with a center that just makes things click. If we can find that connection in these final games, Mark and the rest of his line could really put up some numbers before its over."
Currently sitting in second place in the conference just three points behind league-leading Norwich, NEC could still grab the top spot if they can play well over the next two weeks. But just in case they need a bit more motivation, it's what's in the rear view mirror that will probably keep Carroll's team focused these next four games.
Just two points separate second from sixth in the standings. With two games against NESCAC foes this week, the Pilgrims finish up next week against league foes battling to move past them for a home-ice berth in the playoffs.
"It probably puts a little more on it against teams that are right there with you in your conference," said Carroll. "We aren't thinking about Saturday or next week–we know we have a very tough Hamilton team coming in on Friday night so we need to be ready to play."
One guy who is looking to get back to his winning ways is goaltender Aaron Harvey who, despite surrendering six goals against Babson last week, has great numbers and has been a big reason for the Pilgrims being near the top of the standings.
"Aaron's fine," assured Carroll. "Just the usual nicks a goaltender has at this point in the season so we are sure he is ready to go this weekend and will surely be a part of any success we have against two strong teams coming to our rink this weekend."
Summing up the rest of the season, Carroll said:
"Sometimes I forget we are still a very young team. With any young team you are going to have some ups and downs and especially with the amount of games we had scheduled in the month of January. That is a lot of hockey and now the finish line is near and you want to really be playing your most consistent hockey in February heading into the playoffs. There aren't many games left so now is when we need to really focus and play our best against some quality opponents."
Congratulations to Concannon Nominees
The nominees for the ninth annual Joe Concannon Award recognizing the best American-born player at the D-II/III level in New England were released today. Congratulations to the strong list of contenders representing each of the leagues in New England, including six players from the ECAC Northeast and five each from the ECAC East and NESCAC conferences respectively. Here are the nominees in alphabetical order by conference:
ECAC Northeast
Forward Kyle Cook–Suffolk University
Goaltender Jon Dryjowicz-Burek–UMass-Dartmouth
Forward Ryan Gervais–Nichols College
Forward Jeffrey Hazelwood–Curry College
Forward Brendan O'Brien–Stonehill College
Forward Dennis Zak–Westfield State College
ECAC East
Forward Brad Baldelli–Babson College
Forward Dan Gordon–University of Southern Maine
Goaltender Ryan Kligensmith–Norwich University
Defenseman Jared Lavender–Castleton College
Forward Ryan Mero–St. Michael's College
NESCAC
Forward Tom DeRosa–Tufts University
Defenseman Chris Diozzi–Trinity College
Defenseman Jeff Landers–Amherst College
Forward Jamie McKenna–Middlebury College
Forward Brett Moore–Conn College
Congratulations to the nominees and their respective institutions. Whoever wins will be a most deserving recipient of this prestigious New England hockey award. Good luck to all!
Nobody has clinched anything yet. What a great time, then, to get out and root on your team for final glory and a chance to play for something big in March. Enjoy all of the games!
And drop the puck!