Scott: Jim, with another week of games in the books and Boston University now the Hockey East regular-season champion, I read your latest blog post with great interest. The topic, for those who haven't seen it (go look, we'll wait), is whether BU is already the No. 1 overall seed in the NCAA tournament irrespective of what happens the rest of the way. Your conclusion was that the Terriers look like they've nailed down the top spot, and I am inclined to agree. There are too many permutations of the PairWise Rankings to permit an exhaustive search; as longtime readers know, every game can have an impact no matter how irrelevant it seems. But even if BU were to get swept by Maine this weekend, I can't find a way to push the Terriers out of the top spot thanks to their spectacular record against Teams Under Consideration and their head-to-head records against teams like Michigan and Northeastern. So it looks like we've got at least one seed nailed down for Selection Sunday.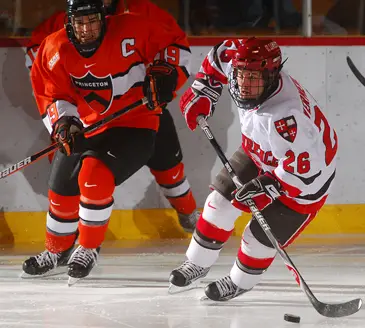 Jim: Yeah, BU seems like a definite right now, but from what I can see, they're the only lock for any of the number-one seeds. Notre Dame, Michigan and Denver occupy the remaining No. 1 seeds in the current PairWise, but none of them has an overly impressive record when it comes to battles against Teams Under Consideration. Each of the three hover between .500 and .600; decent but nothing to turn heads. Moving to the other side of the PairWise, let's look at the bubble. The club sitting squarely on the bubble right now is Ohio State, which will travel to Alaska this weekend for its CCHA quarterfinal series. You have to think that if Ohio State is to have any chance at the tournament, the Buckeyes must advance to the league final four, and even then there are possibilities that they're on the outside come Selection Sunday. Using your math skills, Dr. Brown, what else can you tell us about the bubble?
Scott: Jim, the most interesting teams bubble-wise come from ECAC Hockey. The ECAC has four contenders for at-large bids: Yale, Cornell, Princeton and St. Lawrence. All four are bubble teams even though Yale is currently ninth in the PWR; that's because they're all right there pretty much next to one another (the RPI difference between Yale, Cornell and Princeton is razor-thin), and their remaining games will all be against common opponents and potentially head-to-head. That means that the results from here on out will cause comparisons among those four teams to turn even quicker than normal. For St. Lawrence, failing to get out of the ECAC quarterfinals would be deadly, and even if all four reach the semifinals, they then have to play each other, and the league's use of the third-place game means that one of them goes 0-2 (barring a tie in that game). That means it's going to be very difficult for the ECAC to get four teams into the NCAAs, although three is reasonable. I would also point out Minnesota's good standing despite a split with last-place Michigan Tech in the WCHA last weekend (thanks to some really weird stuff in the PWR that includes the Gophers winning their comparison with Vermont); Minnesota-Duluth's implosion against Alaska-Anchorage which left the Bulldogs on the brink; and the fact that defending national champion Boston College can still make the NCAAs as an at-large, though that probably requires reaching the Hockey East title game.
Jim: Yes, as we mentioned last week, Boston College has the strange outside hopes of an at-large bid and will benefit from playing New Hampshire this weekend in the quarterfinals — if the Eagles win. That's a big "if," though, as UNH manhandled the Eagles in their last weekend series a few weeks back. That said, BC own a 5-0 record against UNH in the postseason since 1998. NCAA berths aside, last weekend playoff action kicked off in the ECAC, CCHA and Atlantic Hockey. And, true to playoff form, we weren't without a few shockers. The biggest came right down the road from my house as Harvard ran into a hot goaltender in Brown's Mike Clemente, who pulled off the unthinkable — shutting out the Crimson for the entire series, winning 1-0 and 2-0. Now that's either one of the most incredible individual playoff performances ever or the grandest choke in Harvard's storied hockey history.
Scott: Heck, it might be both, though it's hard to fault Harvard's offense when the Crimson put up 86 shots on goal in two games. I'd tip the cap to Clemente and see what he can do against Yale. The other playoff surprise last weekend also came out of the ECAC, where Dartmouth — which at one time was moving toward bubble territory — fell off the 2008-09 map after getting swept by Rensselaer. That result also showed the difference goaltending makes in a short series; for the Engineers, Allen York made 58 saves while giving up just three goals in two games. Conversely, the AHA and CCHA playoffs went according to the chalkboard last weekend, with the higher seeds winning and just one CCHA series going to a Game 3. That was won by Western Michigan, which dusted off Lake Superior State to continue a remarkable turnaround. The Broncos have gotten almost zero pub this season thanks to a 2-11-4 start, but have since gone 12-7-3 and get Michigan this weekend. I think I'll be watching the out-of-town scoreboard (or the USCHO.com Fan Forum — same thing) for those games. In fact, there's a bunch of interesting games coming up — Ohio State-Alaska, BC-UNH and all four ECAC series, as we've already mentioned, along with Northern Michigan-Miami in the CCHA and then WCHA matchups like Minnesota-St. Cloud State and Minnesota State-Colorado College. So, Jim, pick a series, any series: where would you most like to be this weekend?
Jim: How about I pick two? The top series I'd like to see is Boston College and New Hampshire. These are teams that typically meet in the championship game of Hockey East instead meeting in the quarterfinals. I'm interested to see if the Eagles maintain their post-season power over the Wildcats or whether New Hampshire finally can tame a Jerry York-coached Eagles team when something is on the line. Another series I'd like to see is OSU-Alaska. The Buckeyes have to make the trek all the way to Fairbanks with their NCAA hopes going with them. Alaska's only hope of making the NCAA tournament is winning its league, so there will be a lot riding in that series. You, as well, will get to see a great series when a very good St. Cloud team invades Gopher territory. It's playoff time, this week in full scale. And I have to say there's no better time of the year!
Scott: True, so true. And with all due respect to the Frozen Four, which can't be matched for significance, and to the conference championships next weekend, this weekend is as exciting as any during the season. There's so much going on at once, including so many critical games, that it's hard not to find something to grab your attention no matter which team or league you root for. I'm definitely looking forward to the Gophers-Huskies series, which will serve as an eliminator both for the Broadmoor Trophy race and for NCAA at-large consideration — believe it or not, SCSU can still make the NCAA tournament without winning the WCHA title, though it wouldn't be easy. I'd also love to be present for BC-UNH, just because I have to think the Eagles are going to pull out all the stops knowing that their NCAA title defense could end this weekend. And lest we forget, the first NCAA tournament bid gets handed out Saturday night in the CHA championship game. Final thoughts?
Jim: I have to agree that this is one of the most exciting weekends of the year. This is really the last chance for true Cinderella teams to begin dancing. And I have to think that somewhere in the country, we'll find a few of those. Maybe it's Mass.-Lowell or St. Cloud. Or heck, maybe it's Brown scaring the life out of — if not beating — Yale. There's certainly plenty of great hockey on deck here. Can't wait to be back next week to talk about it!