There are only 11 teams left standing at this point and after Wednesday's first round games, the list will be down to the eight quarterfinalists vying for the 2009 NCAA Division III national ice hockey championship. While both Babson and Amherst respective champions of their conferences, they took very different routes to the national tournament. They also bring a sense of familiarity based on the interlock schedule that exists between the ECAC East and NESCAC.
Babson Beavers (13-13-1 overall, 9-10-0 in ECAC East)
Babson outdid themselves this year by winning the ECAC East league title as the seventh seed. Back in 2007, the Beavers won the league from the six spot, so the seniors on this team can lay claim to two titles in their four years to go with two trips to the NCAA tournament.
"You really realize just how special it is to be playing for conference championships and on a national stage," noted head coach Jamie Rice. "I am really proud of these guys. While we didn't necessarily have the results we wanted or expected in the regular season we are among just a few select teams that still has practice in March. That's pretty special."
That several Babson players have played in the NCAAs on the road is experience their coach is hoping will be valuable on the trip to Amherst.
"We have a sense of familiarity with Amherst obviously," said Rice. "We played them in the regular season. Everything is normal in our schedule with a bus trip the day of the game. We know where the rink is and where to eat so this shouldn't be so different like we were going to play and ECAC West opponent with an overnight trip–the familiarity is a good thing."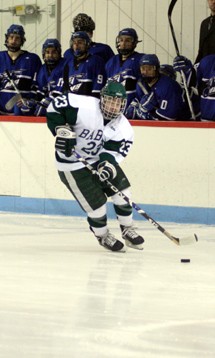 Babson will look to several key seniors to provide the right atmosphere in the locker room as well as set an example on the ice. Last week's hero with the overtime winner against the University of Massachusetts-Boston, Brad Baldelli (10 goals, 14 assists, 24 points) along with defenseman Alex DiPietro (8-19-27) will look to extend their March winning streak to four games.
Junior Jason Schneider (11-22-33) and sophomore Terry Woods (7-13-20) will also look to build on their strong showing in the conference tournament.
In goal, freshman Andrew Peabody (11-7-0, 2.33 goals against average, .907 save percentage) has become the main man between the pipes for Babson, running off a nice streak of wins in the second half of the season. Peabody earned some practical experience in the conference tournament including stopping 70 of 76 shots for a .921 save pct.–a number certainly in the ballpark of where you want your goalie to be to have a chance to win a playoff game.
The Babson special teams have also been very good all season, scoring at better than a 22% rate and killing off penalties approximately 85% of the time. This may be a key to the game as the regular season match-up saw the Beavers drop a 6-3 decision at home to the Lord Jeffs where they scored three on the man advantage but surrendered two in the loss.
"At the end of the day we just want to go out and play," Rice said. "Two years ago at Manhattanville we got in a hole and our back-up goaltender who didn't say anything all season told the guys: it's just a hockey game. We were really loose going into overtime against UMass last weekend and I hope that carries over to Wednesday night."
Amherst Lord Jeffs (21-4-1 overall, 16-2-1 in NESCAC)
This season has been one of many firsts for the Lord Jeffs. First regular season top seed, first NESCAC conference championship, and now its first NCAA game in a decade.
"It's been great, but hopefully we have learned some things along the way," said head coach Jack Arena. "When we defeated Middlebury to clinch the top seed in the league we had a little letdown the next day against Williams. Now that we have won the conference title, I hope we don't have that experience on Wednesday night against a tough Babson team that we are very familiar with. We wanted to have a three game winning streak in March–that was accomplished. Now we want to start a four game winning streak starting on Wednesday."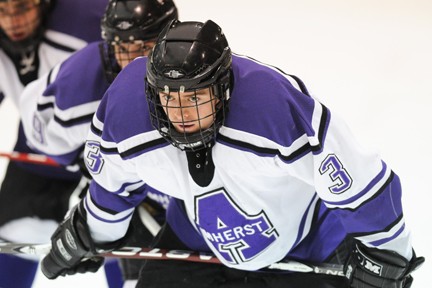 The nation's best defensive team in the country will look to netminders Jonathan LaRose and Cole Anderson to continue their torrid goaltending play. Nationally, they are the top in goals against average and save percentage and collectively give up just 1.55 goals per game to the opposition. Supporting this stingy effort is a solid and experienced defensive corps led by seniors Shane Lennox, Rylan Burns and NESCAC Player of the Year, captain Jeff Landers.
Amherst is unbeaten at home this year at 11-0-1 and they don't beat themselves. Up front Ted Vickers (11 goals, 11 assists, 22 points), Luke Arnold (7-9-16) and Brendan Powers (10-11-21) will look to continue their hard hitting and aggressive offensive play that earned each a pair of points and all five goals in Saturday's conference title game 5-2 win over Middlebury.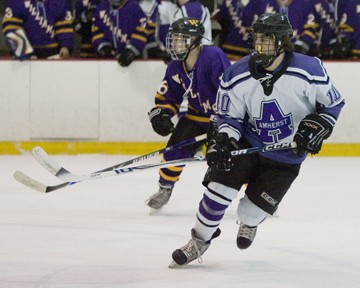 The Lord Jeffs will need to replace the speed and shot of freshman Mark Colp (9-13-22), who will miss the remainder of the season with a leg injury. They do, however, have a revitalized Joel Covelli (four goals and 15 assists just in the season's second half) playing his best hockey heading into the NCAAs.
The special teams for Amherst are deadly with the power play scoring almost 26% of the time and the penalty kill delivering 90% efficiency. In fact, when down a skater, the Lord Jeffs have tallied three shorthanded goals this season and had several grade 'A' chances this weekend in the NESCAC final four.
"It's great being at home," stated Arena. "We don't have to travel–we know and respect the opponent and can stay really consistent with our schedule–keeping things normal. This will be a great hockey game as Babson has a lot of talent and is obviously playing very well right now. I think our effort on Saturday may have been our best overall this season. Hopefully we can play to that level on Wednesday night."
While the familiarity is there–these two teams have not seen each other in almost exactly two months–a lot has changed, especially for Babson. With their consistent play and road warrior mentality forged in the playoff run, they will need their best game of the season to topple Amherst, ranked fourth nationally. It's defense and goaltending versus experience and offensive firepower–definitely worth the price of admission.
Both teams are more than ready. Drop the puck!